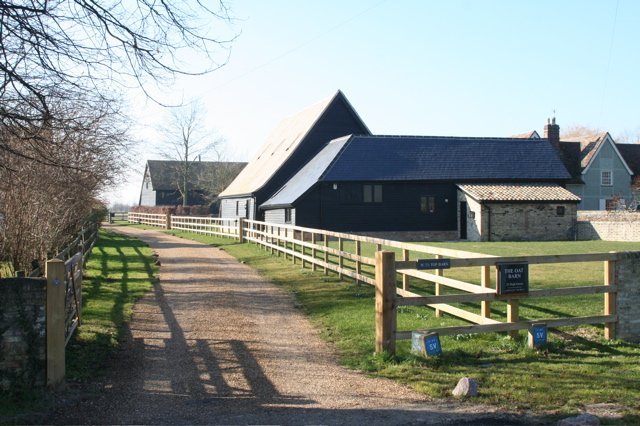 Convert a barn into a house? It's a romantic dream for many people. It's been accomplished by several prominent architects, and for Americans especially, it is seen as a way of preserving our historical and cultural heritage as suburbia eats up more and more of rural America.
So how do you convert a barn into a house? A builder needs to:
figure out the intended layout of the conversion before breaking ground
make sure that local zoning authorities are on board to complete the project lawfully and up to code
consider the major costs involved with this kind of renovation
Converting a barn into a home is a serious undertaking with regards to time, resources, and money; it's not a decision that should be undertaken lightly. Read on to find out more about barn conversion, the costs involved, and some tips to make the process easier.
Laying out a barn conversion
One of the first things you should do when you're considering converting a barn into a home is to design the layout of what you would like the final resulting home to look like based on the skeletal structure provided by the barn.
Because of their structural limitations (and in order to take advantage of the vaulted ceilings in a barn), many builders converting a barn into a home tend to place a fireplace at one end of the bottom floor of a barn, while creating bedrooms in the loft space above.
From an energy efficiency standpoint, this is a smart way to build a home into a barn, because barns tend to be drafty, but heat rises. If you put a fireplace in the home and lofts above, the heat from the fireplace will naturally rise and keep the sleeping areas warm.
It's important to really think about the home design before you start construction. Because it's important to balance the needs of the home with maintaining the look and structural integrity of the barn.
How to design a "Barndominium"
When trying to figure out how to lay out a home over the existing bones of a barn structure, it can be useful to research other barn conversions and look at the photographs of the finished product. This can give you an idea of some things you can potentially incorporate into your own.
Keep a list of things you like when looking at other home designs, and start taking notes on the following home design aspects:
Trim/cabinetry

Fixtures and lighting

Architectural features like loft layout

Storage options

Decorative themes
Not only does this kind of brainstorming allow you to better visualize what you want your barn home to look like when it's done, but it can also help keep you inspired when you get bogged down by the drudgery involved in a barn conversion, like frame repair or pouring a foundation.
By figuring out what you want cosmetically before the barn conversion is completed, it also allows you to look for better deals, saving some money in the long run.
Contact local zoning authorities early
Before you break ground on a barn-to-home conversion, the first thing to do before you get excited about the project is to contact local zoning authorities and make sure that everything is good to go with your project moving forward.
While zoning authorities have become more lax towards barn conversions over the past few years out of a desire to encourage people to preserve and renovate historic structures, you may still run into issues, such as how close the barn is to a public road.
If the barn is deemed too close to a roadway, this may necessitate jacking the entire barn up off the ground and moving it further off the road. This can add significantly to the project's end cost, so it's important to know these kinds of limitations right away.
Get building inspectors involved early as well

If you build without being inspected by local authorities, they can refuse to issue a building permit. Building a home or barn without a permit can, in extreme cases, lead to the local government ordering you to tear it down.
Getting inspectors and licensed contractors involved early can also help ensure that everything in the home is to code from the get-go. This can prevent costly revisions to the project later on.
Converting a barn into a home is a massive project and cannot safely be undertaken without bringing in professionals, especially if you intend to have a functioning second floor. You absolutely have to ensure that the structure is safe and will not collapse with frequent use.
Installing plumbing, utilities, and HVAC in a barn conversion can also be trickier than installing these things in a normal home plan. Barns are not designed with these amenities in mind. This makes it even more important that you install everything to code from the beginning.
Consider the costs of a barn conversion
Like building a home from scratch, converting a barn to a home can be very expensive.

Not only do you have to factor in all the costs of building a normal home from the ground up, you also have to take into consideration the costs involved with renovating the barn structure, which includes the following:
Rebuilding the frame (sometimes you can use some of the original frame, sometimes you can't)

Replacing the roof (barn roofs are typically not suitable for a residential dwelling)

Jacking up the barn to either move it or rebuild the foundation where it stands

Insulating the building (barns are not usually insulated structures)
All of these different steps of converting a barn to a home are major expenses and don't even take into account the interior work you'll need to do on the home once the frame and structure are built out.
These extra projects include everything from cabinetry, flooring, and light fixtures to running utilities and plumbing. And that doesn't even take into account the task of decorating, as you'll likely want to outfit your new barn home in decor that complements the rustic aesthetic.
Most of your main costs on a barn conversion are going to fall into two categories: repair and renovation. To use the existing barn, you'll need to repair as much of the frame and timbers as you can and then get a professional to assess how much of it is actually viable in a new structure.
Many of the materials you'll be able to glean from an old barn will be dry rotted, or weather damaged, and these materials will need to be refinished or otherwise fixed up in order to be used in a new home. Some of these will need to be replaced.
Saving costs in a barn conversion
Converting a barn into a home is an expensive project, and in many cases can be even more expensive than simply building a house from the ground up. However, there are a number of tricks you can use to make your barn conversion a little cheaper.
Use found materials. Since you'll be dumping so much money into converting the structure of the barn into a home, it can be useful to look to salvage and other thrifty sources for home decor and accessories.
Since barns lend themselves to an antique look anyway, try haunting flea markets and rural yard sales to find fixtures, windows, and other decorations that you can renovate and reuse in your barn home design.
Cut your own lumber. Many barns are located on a rural property with woods attached, and you might have inherited some of these woods along with the barn itself.
If you can stand to part with some of the trees, it can be useful to look to your own property for lumber. Not only is this cost-effective, it also gives the barn conversion a sort of "log cabin" charm to know that the lumber came from the land itself.
Other possibilities
Incorporate solar into your utilities. While installing solar panels may incur a larger cost up front on a structure like a barn roof, solar panels will manage to cut your energy usage by half, and you will quickly get your invested money back.
Not only is it better for the environment, solar power can be utilized even if the main power grid goes down, making it useful in emergencies. Because barn roofs are so high, the solar panels will also be inconspicuous and out of sight.
Invest in some sweat equity. While it is necessary to bring in professionals during many stages of a barn conversion or home renovation project, there are also many aspects of the project that can be undertaken by the owner with proper instruction.
Everything you do yourself is something you don't have to pay a contractor to do. So while it is vital to keep building codes in mind while you work, there are many smaller projects, such as cabinets or kitchen backsplashes, that can be accomplished by an amateur — often with with nice results.
Create a budget and stick to it. On a nebulous, long-term project like converting a barn into a home, it can be easy for costs to balloon out of control if they aren't kept in careful check by the person writing the checks.
Before you start buying or building anything, figure out how much money you have to spend for the entire project, and use a conservative estimate. Remember that unforeseen costs will probably pop up throughout the build as the project progresses.
Once you have budgeted out the major parts of the building project, you can then look at your budget and figure out areas that you can potentially save money. This can be done by getting comparisons on contractor quotes, sourcing a cheaper building material, etc..
Pay cash. While this is not as common a practice as it once was, you can often gain a discount on your materials if you offer to pay cash for them, rather than putting them on credit. Many suppliers, especially smaller or family-owned stores, will do this if you ask.
Barring that, if you are going to be purchasing large amounts of materials from one place, it can be economical to have your contractors purchase the materials. They often receive contractor discounts that you would not be able to get.
Four more guidelines
Take your time. Once the basics of the barn conversion are complete and the house is somewhat livable, don't feel compelled to go out and buy ten thousand dollars' worth of trimwork, fixtures, doorknobs and decor.
This is the kind of stuff that can be accumulated gradually, and it is often more cost-effective to do so. To save money, live a little sparse for a few months and get used to the layout of the space before you start piling on costly design elements.
Find a good balance of high quality and lower end materials. You might want to splurge on high quality materials in an area where they will be most prominently seen in the home, such as a quartz or marble countertop in the kitchen. Then, you can save money on materials in areas of the home that aren't seen as often.
This can allow you to achieve the look of a luxe barndominium without breaking the bank in the process. Figure out where you will spend most of your time in the home and throw your money at those areas first.
Look into tax relief programs. While some of the major costs of a barn conversion can be daunting, it's important to keep in mind that in many areas, the government may offer a tax relief to use towards the renovations of a historic structure.
These tax credits are becoming more and more common as governments urge citizens to renovate and restore existing structures to preserve cultural integrity. Before you begin your barn conversion, look into the taxes involved and see if you can save some money.
Wait for sales. Most major appliances tend to go on sale in September and October. So it can be beneficial to wait until the fall to make any new purchases like water heaters, washing machines, dryers, dishwashers, and other large appliances.
By using your older models and waiting a few months to upgrade your large appliances after moving into your barn conversion, you can potentially save yourself thousands of dollars while you outfit your new home.
Using a Barn as an Addition
If you decide for whatever reason that a barn would not be a good fit for you as the hub of your residential home, converted barns still make great additions to an existing home, and can be used for the following purposes:
Mother-in-law suites

A standalone apartment for an older child

Guest rooms off the main house

A recreational lodge

A yoga studio
A large workshop
Converting a barn — especially if it is in fairly good condition — into an addition can sometimes be less of a hassle than trying to build an addition onto an existing house. That typically involves demolition and weeks of upheaval in the household while renovations are undertaken.
If you choose to undertake these renovations on a barn, however, you can carry on all kinds of repairs with minimal disturbance to those living in the main home.
Another benefit of renovating a barn as a home addition is that it can be undertaken more gradually than renovations to a home..
Water Damage and Insect Damage
When reusing a barn as a residential space, the two biggest concerns you have to deal with are water and insect damage. Barns are not watertight structures, and as a result, they often come with significant leaks and not a few bugs.
Before the barn is converted into a home, professionals should be consulted to perform pest control on the building and also assess the barn structure for water damage that might impede its ability to safely stand with a load.
If water damage is found, the leaks causing it need to be addressed and repaired prior to any other renovations moving forward. This will prevent water damage in the new housing structures being added onto the barn.
In a barn, termite damage is one of the biggest concerns, since barns are primarily wooden structures. and may not receive the same pest control protocols as other buildings on a farm. Another concern, at least if farm animals have been present recently, is fleas and ticks.
Don't turn a great barn into a bad house
Converting a barn into a home can be a thrilling renovation project, and the end results are undeniably gorgeous if the original rustic spirit of the structure is maintained. But if you renovate a barn too much, you'll just end up with a blocky, ugly, drafty house.
When designing a barndominium layout, it's important to hit the balance between creating a livable space and preserving the aesthetics of the original structure.
As long as some forethought is used, a strict budget is laid out, and renovations are properly organized, it only takes a few months to potentially transform an old rickety barn into the home of your dreams.
More good reading:
How To Take One Old Barn and Call It Home
The Inside Story: Converting a Barn into a House — Costs & Helpful Tips