Barndominium popularity is exploding, and many are choosing to set themselves apart from the crowd with attractive barndominium roof styles. There are many classic styles, and also some creative choices on the scene recently as well. Roof styles and combinations are endless.
At times it can seem as though you have to be an architect to plan how the exterior of a home will look. Luckily, most barndominiums use a handful of roof types that we are excited to dive into. Below are examples, pros, and cons of each style so that you can have all the information when designing your barndominium.
Gable Barndominium Roof
The most common barndominium roof style is a gable roof. This roof style has two equal sides, which meet at the peak in an "A" shape. This is commonly the shape of a house that you would see a child draw. Famous for its simplicity and cost efficiency, it is no wonder that this roof style continues to reign supreme in the barndominium world. Many barndominium owners find that they can make their gable barndos grand by adding adjacent garage spaces, wrap around porches, or dormers for second floor windows.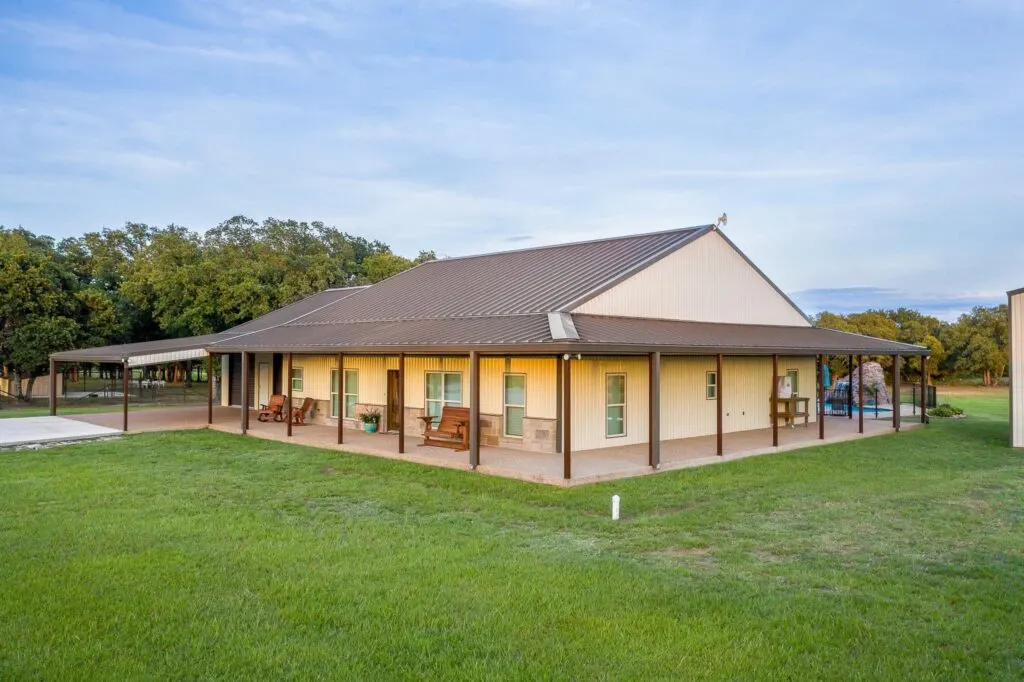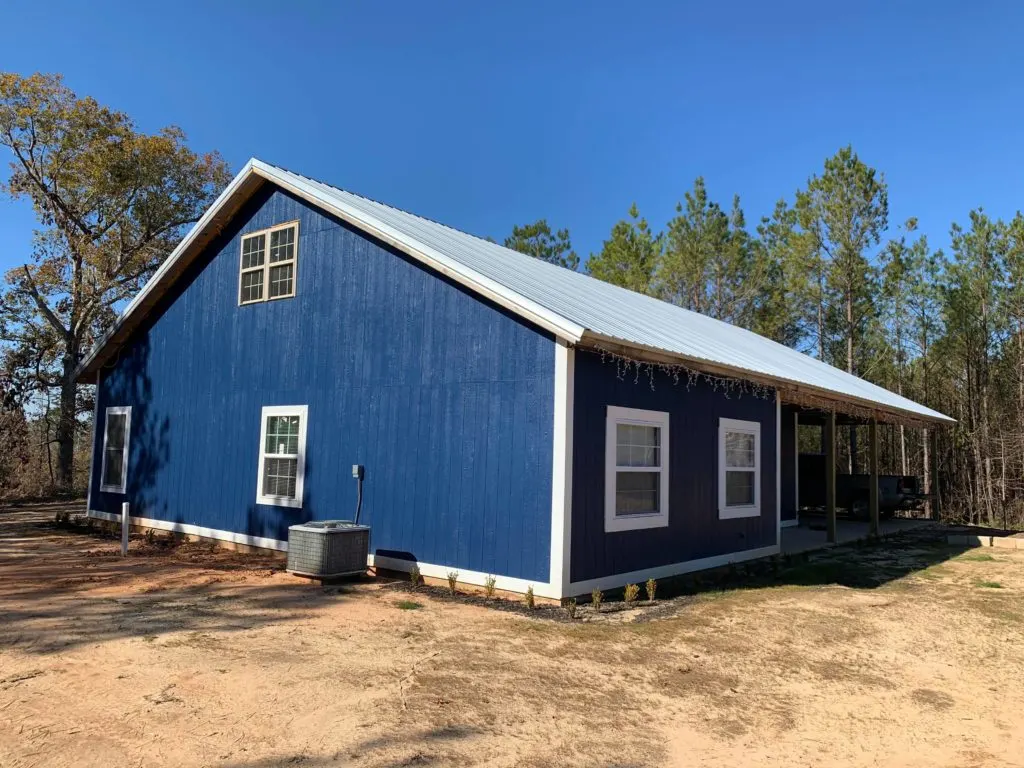 Pros:
Easy to construct
Cost effective
Leaves room under the roof for additional living space, vaulted ceilings, or large attic (depending on roof pitch)
Easily sheds water and snow for areas with extreme weather
Cons:
Gable roofs are typically steeper than other roof types, so installation can be trickier in that aspect, but comparatively, this roof type is easier to construct than some others.
Honestly, there are not a ton of drawbacks to a gable roof. It can be very simple, so if that does not suit your style, then there may be another roof style for you.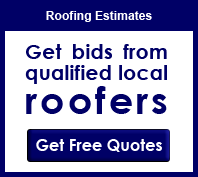 Gambrel Barndominium Roof
The gambrel roof is what made barndominiums famous. This iconic roof style has two sides to it, but each side offers a shallower slope that sits on top of a steeper one to meet, symmetrically, in the middle. Choosing this roof not only offers many benefits, it also gives the perfect mix of luxury and homey barn feel. Barndo owners who are determined to capitalize on the most spacious 2nd floor without raising the original side wall height should consider this barndominium roof style.
Pros
Makes a barndo statement!
The shape gives tons of space for a second floor
Relatively easy to construct, though not as easy as the gable
Provides great drainage
Cons
Snow can accumulate in the upper portion of the roof
It is challenging to retrofit/make changes to
Needs additional waterproofing
Find this gambrel barndominium's floor plan here!
How to Build Your Own Barndominium & 200+ Floor Plans
Get started today with our program "Barndominiums Made Easy: How to Build Your Own Barndominium" and get 200+ barndominium floor plans included!
Shed Barndominium Roof
Single-slope roofs or "shed" roofs offer one continuous roof line at an angle. This roof style has historically been used exclusively for garden sheds and outbuildings; however, it is making its way into barndo circles due to its simplicity overall. Recently shed roofs are becoming more popular with owners who are chasing a more contemporary modern look and shying away from the farmhouse trend.
Pros
Any type of roofing materials can be used for this roof
No pooling of water
Very inexpensive
Easy to construct
Cons
Resembles a common shed
Can be challenging when working with ceiling heights inside (no vaulted great room)
Monitor Roof Barndominium
Many high end barndominiums that circulate Pinterest these days have a monitor style body and roof. This barndominium roof type is characterized by having a raised center portion with shorter knee walls on either side of the raised portion. The look of the style can change significantly by raising or lowering the center portion of the home. Many barndominium owners who choose this style get creative with the edges of the first floor. We've seen horse stables, covered porches, RV storage and more!
Pros
Amazing grand barndominium feel
Can keep the roof pitch low and still have second floor options
Many use modular construction with this style to cut costs
Ability to install windows in the roof without dormers
Cons
More complicated to construct than some of the more simple roofs above
More expensive than some of the simpler roof types
Less attic or 2nd floor due to the shorter sides
Here is another super creative monitor style barndominium.

Using Multiple Type of Roofing Styles on Your Barndominium
Many homeowners opt for a combination of roof styles in order to achieve the highest level of architectural flare. There are countless combinations of different roof types, and all of them have been used together in different ways to create different unique styles. The combination roof pictured below is a mixture of the gable and hip styles, but it also has a dormer on the front and back of the home. This creates tons of second floor options and makes for beautiful curb appeal.
Pros
Owner can truly achieve any style of roof they want
Architects or drafters can have creative liberty to build the most beautiful home possible
Cons
The more angles and cuts in a roof, the more expensive it will be to construct
These roofs can get very complicated to build, and would not be a DIY project
May have more problems with weather and water intrusion
Check out this amazing combination style barndominium roof!
How to Choose the Right Barndominium Roof Styles
When beginning to design your barndominium, think not only about what the outside will look like, but also think about what your inside will look like. Ask yourself questions like, "Do I want a vaulted ceiling?" or " Do I want a loft or second floor?" Decide if the floor plan inside or the appearance outside is more important to you, and then begin making small decisions. Think about how those decisions will affect your roof line on the outside and your floor plan on the inside. If you feel in over your head, it could be helpful to hire a drafter or an architect.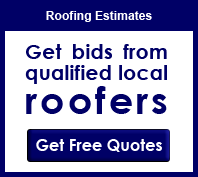 Are you considering dreaming up your perfect barndominium? Don't forget to grab a copy of our Ebook, "Build Your Dream Barndominium."——>https://amzn.to/3waMAUQ
Like this Post? Sign up for our email list!
Be the first to see new posts about the best barndominiums, construction guides, floor plans, and more! Enter your information below to become a BarndominiumLife VIP.