Our featured home, Lunsford Family Barndominium is located in Springtown, a small city to the west of Fort Worth in Parker and Wise Counties of Texas. Near Eagle Mountain Lake and several parks, suburban Springtown is an ideal location for a barndominium with spacious and high-ceilinged interiors.

The home of the Lunsford family is a testament to the flexible, durable, and energy-efficient features of this type of dwelling. A combination of rustic and modern design, it boasts 1,800 sq. ft. of living area and 2,000 sq. ft. of shop area.

This 2-story abode houses an open concept living and dining area, kitchen, and bar on the lower floor. On the second floor are 2 bedrooms and a master bath.

We offer images of both the construction and finishing stages of the structure to inspire you to design and build your forever home, barndominium style.

Whether you dream of a strictly rustic abode or prefer a totally modern one, you can enjoy the freedom of building a customized residence according to your family's unique lifestyle.

Check out the photos below to see how it can be done!
Get a FREE 18 Month Barndominium Planner
There are 39+ steps that must be taken before groundbreaking. Learn them all in this FREE checklist, available for immediate download.

Lunsford Family Barndominium Beautiful Facade Images
Against the clear bright sky of day or the blue stratosphere of dusk, this home breathes comfort the moment you set eyes on it irrespective of whether it's day or night.
A pathway leading to the barndo is an irresistible invitation to explore the residence on foot.
The barndo may also be approached on wheels. With a driveway like this, you can comfortably ride a motorcycle, a car, a pickup, or even an ATV.
Exterior Construction Phase of the Lunsford Family Barndominium
Cement, steel, and wood work together to reinforce the strength of this dwelling that has been built to last for generations.
How to Build Your Own Barndominium & 200+ Floor Plans
Get started today with our program "Barndominiums Made Easy: How to Build Your Own Barndominium" and get 200+ barndominium floor plans included!
Lunsford Family Barndominium Porch, Before and After
We love this spacious porch, especially with its wood-paneled roof that matches the thick wooden beams supporting it. And with the bricks used at the bottom of the house's wall, you could already imagine the black steel table and chair sets interspersed with quaint rattan decor.
A touch of modernity evident from the glass front door and windows lend a unique character to the warm and rustic atmosphere of this barndo.
Before and After Images of the Lunsford Family Barndominium Interior
Knowing that those white lights and wood panels cover sturdy and robust vaulting would make any homeowner confidently safe in all kinds of weather. The black metal banister on the staircase, which extends the length of the second-story hallway is functional while adding its own vibe to the decor of the house
How to Build Your Own Barndominium & 200+ Floor Plans
Get started today with our program "Barndominiums Made Easy: How to Build Your Own Barndominium" and get 200+ barndominium floor plans included!
Pictured are "pex" plumbing lines. This picture is of the manifold system which allows the house to be controlled by valves to open and close water supply to each fixture. The reason for that is if there is ever a need to make a repair or replace a particular sink, tub, or toilet, it can be in a manner that allows the water to be turned off on just that fixture alone without having to turn all water off completely. This way allows the rest of the house to operate normally. It's basically a "breaker box" for plumbing!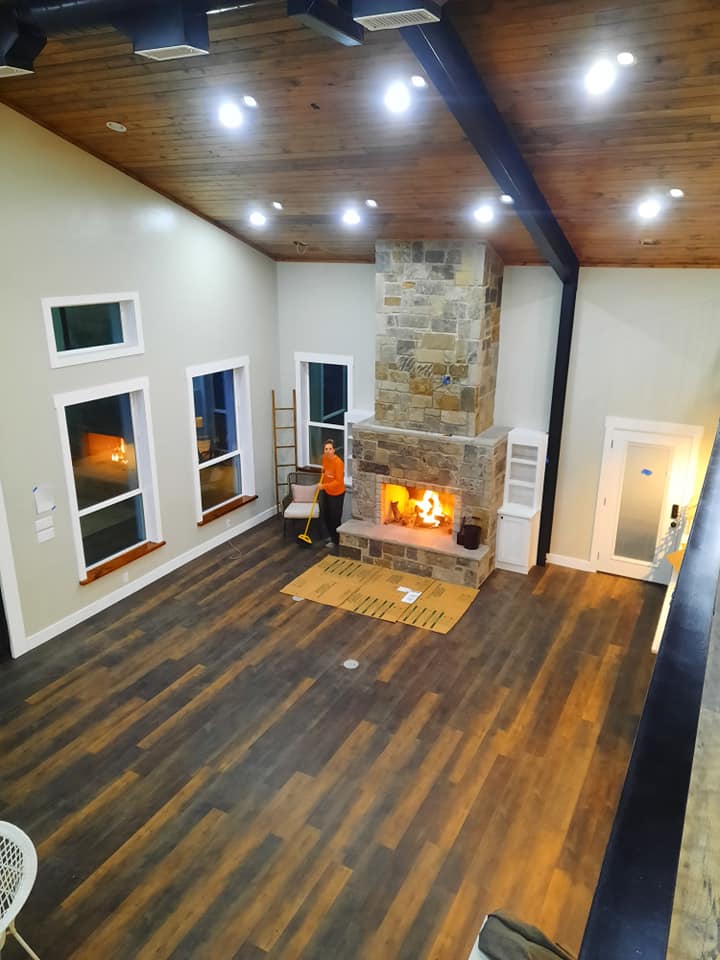 The open-concept living and dining area design adds to the spaciousness of the place but it is the fireplace that takes our breath away. The old-fashioned fireplace housed in bricks that run from floor to ceiling is the scene-stealer and adds a dramatic appeal to the room.

Light gray walls and white window and door frames are a stunning contrast to the wooden panel flooring in various shades of brown.
How to Build Your Own Barndominium & 200+ Floor Plans
Get started today with our program "Barndominiums Made Easy: How to Build Your Own Barndominium" and get 200+ barndominium floor plans included!

Bonus Photos! Stunning Lunsford Family Barndominium at Night
During construction, a small bonfire is lit on the yard fronting the porch. It's a preview of lazy summer nights which the family can spend outdoors cooking barbecue under a full moon.
Wouldn't you want to come home to this spectacular view every day of your life? The dark blanket of the night frames the dwelling while its lights cast a sepia quality on the yard.

Design Your Own Rustic-Modern Style Barndominium

We are grateful to Kris Lunsford for allowing us to feature their home in Springtown, Texas.

Have you been wanting to build your own barndominium but are intimidated by the construction process? Looking at the photos above, you now have an idea of what it entails. And hopefully, you're convinced that the process is not as difficult as it seems.

You can get your feet wet by designing a floor plan similar to the Lunsfords' below.
The Lunsford family used Danny Wilcox for their drafting, but you can design your own floor plan using this custom design software. It's a user-friendly technology that doesn't require graphic design skills. All you have to do is add your specs to the template, and you will see the finished blueprint in minutes!
Conclusion
For more information on #EverythingBarndominium, just browse our website and our Pinterest page. The Build Your Dream Barndominium e-book by Don Howe is also a valuable resource, from planning to construction to finishing touches.
Like this Post? Sign up for our email list!
Be the first to see new posts about the best barndominiums, construction guides, floor plans, and more! Enter your information below to become a BarndominiumLife VIP.