If you're wondering how to maintain a stock tank pool and keep it clean, then you're in luck since it's not as difficult as one may think. However, there are a few key things to keep in mind in order to ensure that you maintain a stock tank pool and it remains safe for swimming.
As a farming fixture, the humble stock tank has evolved into a perfect pool alternative for homeowners who need a quick soak during the summer months.
If you have a budget of around $500, you can get one today. This includes the pool parts necessary to complete your basic stock tank pool set-up. It's a far cry from the standard in-ground pool, which costs at least $28,000.
Source: Albert Wong (Florida)
How to Build Your Own Barndominium & 200+ Floor Plans
Get started today with our program "Barndominiums Made Easy: How to Build Your Own Barndominium" and get 200+ barndominium floor plans included!
How to Maintain a Stock Tank Pool?
Although an effort is needed to maintain a stock tank pool, in general, it is easier and less expensive than maintaining other pool alternatives. Its portability and durability contribute to its ease of maintenance.
There is one thing to keep in mind regarding plastic stock tank pools. They may be less durable and more prone to cracking.
In contrast, galvanized steel tanks may be heavier and less portable, but they are capable of handling insulation more effectively. Moreover, metal stock tanks have the added advantage of being easier to clean.
Here are some tips on how to maintain a stock tank pool and keep it clean:
Get Stock Tank Pool Cleaning Essentials
An estimated 208 outbreaks of illnesses associated with recreational swimming have been reported to the Centers for Disease Control and Prevention (CDC). In this context, maintaining a clean and safe stock tank pool is more important than ever.
For a more convenient cleaning process, we highly recommend getting these stock tank pool cleaning and maintenance essentials:
Floating Pool Chlorine Dispenser  – Also known as floaters or feeders, this device adds chlorine to the water by dispensing a set amount of chemicals when your pool is not being used.
Chlorinating Tablets  – Dissolving these 1″- or 3″-sized tablets in water releases active chlorine for the conditioning of your pool by chlorination, which helps control bacteria and algae growth.
Filter Pump  - This pump moves the stock tank pool water when installed. It keeps the water from getting too hot, prevents algae buildup, and prevents mosquito breeding.
Source: Sheilah Dixon Huckabee (Georgia)
Pool Skimmer  – A basic cleaning tool for removing floating leaves and debris from your pool.
Pool Brush  – Another essential pool cleaning item that is used to scrub your pool sides and bottom to prevent algae growth and dirt buildup.
Pool Cover or Blanket  – Covering the stock tank pool when it is not in use keeps the used water clean without the need to refill it frequently.
Mosquito Netting  – This prevents mosquitoes from breeding in standing pool water. Plus, it can add some rustic charm to your pool set-up.
Water Treatment  –  Water in certain locations may be too acidic and irritate the skin, so treating it is necessary to keep it safe. Water test and care kits can be bought online, as well as at your local spa. It's best to consult a local expert for more information.
Pool Thermometer  – This allows you to easily monitor the temperature of the water in your pool to maintain it at a comfortable level based on your preference. This is particularly useful when converting stock tank pools into hot tubs.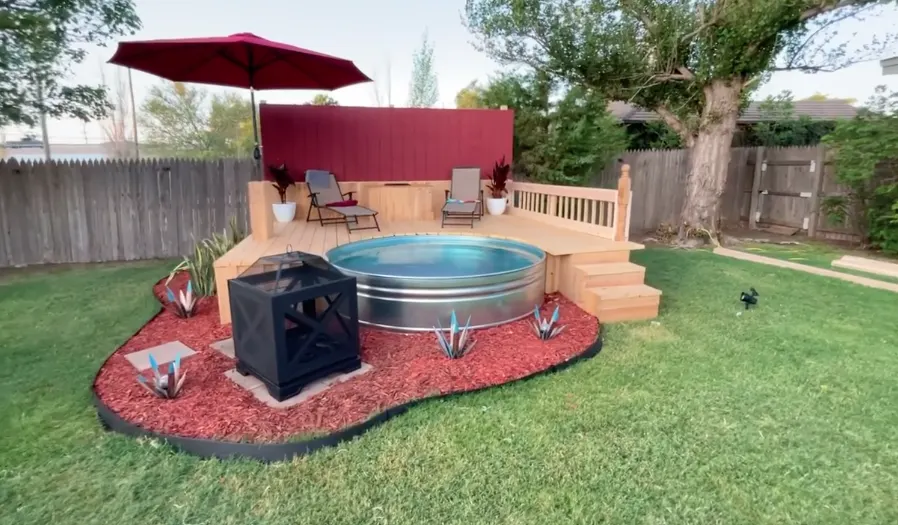 Source: Levi Oldham (Amarillo, Texas)
Quick Steps to Keep Your Stock Tank Pool Clean
Once you have gathered the essentials for stock pool cleaning, here is a handy routine that you can follow on a weekly or bi-weekly basis to ensure your pool stays clean:
By using a water test kit, you can make sure your water balance is not excessively high or low.
If necessary, use a water pH minus or pH raiser to balance your water's pH.
You should check your water filter to see if it needs to be cleaned.
Chlorinate your stock tank pool by placing chlorinating tablets in the water or by using the pool chlorine dispenser.
Remove floating debris from the stock tank pool and brush the sides and bottom with a skimming net and pool brush.
Keep the pool water flowing by running the pool pump.
You should cover your stock tank pool after using it so the water can be reused.
Source: Lisa Chaykowski (Ottawa, Ontario)
Final Thoughts
Now that you know the steps to maintain a stock tank pool, and with proper care, you can rest assured that the water in your pool will remain safe for swimming for a long time.
The great thing about stock tank pools is that they are easy to maintain and customize, making them suitable for any home aesthetic — be it an ultra-chic barndominium for a contemporary aesthetic or a bright and cozy barndominium that will complement the rustic home appeal.
Have you heard of the barndominium lifestyle? You might want to check out these outstanding barndominium statistics about how this new lifestyle is sweeping across North America.
Like this Post? Sign up for our email list!
Be the first to see new posts about the best barndominiums, construction guides, floor plans, and more! Enter your information below to become a BarndominiumLife VIP.
Noah Edis is a passionate staff writer at Barndominium Life, a leading online resource for all things barndominium. With years of experience in the writing industry, Noah has made a name for himself as a skilled storyteller and a knowledgeable authority on the topic of barndominiums.
Noah's interest in barndominiums began when he stumbled upon the concept while researching alternative housing options. Intrigued by the rustic charm and functionality of these converted barns, he soon became obsessed with the idea of living in one himself. He spent countless hours researching the construction, design, and decorating aspects of barndominiums, and soon became an expert on the topic.
As a staff writer at Barndominium Life, Noah enjoys sharing his knowledge and passion for these unique homes with others. He has written numerous articles covering a wide range of topics, from the history of barndominiums to the best ways to decorate them. Noah's writing is informative, engaging, and always on-trend, making him a valuable asset to the Barndominium Life team.
Noah is a graduate of the University of British Columbia, where he earned a degree in English Language and Literature. When he's not writing about barndominiums, he can be found exploring the great outdoors, trying new restaurants, or spending time with his family and friends. Noah is dedicated to his craft and is always striving to improve his writing skills and knowledge of the barndominium lifestyle.
Connect with Noah on LinkedIn