Today's featured barndominium is a gorgeous green property constructed by popular builders, HL Custom Homes. A stunning home, this St. Jo Texas barndominium is a quality crafted residence filled with beautiful finishes and high-end touches.
How to Build Your Own Barndominium & 200+ Floor Plans
Get started today with our program "Barndominiums Made Easy: How to Build Your Own Barndominium" and get 200+ barndominium floor plans included!
Exterior – Texas Barndominium
This exceptional home is a unique Texas barndominium in the sense that it doesn't have a traditional front entranceway. Instead, this lovely barndominium actually has a small entry point near the garage, as well as three sets of french doors, which all open up to the outdoor oasis.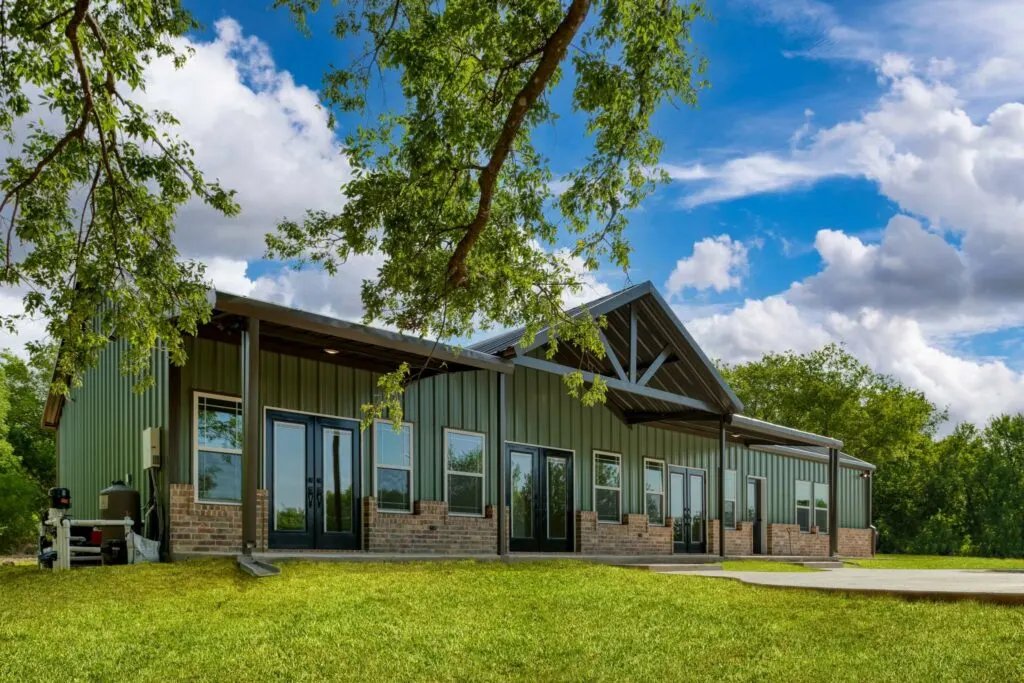 The eye-catching exterior color is a fresh and unique siding choice! Perfectly paired with a natural stone border and black trimming, this Texas barndominium is a beautiful site!
Garage
Making up a good portion of this Texas barndominium is an attached garage. Whether used for parking or additional storage, the garage is an arguable necessity for many barndominium owners.
Porch Area
There is a large, covered porch area that has french doors which connect to the home's main living room. The spacious outdoor area is the perfect place for lounge furniture or an outdoor living room. From enjoying the beautiful view to offering shade during a Texas heatwave, this porch is the perfect place to relax.
Pool Area
One glance at the pool area of this Texas barndominium, and we are falling in love with the home all over again. A true oasis, this pool features stunning brickwork, multiple waterfalls, and even an attached hot tub area to be enjoyed on cooler days and chilly nights.
Turquoise waters glimmer in the sunlight, and with the lush green surroundings, it's hard to think of wanting to spend time anywhere else than in this pool!
The hot tub is equally inviting and flows directly into the pool area. There is also plenty of space around the pool for additional outdoor furniture, including anything from lounge chairs to an outdoor dining set.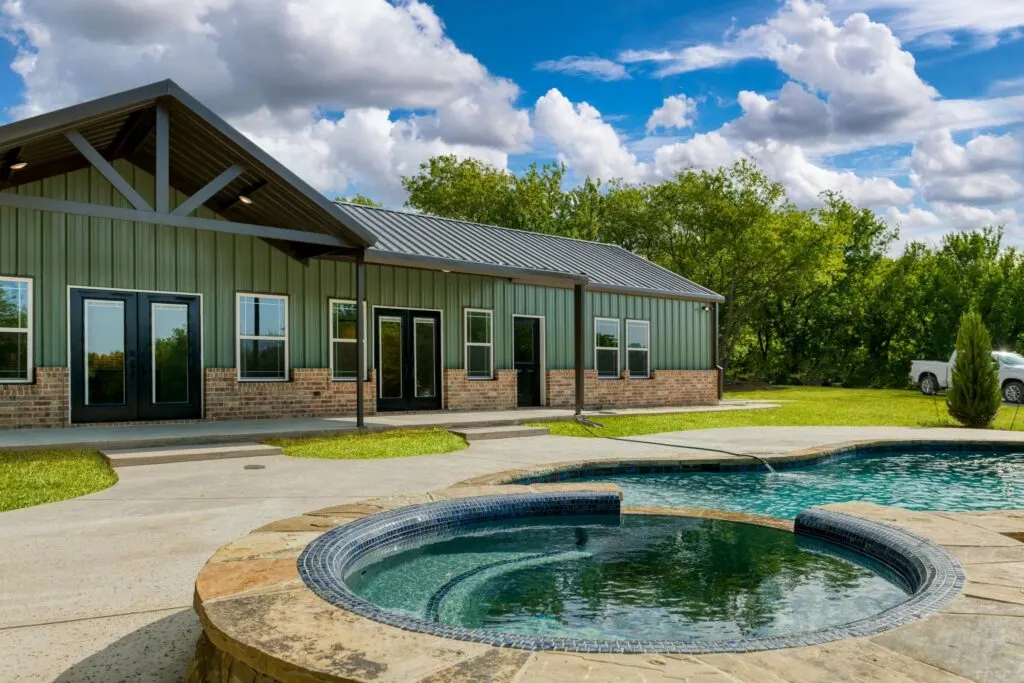 How to Build Your Own Barndominium & 200+ Floor Plans
Get started today with our program "Barndominiums Made Easy: How to Build Your Own Barndominium" and get 200+ barndominium floor plans included!
Interior – Texas Barndominium
While we agree that it is hard to top that outdoor space, heading indoors is sure to be just as impressive!
Living Room
As mentioned early, this Texas barndominium has three sets of french doors which open up to the pool area. The main living room is located off the middle set of french doors and provides easy access from the outdoor area to the indoors.
The room is bright and open, and with two windows and the french doors, plenty of natural light can fill the space. Light walls and flooring also keep the space looking fresh and spacious.
Kitchen
Partially attached to the living room, the kitchen is a stunning space. The rich wood incorporated in the island and range hood pops drastically against the neutral walls and flooring.
There is plenty of counter space and cabinetry, and high-end finishes such as the gas stove, custom range, and stainless steel appliances elevate the space.
The kitchen island provides a great place for seating and tons of additional prep space. With the built-in sink, anyone using the kitchen can still remain part of the conversation.
The crisp white cabinets keep the kitchen bright, and the textured brick backsplash gives the room a beautiful focal point. Black handles, a farmhouse sink, and drop-down lights finish off the space and give it a rustic yet refined look.
Pantry
Attached to the kitchen is a walk-in pantry where we find even more cabinetry and countertop space. From hiding unsightly appliances to storing food, there is more than enough space for everything – and more!
Bedrooms
This gorgeous Texas barndominium features two bedrooms. The rooms are both spacious and bright and also offer tons of space for furniture and decor.
The first bedroom, presumably the master, features additional luxury features such as a walk-in closet and a master ensuite bathroom. The bedrooms also feature the additional two sets of french doors allowing occupants to easily make their way to the stunning porch and pool area.
Walk-In Closet
The extra large walk-in closet is outfitted with tons of custom-built storage solutions. From hanging spaces to open shelves, there is plenty of opportunities to store clothes, shoes, and more.
Master Bathroom
A stunning master ensuite is also tucked off of the master bedroom and offers a private space for owners. His and her vanities and a beautiful glass shower are all that are necessary to make this ensuite luxurious and functional.
Guest Bedroom
The second bedroom also has tons of natural light and access to the pool area via french style doors. This space can be used for a guest room or quickly transformed into a beautiful home office, personal gym, or craft room!
Guest Bathroom
Much like every other room in this lovely Texas barndominium, the guest bathroom is bright, clean, and beautifully simple. Plenty of storage, crisp white cabinetry, and a tiled shower (with a window!) make for a stunning guest bathroom!
If you would like more guides like this one, check out the rest of BarndominiumLife.com. There, you will find more helpful tips and tricks from the pros. You will also find featured barndominiums, barndominium floor plans, and information on financing and insurance. Knowing as much as you can will help you get the best results for your dream home.
Like this Post? Sign up for our email list!
Be the first to see new posts about the best barndominiums, construction guides, floor plans, and more! Enter your information below to become a BarndominiumLife VIP.