Barndominium statistics show the trend is sweeping the nation. With the low price and cozy style, it's no wonder that so many people are swapping out their homes with barndominiums.
If you're looking to find out more about barndominiums, then this article is for you. We'll give you a brief overview of what the term means and how many are built in North America every year.
We'll also discuss why these tiny homes are growing in popularity so quickly!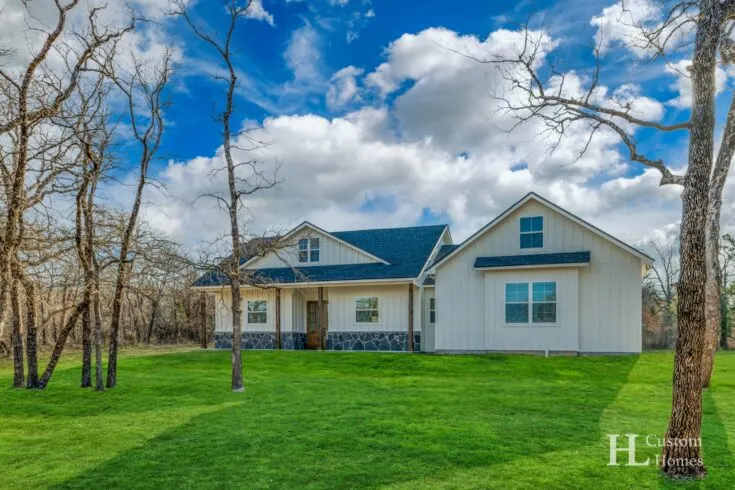 Get a FREE 18 Month Barndominium Planner
There are 39+ steps that must be taken before groundbreaking. Learn them all in this FREE checklist, available for immediate download.
What is a barndominium?
A barndominium is a living space that's built as a barn. It's part house, part barn, and all style. The name comes from combining the words "barn" and "condominium."
Barndominium statistics show that this unique type of home has been taking over the country. They're most common in rural parts of the Midwest and southern states like Kentucky and Tennessee—but they're popping up everywhere.
Did you know barndominiums have been existing for decades? It originally referred to a new development of converting horse barns to a wider extension of a home.
Over the years, though, the word has evolved to mean a barn that's converted into a workspace and residence.
The term "barndominium" has been around since 1989, coined by real estate developer Karl Nilsen. (Source: The New York Times)
Barndominiums were catapulted into the national spotlight in 2016, when it got featured in an episode of the HGTV show "Fixer Upper." The hosts, Chip and Joanna Gaines, transformed a 1000-sq.ft. barn into a home. (Source: HGTV)
How much does a barndominium cost to build?
The actual price depends on the size of the building or barndominium you choose to build and whether or not it has any unique features like balconies or porches that might increase its value.
The cost of building a barndominium varies between $94 to $120 per square foot (Source: HomeAdvisor):

Barndominium kits can range from $5,000 to $70,000, depending on the size and style.
Building materials comprise less than 50% of the total cost, compared to houses.
The average 2,400-square-foot barndominium would cost about $230,000 with builder-grade finishes and materials.
You can save around $20 to $30 per hour if you finish the barndominium yourself, but hiring specialty jobs like an electrician or a plumber is still recommended for quality and safety.
In contrast, the average cost for erecting and building a house ranges from $115 to $150 per square foot. A traditional home would range from $165,000 to $480,000. (Source: Realtor)
One of the biggest and most well-built barndos we've seen is a 10,000-square-foot barndominium in Texas, which is estimated to cost between $150 to $200 per square foot. (Source: Texas Best Construction)
Though barndominiums are excellent for large residences, the overall cost depends largely on the materials and furnishings. In fact, a luxury barndominium was listed this year for a whopping $1.6 million in Tennessee. (Source: 615 Media)
How to Build Your Own Barndominium & 200+ Floor Plans
Get started today with our program "Barndominiums Made Easy: How to Build Your Own Barndominium" and get 200+ barndominium floor plans included!
Barndominium statistics: How many barndominiums are built in North America every year?
There is no definitive answer, as there is no central database of barndominium statistics. However, we estimate that at least 1,000 new barndominiums are built annually in North America.
Benefits of living in a barndominium
One of the great benefits of living in a barndominium is that you get to enjoy the outdoors more. Plus, since barndominiums are made mostly of metal and wood, they are very durable and won't require expensive repairs like a traditional home would.
With proper maintenance, steel barndos can last 50 years, while wooden ones can last almost a century. (Source: Outdooroo)
Around 91%of new homes built in 2020 were made from traditional wood-framed structures. (Source: National Association of Home Builders)
There was also a rise in the number of steel-framed homes in the same year compared to 2019. (Source: National Association of Home Builders)
Another benefit of living in a barndominium is that they are very unique. It's safe to say that barndominiums offer both style and functionality.
And since barndominiums are becoming more popular, you'll be ahead of the trend! If you like being outdoors and don't want to spend all day indoors doing chores, this is definitely the right choice for you!
Features of barndominiums
Barndominiums are a novel type of housing that has become increasingly popular in recent years. As their name suggests, they are a combination of a barn and a condo, offering a unique blend of rural and urban living.
As a type of housing that combines the features of a barn with those of a condominium, these homes are typically distinguished by their open floor plan, which combines the kitchen, living room, and dining room into one large space.
Other distinguishing features of barndominiums include tall ceilings and large windows.
Barndominiums usually have a rustic design and are often built with metal or wood siding. Many also have a porch or deck, and some even have a loft area.
Barndominium Statistics: Final Words
With people always searching for the newest and best way to live, it is no wonder that the barndominium has become so popular in recent years.
We hope these barndominium statistics and facts have helped you better understand what it's like to live in a barndominium.
If you're considering purchasing one, we highly recommend researching the topic before making any decisions.
Many features make this type of living space unique and appealing, but there are also some drawbacks that should be considered if they could impact your future happiness or lifestyle choices.
Like this Post? Sign up for our email list!
Be the first to see new posts about the best barndominiums, construction guides, floor plans, and more! Enter your information below to become a BarndominiumLife VIP.
Noah Edis is a passionate staff writer at Barndominium Life, a leading online resource for all things barndominium. With years of experience in the writing industry, Noah has made a name for himself as a skilled storyteller and a knowledgeable authority on the topic of barndominiums.
Noah's interest in barndominiums began when he stumbled upon the concept while researching alternative housing options. Intrigued by the rustic charm and functionality of these converted barns, he soon became obsessed with the idea of living in one himself. He spent countless hours researching the construction, design, and decorating aspects of barndominiums, and soon became an expert on the topic.
As a staff writer at Barndominium Life, Noah enjoys sharing his knowledge and passion for these unique homes with others. He has written numerous articles covering a wide range of topics, from the history of barndominiums to the best ways to decorate them. Noah's writing is informative, engaging, and always on-trend, making him a valuable asset to the Barndominium Life team.
Noah is a graduate of the University of British Columbia, where he earned a degree in English Language and Literature. When he's not writing about barndominiums, he can be found exploring the great outdoors, trying new restaurants, or spending time with his family and friends. Noah is dedicated to his craft and is always striving to improve his writing skills and knowledge of the barndominium lifestyle.
Connect with Noah on LinkedIn