The barn home has been around for hundreds of years and is a concept loved by many until today. Keep reading for the best barndominium kits and the details on where to buy them; we're here to help you jumpstart your dream barndominium home.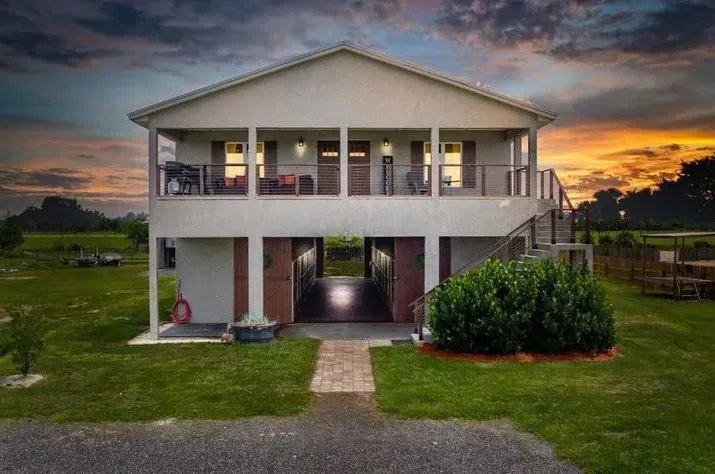 By combining the convenience of a modern home and the relaxed atmosphere of country living, barndominiums were created in 1989 as neighborhoods centered around the idea of raising horses by providing ample space in the home.
The barndominium has evolved over the years. It has become a favorite among homeowners due to its ample interior space, energy efficiency, rustic look, and design flexibility packaged as an affordable all-in-one home kit.
What is a Barndominium Kit?
A barndominium kit is a prefabricated easy-to-assemble metal building that can be used as a home, office, or workshop.
The great thing about barndominium kits is that they are made from heavy-gauge steel, making them extremely durable against extreme weather conditions.
The metal construction makes it resistant to rust and rot, and the insulation keeps the interior warm in winter and cool in summer.
Compared to traditional construction methods, barndominium kits are much cheaper to build. Moreover, because they are prefabricated, there is little waste or construction time.
Barndominium kits are also customizable, so you can choose the features and amenities that fit your needs.
You can select the size and style of your barndominium, allowing you to create a space that is perfect for your needs and lifestyle.
If you are looking for a durable, affordable, and customizable building, a barndominium kit may be the ideal choice.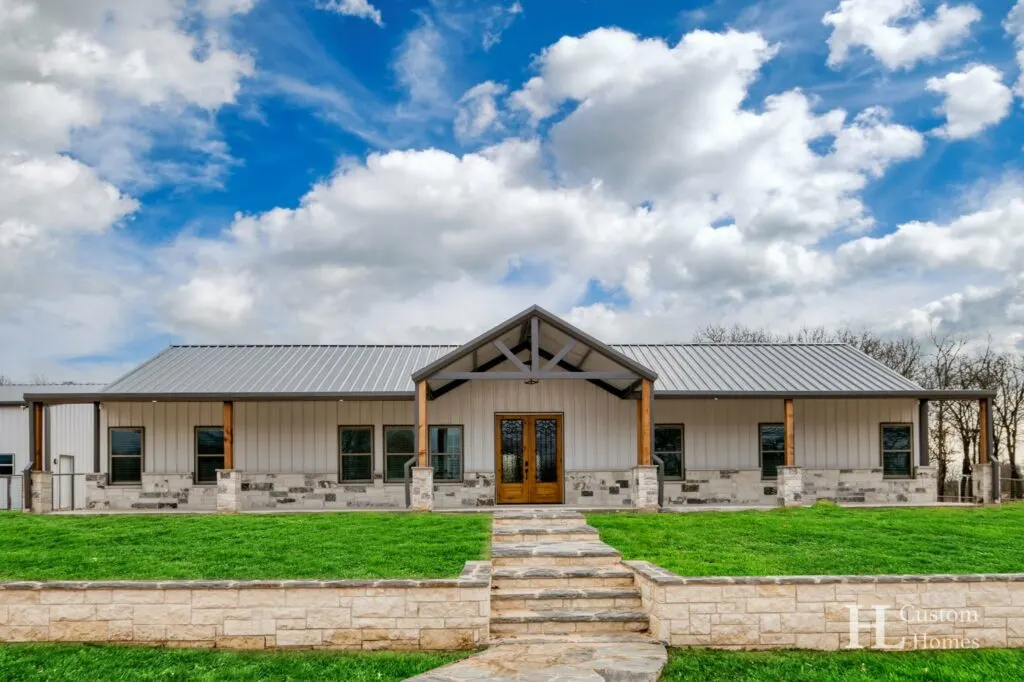 Where To Buy The Best Barndominium Kits?
Whether you live in an area where barndominiums are popular, such as Texas, or anywhere these are on the rise across the country, you can most likely find a barndominium kit builder near you.
Here are some of the most reputable barndominium kit builders:
Tri-Country Builders
Location: Texas
A top pick among our list of companies for building a brand new barndominium is Tri-Country Builders.
Founded in New Braunfels, this company offers a wide range of affordable and innovative concepts for incorporating your dream barndo into a durable, affordable, multipurpose structure.
This may include living quarters, a shop, a garage, a recreation space, and any other type of area you need.
Tri-Country Builders provides drawings, including floor plans, electrical, and elevations, to get a quote and build your Texas home, and will not charge for porches or shops.
Worldwide Steel Buildings
Location: Missouri
Do-it-yourself pros will enjoy Worldwide Steel Buildings and their metal barndominium kits.
Each barndominium kit includes an assembly manual covering primary framing, secondary framing, exterior sheathing, trim, closures, fasteners, and stamped building plans, where you can also add more floors, overhangs, porches, and other features.
Besides offering new customizable kits, the company also offers prefab barndominium kits if you are looking for a more affordable and energy-saving barn home.
What's more? Worldwide Steel Buildings can deliver your construction needs across the country.
General Steel Buildings
Location: Colorado
The barndominium kits from General Steel Buildings come in a number of sizes, from small to large, perfect for multipurpose homes. As soon as you choose a building kit, you can select the interior and exterior features and the color scheme you prefer.
With every kit from General Steel Buildings, you can expect to receive multiple warranties, including a building warranty of 50 years, a paint warranty of 40 years, and a standing seam roofing warranty of 25 years.
The company will also include a project coordinator to assist you with the decision-making process for your building.
DC Builders
Location: Oregon
DC Builders offers both affordable and luxury barndominium kit options for its customers.
Providing the most customized kits in the industry, DC Builders has a wide range of custom features, such as Cedar and Pine decks, to Douglas ceiling upgrades, and solid hardwood staircases—each customized according to your needs and budget.
SteelCo Buildings Inc.
Location: Georgia
Steel Co Buildings Inc offers various sizes of barndominium kits, including single-story to two-story homes.
During your barndominium kit build and assembly, all fasteners will have lifetime warranties, while the finish will have a warranty of up to 20 years against most types of paint damage.
Although Steel Co Buildings is based in Georgia and Virginia, it is able to ship directly anywhere in the United States.
The company's construction experts can assist you during construction within 30 miles of their location, and they can provide recommendations for local builders if you live outside their service area.
Absolute Steel
Location: Texas/Arizona
Absolute Steel is proud to be able to provide the United States Armed Forces with a range of rot and pest-proof structures, so you can expect the same quality with their barndominium kits.
In addition, they provide metal frames and panels to make your barndominium highly resistant to damage from the elements.
The company's manufacturing facility is located in Texas, and its corporate office is located in Arizona. Better yet, they offer an instant online quote generator on their website, and they can deliver to every state and arrange shipments overseas.
Final Thoughts
A barndominium kit is becoming one of the most popular types of buildings across the nation since these types of buildings offer affordability, customizability, strength, and ease of construction that homeowners look for.
Noah Edis is a passionate staff writer at Barndominium Life, a leading online resource for all things barndominium. With years of experience in the writing industry, Noah has made a name for himself as a skilled storyteller and a knowledgeable authority on the topic of barndominiums.
Noah's interest in barndominiums began when he stumbled upon the concept while researching alternative housing options. Intrigued by the rustic charm and functionality of these converted barns, he soon became obsessed with the idea of living in one himself. He spent countless hours researching the construction, design, and decorating aspects of barndominiums, and soon became an expert on the topic.
As a staff writer at Barndominium Life, Noah enjoys sharing his knowledge and passion for these unique homes with others. He has written numerous articles covering a wide range of topics, from the history of barndominiums to the best ways to decorate them. Noah's writing is informative, engaging, and always on-trend, making him a valuable asset to the Barndominium Life team.
Noah is a graduate of the University of British Columbia, where he earned a degree in English Language and Literature. When he's not writing about barndominiums, he can be found exploring the great outdoors, trying new restaurants, or spending time with his family and friends. Noah is dedicated to his craft and is always striving to improve his writing skills and knowledge of the barndominium lifestyle.
Connect with Noah on LinkedIn