Today's featured home is another one of HL Custom Home's stunning Springtown Texas barndominiums. Set on a beautiful piece of property, this barndominium is a bright and spacious home that, once again, has been expertly crafted and constructed by one of the area's most popular barndominium builders.
How to Build Your Own Barndominium & 200+ Floor Plans
Get started today with our program "Barndominiums Made Easy: How to Build Your Own Barndominium" and get 200+ barndominium floor plans included!
Exterior
The exterior of this Springtown Texas barndomium is a light vertical siding that is bordered by matching light stone. A low-profile roof offers a large overhanging porch area, and the exposed wood pillars add a touch of rustic flare.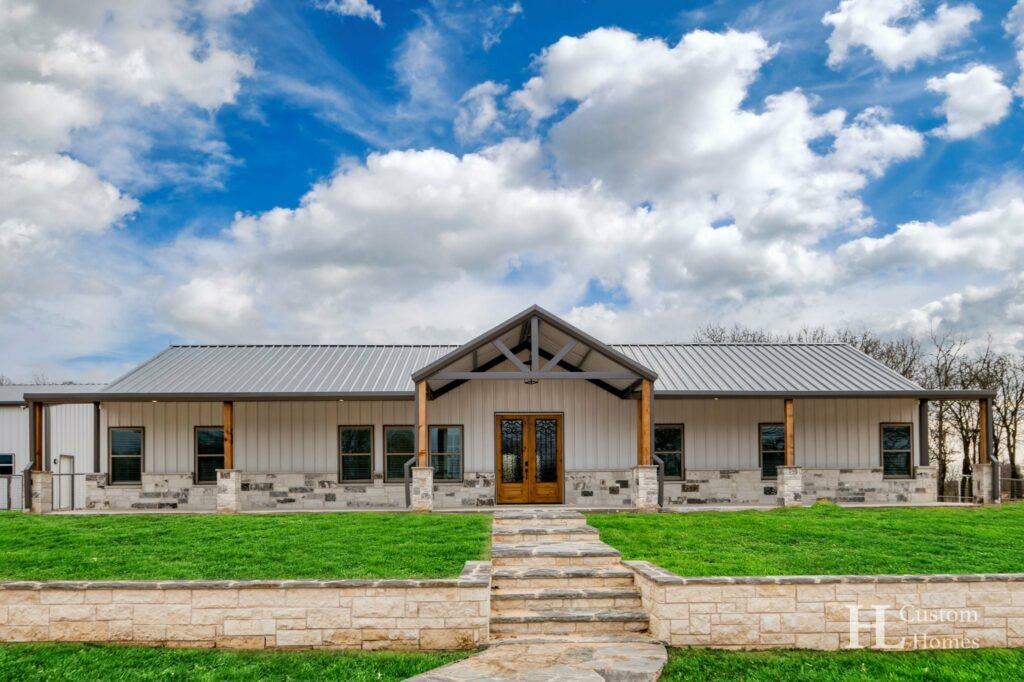 The face of this Springtown Texas barndominium is filled with windows, allowing natural light to pour in, while the peaked entranceway area offers a grand welcoming to the homes. The detailed wooded double doors are an added touch of luxury, which seem to be staples in any of HL Custom Homes' barndominiums.
The property is spacious and open, and a matching brick retaining wall adds both function and style to the overall feel.
A large covered porch area, which runs along the entire face of this Springtown Texas barndominium, is the perfect space for outdoor furniture or holiday decor.
The back of the property is equally as beautiful and also features a covered towering covered area. Owners can throw open the double doors leading to the patio area and use it as an outdoor living or dining area. The included hot tub is a bonus feature that provides a quiet place to relax and unwind.
How to Build Your Own Barndominium & 200+ Floor Plans
Get started today with our program "Barndominiums Made Easy: How to Build Your Own Barndominium" and get 200+ barndominium floor plans included!
Interior
Indoors we find crisp and clean white shiplap walls, which act as an ideal neutral backdrop for any personal decor options. The wooded entryway doors make just as much of an impact inside as they do outside.
Living Room
The main living area is bright and open and features tons of windows along the back of this Springtown Texas barndominium. We can see the intentional color scheme found in the exposed brick fireplace, matching perfectly with the wooded exterior doors and exposed ceiling beam.
The floor-to-ceiling fireplace is the room's main focal point, and with matching custom shelves on either side provide tons of space and function along with style.
Turning around, we can see even more matching details in the brick archway that subtly separates the main living room and the kitchen area.
There is plenty of space for furniture, a dining set, and much more, which can comfortably fill the room and make it cozy and homey.
Kitchen
This Springtown Texas barndominium's kitchen is large and bright, with tons of white cabinetry lining the walls. The island and rangehood are the same gleaming wood as accented throughout the rest of the home, expertly tieing all of the design elements together.
A large farmhouse sink is incorporated into the island, and with tons of countertop space, there is plenty of room for cooking and baking.
Small details make a huge impact as is evident by the herringbone pattern backsplash that covers the stovetop area.
Mudroom/Laundry Room
The mudroom is located off of the main living area and is the perfect space for laundry, storage, and more. A pet shower has been incorporated into the space and is a great way to keep muddy paws off of the gleaming wood floors.
Bedrooms
There are multiple bedrooms located in this Springtown Texas barndominium, each one is light and airy, just waiting to be personalized! Large closets and plush carpets make the rooms practical and cozy for their residents.
The master bedroom features a massive walk-in closet that has been outfitted with tons of custom storage solutions. From hanging areas to shelves and drawers, there is no worry when it comes to storage and organization!
Bathrooms
The master ensuite is also an impressive area of this Springtown Texas barndominium! The patterned tiled floor adds an upscale look, while the separate tiled shower room is stylish and functional. Double vanities ensure no one needs to worry about fighting over mirror time either!
Mimicking the style of the master ensuite, the guest bathroom is also beautifully decorated and features a separate toilet and bathing area. There are double sinks along the L-shaped variety as well as a large mirror.
If you would like more guides like this one, check out the rest of BarndominiumLife.com. There, you will find more helpful tips and tricks from the pros. You will also find featured barndominiums, barndominium floor plans, and information on financing and insurance. Knowing as much as you can help you get the best results for your dream home.
Like this Post? Sign up for our email list!
Be the first to see new posts about the best barndominiums, construction guides, floor plans, and more! Enter your information below to become a BarndominiumLife VIP.