Today's featured home on Barndominium Life is Brian Sollars' Missouri barndominium and it is a beautiful example of how the industrial style of the metal pole structure can integrate with a modern home. While this house is still under construction, you can still see some of the ways it is combining different elements and becoming its own unique entity. The colors and textures are perfectly matched and contrasted where they need to be and it really is becoming a fantastic, unique barndominium home.
Exterior
Front
One of the first things you will notice about this Missouri barndominium is the rock feature that comes about ⅓ of the way up the wall. This is an excellent way to bring some organic and natural elements to the home and can really make it look like a lived-in, cozy place instead of just a metal building. This is always the challenge with a barndominium and we think the designers of this one have started off on the right track.
The best way to bring your barndominium together and give it a nice, modern twist is to think about window placement. That is exactly what has happened with these garage doors. We love the fact that they are at about the halfway point instead of the ¾ point like so many garage door windows are. This is a small detail, but absolutely one that is worth noting. If you want to create an eye-catching design, where you put your windows absolutely matters.
Speaking of windows, the window array here is absolutely stunning. One trap that you can find yourself in as the builder of a barndominium is not having enough light. It can be difficult to know how many windows is enough, especially if you are building your barndo from a kit. They often don't come with as many spots as you would like and they have to be custom cut to create the right amount of natural light. That isn't a problem here as the windows have been integrated into these door openings and will give a bright, airy feel to the interior.
We can't talk about this Missouri barndominium without talking about the way it looks at night. This barndo has such amazing exterior lightning and there isn't an inch of it that isn't bathed in that bright, welcoming glow. This home cuts such an amazing profile and we think it is a perfect example of how you can take something like a metal barn and turn it into a home that has curb appeal and a lot of character.
We also love the partial wraparound front porch. Having this extra space to have barbecues or get-togethers can be a real lifesaver when you are pressed for space on your home's interior. While we don't think this Missouri barndominium will have that problem, it is nice to see that this extra gathering area has been added and can be enjoyed on both sides of the home. Plus, it gives the exterior that nice profile that we absolutely love.
One of the great things about this wraparound porch is the ⅓ stone columns that are holding it up. When you are designing a home and figuring out what materials you would like to use, it is important that you think about how they will react to each other and how they will be referenced in different places on and in the home. These rock columns are a great example of that and how the stonework on the walls can be continued on in different areas.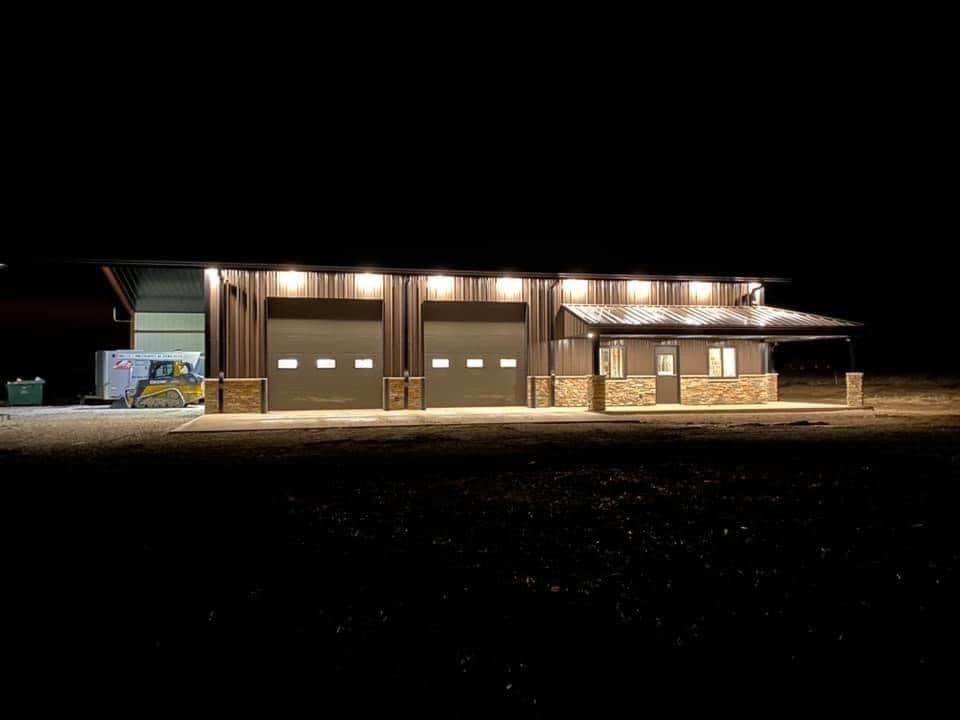 We love the double shop doors on this Missouri barndominium as well. This is clearly a home that is designed with work in mind and is meant to be a place where productive things happen. By having such nice access to the shop, the owners of this home can do just about any kind of work you can think of around the yard or for bigger, more industrial purposes.
Parking Area
On that note, this Missouri barndominium also features an amazing parking area for large equipment or recreational vehicles. If the owners of this barndo are intending to do large scale work, they are certainly going to need a place to put all of the equipment where it can be protected. If you notice, the overhang on this end of the barndo juts out enough to create an integrated carport. This is an ingenious way to include some protection on the home without having to create an entirely new structure.
This Missouri barndominium is already shaping up to be incredibly unique and wonderfully appointed. Even though we were only able to get a look on the outside, we can tell that this home is being designed by someone who has absolutely everything in mind and will create a beautiful interior that can be enjoyed for years and years.