We are thrilled to introduce to you a beautiful barn-red barndominium out of Red Oak, Texas. Not everyone can rock the red well, but this barn is spot on with its color and design. With 1800 square feet of living space, 1800 square feet of garage space, and ample covered porch and storage areas, this home will steal your heart.
Texas Red Barndominium: Exterior
A 10×60 covered front porch area greets you at the entrance of this home. The galvanized metal roof pairs perfectly with the white trim, doors, and guttering to really make the red metal siding pop. This barndominium has a simple 60×60 square design which allows for plenty of room for all of the living and garage space that an owner may want.
Are you captivated by the red? Take a peek at another stunning red barndominium here!
Texas Red Barndominium: Open Concept Kitchen and Living Space
Warm wood tones flow through the open concept kitchen and living spaces. Dark wood cabinetry match with the wood trim, flooring, and ceiling fans in this room. Granite counter tops in the kitchen steal the show with streaks of black, grey, and brown. This large, rectangular room has space for a large dining area and living space galore!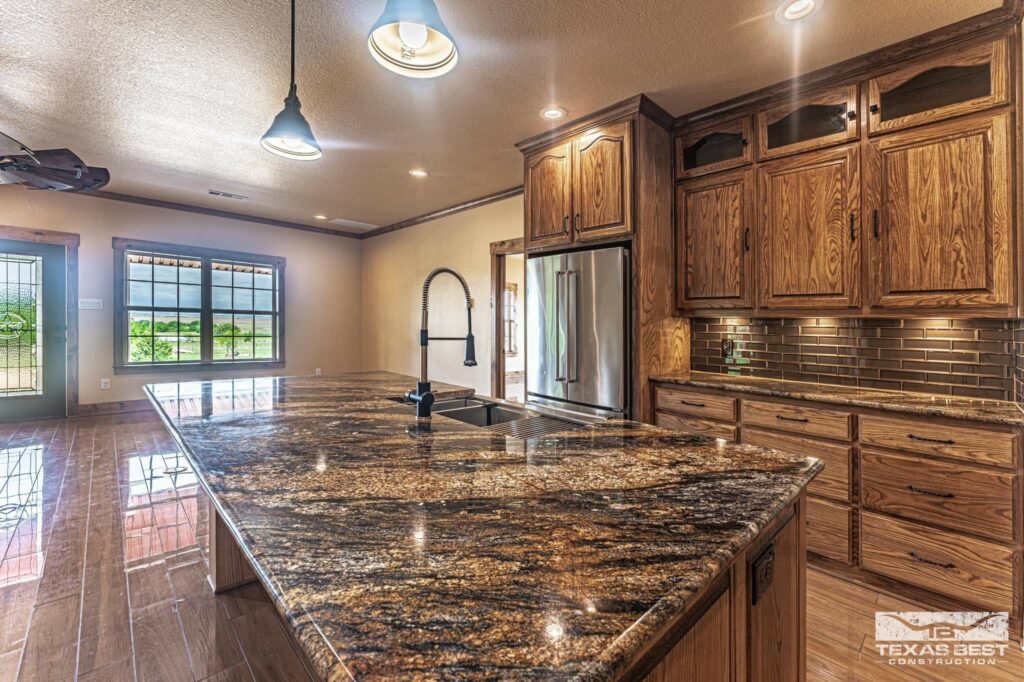 Texas Red Barndominium: Bedrooms
Three matching bedrooms have the same style as we saw in the kitchen and living areas. Taking some square footage from the bedrooms allowed for more space to be allocated in other spaces in the house. But these bedrooms still have everything they need. We are loving the big windows and wood trim throughout.
Texas Red Barndominium: Bathrooms, Laundry, and Closets
There are so many things to love about the unique bathroom spaces in this barndo. Just because a house has a smaller square footage, doesn't mean that it can't have luxury bathrooms! First of all, the wood-stained double doors are gorgeous, and give a warm depth to the room. The massive walk-in shower is tucked in the corner with floor-to-ceiling tile with tile accent in the middle. There is a toilet room with storage, and a walk-in closet. The closet offers wood shelving and special storage options for more than just clothes.
Another feature piece of this bathroom is the large corner soaker tub with black fixtures. It continues the large 12×24 tiles from the shower area to make the design cohesive in this bathroom. The double sink vanity offers a ton of storage with a tall (and wide!) linen cabinet. We love that the granite counter tops are continued into the bathroom spaces.
Texas Red Barndominium: Finished Storage Area
This home also offers a ton of attic-like storage with access from the garage. It is so nice to have a space to put christmas decorations, boxes of old memorabilia, and other storage that you don't need daily or weekly. The owners did well to spray foam this space and add lighting and a window.
Texas Red Barndominium: Garage
This is an amazing garage space! With 1800 square feet of space, this red barndominium has endless options for storage in this area. Notice the pull-through garage doors for an RV or other large vehicles. There is also a storage closet and multiple entry doors to the living space.
You can find more information about Texas Best Construction, the builders of this barndominium, by going to their website. You can also find them on facebook and Youtube!
Texas Best Construction also did a virtual tour of the home that you can see here.
Check out our book, "Build Your Dream Barndominium" to make your barndo building dreams come to life!