Building a home is an incredibly rewarding project that is well worth taking on. You can create something that you and your family will love for many years to come. However, with the popularity of alternative housing, you may be wondering what other options you have. That's why you may find yourself asking "what is a farmdominium?"
If you have seen the word farmdominium in an article or video, there is a good reason for that.
These homes are combining a few of the most popular styles in home building today.
In this article, we have laid out all the answers to the question "what is a farmdominium?" By understanding what these homes are and what they have to offer, you can decide if one is right for you.
How to Build Your Own Barndominium & 200+ Floor Plans
Get started today with our program "Barndominiums Made Easy: How to Build Your Own Barndominium" and get 200+ barndominium floor plans included!
What is a Farmdominium?
A farmdominium is like a barndominium with a little bit of extra flair and style.
Barndominiums are homes built using the shell of a post frame metal building. These buildings are usually reserved for agricultural purposes but can be turned into beautiful homes.
A farmdominium uses this same concept but adds all the hallmarks of the country cabin and farmhouse style.
There are all kinds of benefits to building a barndominium but many people are wary of them. Because of their utilitarian materials, it's easy to believe that they can be boring or plain. Farmdominiums are proof that you can create something incredibly beautiful with these structures. By knowing the answer to the question of "what is a farmdominium" the possibilities are endless for you.
Why Build a Farmdominium?
Building a home is a great way to get everything you want out of your house. However, as anyone who has started the process knows, it is also very expensive. Because of this, many people are turning to alternative housing as a way to get their foot in the door. Farmdominiums are a great way to start getting involved in the home-building process.
A farmdominium has many different features that a regular barndominium doesn't have. They are often much more ornate and have design elements that may not be included in a barndo. Because of this, someone asking "what is a farmdominium" might be looking for something a little bit different. A project like this is a great way to get your creative juices flowing and come up with something amazing.
How to Build Your Own Barndominium & 200+ Floor Plans
Get started today with our program "Barndominiums Made Easy: How to Build Your Own Barndominium" and get 200+ barndominium floor plans included!
What Makes a Farmdominium Special?
Shiplap
One of the hallmarks of a farmdominium is shiplap walls. Shiplap is a type of siding that uses wood arranged in an interesting and unique pattern. Oftentimes, this wood will be recycled or reclaimed, which can create some amazing patterns and colors. Because of this, your home can be both beautiful and eco-friendly, which is more important than ever.
Shiplap siding is emblematic of the farmhouse style and is immediately recognizable. This is a great way to give your farmdominium some warmth and a rustic feel. Unlike more modern barndominiums, farmdominiums are heavy on country cabin style. This makes them a great choice for people who love that look but don't want to spend a lot of money.
Shop Addition
Since farmdominiums are very much a part of the farmhouse tradition, a shop is a must. Having a shop addition on your farmdominium is a great way to add some extra space to your home. It also gives you a place to store things like recreational vehicles or boats. Having this kind of utilitarian area will boost your home's value and make it much more functional.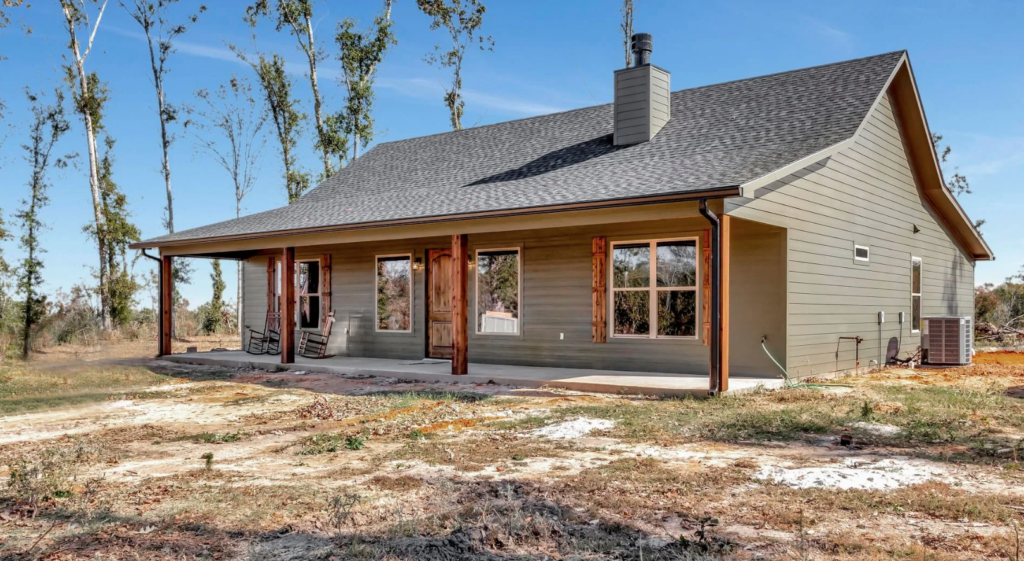 A shop is also a great idea if you have your own business that you want to run out of the home. If you have been asking "what is a farmdominium" the answer lies in its functionality as much as its style. A shop can not only save you time on your commute, but it can also save you money on shop rental fees. Any business owner knows how important this is to their bottom line.
Sliding Barn Doors
Another essential element of a farmdominium is large sliding barn doors. Whether these are on the exterior or interior, they are crucial when it comes to this style. Barn doors are not only a modern, unique element, they also hearken back to another time. This is, essentially, what building a farmdominium is all about, so they are very important.
Barn doors are also a great option if you want to save some space in your home. The nice thing about these types of doors is the fact that they slide parallel with the wall. This opens up space in your home and gives you a fantastic way to add closing doors without taking up room. With the right placement, you can add a lot of extra real estate to your farmdominium's interior.
Exposed Beams
Exposed beams are another important answer to the question "what is a farmdominium?" Having exposed beams gives your home a classic, country cabin look and gives you more design options. You can choose from all kinds of wood types and colors. You can also choose where the beams will be exposed for maximum impact.
One of the benefits of exposed beams is the fact that they can give the illusion of space. While farmdominiums will have quite a bit of height, you may want to add some drama. Adding exposed beams can give you the height you are looking for and a sense of opulence. With a farmdominium, this is always going to be the key.
Conclusion
By having an answer to the question "what is a farmdominium," you can decide if one is right for you. With the right design elements, you can create a beautiful custom home that is unlike anything else. Combining the modern style of barndos with country warmth is always a winning combination.
If you would like more guides like this one, check out the rest of BarndominiumLife.com. There, you will find more helpful tips and tricks from the pros. You will also find featured barndominiums, barndominium floor plans, and information on financing and insurance. Knowing as much as you can help you get the best results for your dream home.
Like this Post? Sign up for our email list!
Be the first to see new posts about the best barndominiums, construction guides, floor plans, and more! Enter your information below to become a BarndominiumLife VIP.