The trend of building barndominiums and modular homes has been on the rise in recent years. Both are prefabricated, quick to build, energy efficient, and more affordable than traditional brick-and-mortar houses. But what exactly are these homes, and what are the key differences between the two? Keep reading as we explore barndominium vs modular homes, including each one's unique set of advantages, to help you decide which one is best for you.
What is a barndominium?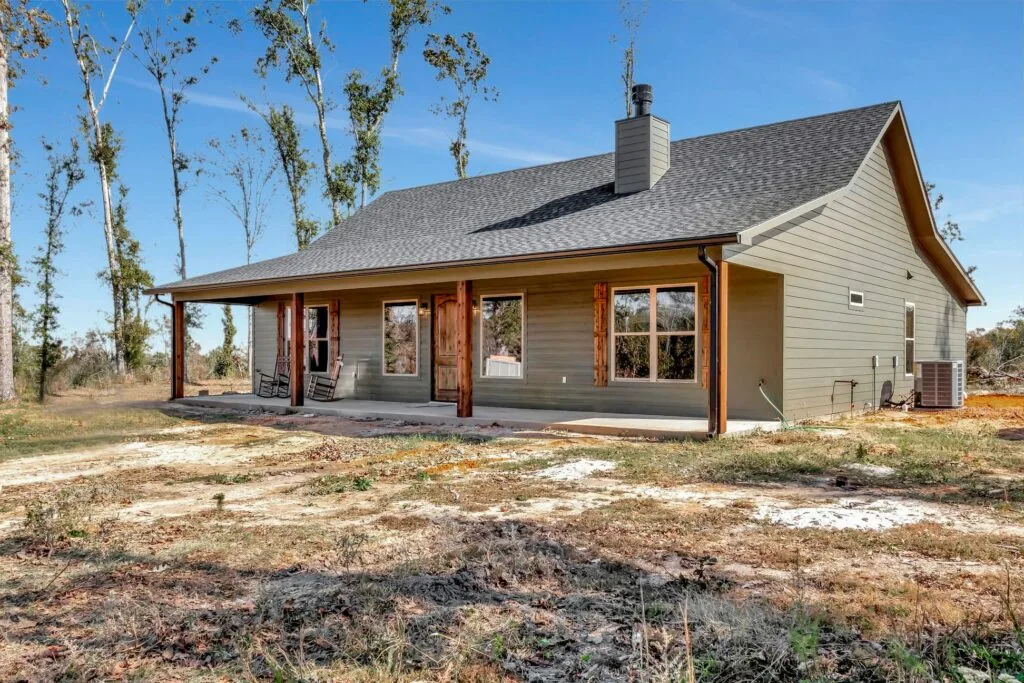 A barndominium is a type of home that is built around a metal pole barn frame with siding made from steel or aluminum. They typically have a rustic exterior inspired by classic barns, but the interior can be customized however you like with all modern home amenities.
Barndominiums can be built to any size or specification, but whatever their layout, they usually combine open-plan living quarters with a large adjacent space. This can be used for many purposes, from storage for cars or boats to workshops, retail premises, and even stables. As a result, barndominium homes are generally situated on rural plots of land.
Barndos can be designed and built from scratch with the help of an architect, or they can be constructed from DIY barndominium kits which include a range of floor plans to choose from.
How much does it cost to build a barndominium?
Barndo prices vary greatly depending on where you live, the fixtures and fittings you choose to install, and the size of your home. But generally, the cost of building a barndominium falls anywhere between $95-145 per sq. foot, which is considerably less than a traditional build.
What is a modular home?
Modular homes are factory-built homes that are constructed in sections known as modules. Each individual part is transported to your plot and assembled onto a poured foundation using a crane before being snapped together and fixed in place. Modular homes are usually built to the local building codes, and they are most common in urban areas and suburbs.
These prefab homes have come a long way in the last two decades. Available in a range of shapes and sizes, modular homes can now be built to look like any type of home, from a traditional house to a more modern design to suit your taste. Plus, despite their bad press in the past, modular living spaces are as high-quality as regular homes or barndos.
How much does it cost to build a modular home?
Just like with barndominium builds, the cost of constructing a modular home is very variable, but it usually comes in somewhere between $90-130 per sq. foot. However, it is worth bearing in mind that you'll also need to add on the cost of transporting each module which can prove quite expensive versus flat-packed raw materials, particularly over long distances.
Advantages of barndominiums
Weather resistant
Thanks to their sturdy metal construction and concrete foundation, barndominiums are able to withstand all kinds of weather conditions, including hurricane-strength winds and heavy snowfall. Better still, they won't succumb to water damage or rot over time like timber-framed homes often do. Steel barndos also have the added benefit of posing a much lower fire risk. But you will need to add a protective coating to the exterior to protect against sun damage.
Spacious feel
Regardless of their configuration, barndominiums are known for their open-plan design and high ceilings which create a spacious feel. Combined with cleverly positioned doors and windows, you can expect lots of natural light and great air circulation, even in smaller homes. In contrast, the rooms in modular homes are usually smaller as each self-supporting section must be robust enough to withstand transportation from the factory to your plot of land.
Fully customizable
One of the key benefits of building a barndominium is the design possibilities. They are not mass-produced like modular homes, and each one is tailored to the owner's needs. As well as selecting the color and finish, you can choose how big you'd like your home to be, how many rooms to add, what features to include, and much more. With modular homes, you typically choose a design from a range of existing floor plans, so it's harder to add personal touches.
Advantages of modular homes
Quick to build
Designed to be quick and simple to construct, modular homes can be built in as little as 4 months. In comparison, most barndo builds take around 6 months, and traditional homes take up to a year. The reason for this is that each section is built in a factory so there are no delays due to adverse weather conditions and several modules can be worked on at once by different teams. Then it's just a case of transporting them and locking them together on site, with the help of an experienced builder who has access to the relevant tools and machinery.
Based on proven designs
Modular home designs are based on tried and tested plans to ensure a successful build that meets your needs with no surprises along the way. Choosing from a catalog of pre-existing ideas can also help to make the design process simpler, especially if this is your first build and you're not sure where to start. However, it does mean that any customization options will be limited to what is possible within the parameters of your chosen plan.
Easier to add an extra room or floor
Given the nature of modular homes, particular sections can be replicated and tagged onto an existing modular structure to expand it as needed. Modules can also be stacked on top of one another to create a two-story home with relative ease, whereas mezzanine floors and lofts are more common in barndominiums. However, as mentioned, rooms in modular homes are often relatively small, so these houses don't feel as roomy as barndos.
Barndominium vs modular home: the verdict
Both barndominiums and modular homes have a number of pros and cons. However, in general, if you're seeking a spacious home with vaulted ceilings, open-plan living areas, lots of customization options, and the ability to combine work and living spaces under one roof, then a barndominium is probably the best option for you. Likewise, if you'd like a farmhouse-style property with all the benefits of a modern home, barndos offer the best of both worlds. DIY kits are also available to help you keep costs down by doing some of the work yourself.
Alternatively, modular homes tend to have a more contemporary aesthetic and are most popular in regions around towns and cities. These homes are built in blocks to ensure a quick construction process and as little margin for error as possible, but they need to be transported and installed by an expert. As modules are uniform in shape, they can easily be replicated to increase storage space or stacked to create a two-story home if desired.
If you would like more guides like this one, check out the rest of BarndominiumLife.com. There, you will find more helpful tips and tricks from the pros. You will also find featured barndominiums, barndominium floor plans, and information on financing and insurance. Knowing as much as you can will help you get the best results for your dream home.
Rachel Dawson is an accomplished writer with a passion for all things barndominiums. With over a decade of experience in the industry, Rachel has established herself as one of the leading authorities on the subject of barndominium design and lifestyle.
Her work has been featured in numerous publications, including Barndominium Life, where she regularly contributes articles on a wide range of topics, from design trends and tips to the unique challenges and rewards of living in a barndominium. Rachel's ability to write with both authority and accessibility has earned her a loyal following among readers and enthusiasts alike.
Her commitment to excellence and her unwavering dedication to the barndominium lifestyle make her a true asset to the Barndominium Life community.