Barndominiums cost less and offer increased durability compared to standard homes, but how do they compare to other types of homes? Is a barndominium better than a container home? Compare the main features and advantages of a barndominium vs shipping container home to decide which is the better choice for you.
What Is a Barndominium?
A real estate developer coined the word "barndominium" in the 1980s. The developer converted 10 metal barns into homes as part of a planned community for equestrians. The concept eventually took off.
The original barndominiums were barns that were modified to include living quarters. The basic concept remains the same. A barndominium built from scratch often has a large workspace connected to the living area.
Barndominiums are often built using post-frame construction, which is the same type of frame used for barns. Post-frame construction is also often used for municipal buildings, fire stations, and various industrial facilities. Using post-frame construction provides greater stability compared to stud frame construction, especially when using a metal frame.
Most barndominiums are metal buildings. The frames are constructed from metal and the outer walls and roof feature metal sheeting.
The basic design of a barndominium may resemble a large warehouse. It includes widely spaced posts with an open interior. However, barndominiums also include attractive exteriors, porches, and other details typically found on traditional homes.
The interior provides a wide-open space for incorporating just about any floor plan without worrying about load-bearing walls.
What Is a Container Home?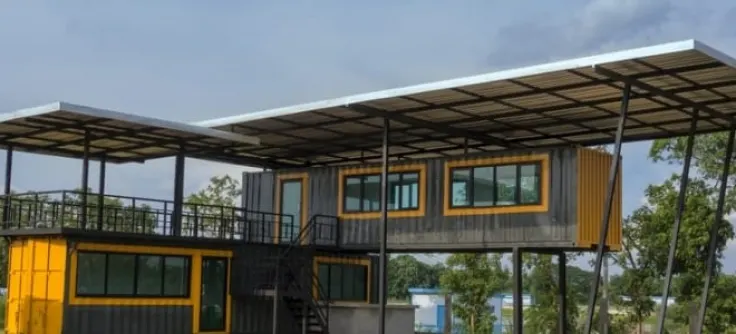 A container home is a home built from shipping containers. The shipping containers come in a variety of lengths, including 10 feet, 20 feet, and 40 feet. The containers are stacked or arranged to create homes of various sizes and layouts. For example, the containers may be stacked to create a multi-floor home.
The individual containers are welded together. Cutouts are used to connect rooms or create a larger space. The containers also include windows, doors, and other common features found in just about any home.
Between a barndominium vs shipping container home, container homes are typically sold as prefabricated modular homes and shipped to the owner's land. However, both types of homes require site preparation. Containers are often placed on a prepared foundation, such as the slab foundations commonly used for barndominiums. Container homes often have flat roofs but can be built with pitched roofs and terrace roofs.
Advantages of Choosing a Barndominium
Barndominiums and container homes offer several of the same advantages over traditional homes. Both options tend to cost less and take less time to construct. However, barndominiums stand out for the following reasons:
More square footage
Increased durability
The post-frame construction used for barndominiums allows you to use open floor plans. The frame supports the entire roof, instead of requiring load-bearing walls. The floorplan options are endless with a barndominium. You could create one large open room or divide the interior into a series of hallways and smaller rooms.
Container homes are made with shipping containers that measure eight feet wide and come in various lengths. The arrangement of containers is carefully planned to maintain structural integrity. This keeps you from creating large interior spaces. While rooms may measure up to 40 feet long, they typically only measure about 8 feet wide.
Along with an open floor plan, barndominiums often provide more square footage. A 40'x8' container offers 320 square feet of living space. Most barndominiums include 1000 to 4000 square feet.
Despite the larger size, barndominiums are typically more durable compared to container homes. An individual shipping container is incredibly sturdy, as it needs to protect cargo in extreme conditions. Creating a container home involves cutting and welding the containers. Any mistakes during construction limit the structural integrity of the container home, which is less of a risk with barndominiums.
Advantages of Choosing a Container Home
Container homes offer limited advantages compared to barndominiums. However, the design of a container home does provide a few benefits:
Save money
Get your home built quickly
Have more options when searching for land
Container homes typically cost less compared to barndominiums. The average cost of a container home is about $30,000 while barndominiums may cost between $70,000 and $230,000. However, the lower cost is partially due to the smaller size.
Most container homes include just a few shipping containers, providing a few hundred square feet of living space. Smaller homes require less plumbing and electrical work, less labor, and fewer materials.
As container homes are constructed from shipping containers, erecting the frame also involves less work. You can get a container home built quickly, which is useful for those who do not want to wait over half a year before moving into their new home.
The smaller size of a container home provides more options when searching for land for your new home. Barndominiums are often large and constructed in rural areas. Container homes can be built on smaller tracts of land. You may also build container homes in some urban areas.
Barndominium vs Shipping Container Home
Barndominiums and container homes are great places to live, but one option may better suit your specific needs. A few of the main differences between the two include:
Cost
Size
Versatility
Durability
A container home is a great choice for those with a limited budget. With an average price of $30,000, the cost of a container home is comparable to buying a new car. The cheaper price tag may appeal to those with less income, bad credit, or no down payment. Young people just starting their careers may also benefit from a home that requires less of a financial commitment.
Keep in mind that $30,000 is just the average price. Large container homes and homes with a lot of amenities can cost $100,000 or more.
Container homes are also typically smaller, which can be an advantage or disadvantage based on your needs. A smaller home may suit a single person or a couple.
A barndominium will likely offer more than enough space for a large family. Many barndominiums also include space for a workshop, garage, or hobbies. Barndominiums are also more versatile compared to container homes. The large post frame gives you more freedom when choosing floor plans.
Yet, the main advantage of a barndominium vs shipping container homes is its longevity. A well-built barndominium can last a lifetime while a shipping container home may last a few decades.
The biggest threat to either type of home is rust, as barndominiums and container homes are built with metal components. However, container homes feature more exposed metal. If you live in a climate with high precipitation or near the ocean, you are more likely to notice rust.
Barndominiums are also typically more structurally secure. A barndominium is built from the ground up as a home instead of attempting to convert shipping containers into something that resembles a home.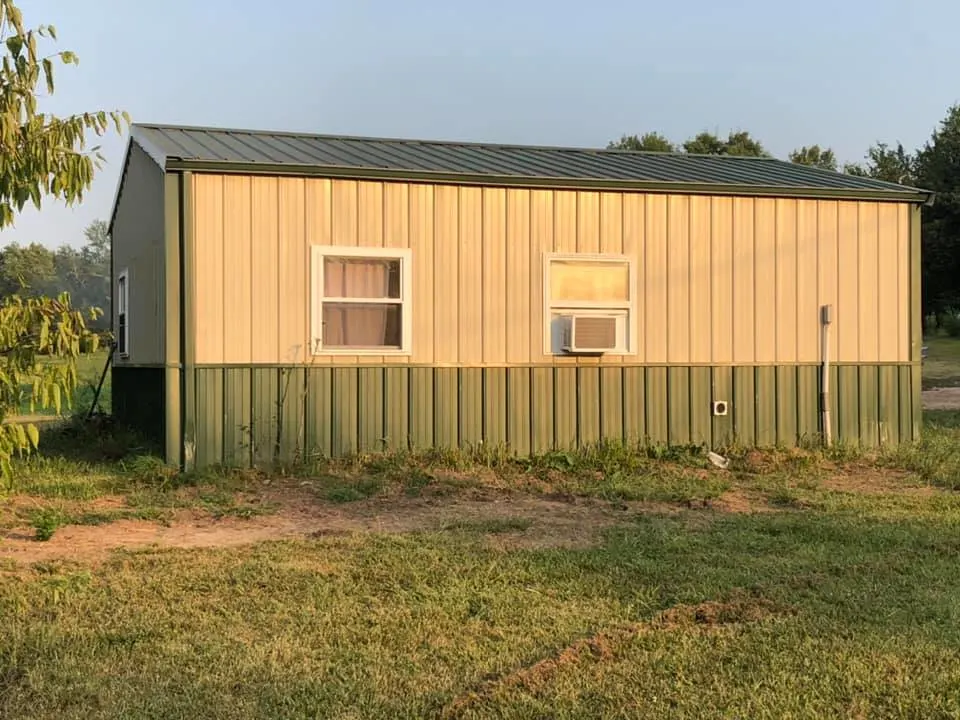 Conclusion
Barndominiums and container homes are both metal buildings with unique features. However, between barndominium vs shipping container homes, barndos are typically much bigger. The larger size often results in higher costs and longer construction. You may also have fewer options when choosing a location for your barndominium.
Yet, barndominiums are more versatile and offer more space. If you want a large home that can withstand severe weather and provide room to grow your family, a barndominium may be the better choice.
If you would like more guides like this one, check out the rest of BarndominiumLife.com. There, you will find more helpful tips and tricks from the pros. You will also find featured barndominiums, barndominium floor plans, and information on financing and insurance. Knowing as much as you can will help you get the best results for your dream home.
Like this Post? Sign up for our email list!
Be the first to see new posts about the best barndominiums, construction guides, floor plans, and more! Enter your information below to become a BarndominiumLife VIP.
Gail currently spends her free time geeking out about what's new and trending in the world of barndominiums.
She is the former executive editor of BarndominiumLife.com and loves working with the team and members of the barndominium community. She now contributes to the blog on occasion, but only when she feels like it!