Open floor plans with flexible and versatile spaces? Plenty of natural light? Multigenerational living? These are only a few of the most sought-after home features, and homeowners today are no longer content with the confines of traditional houses.
Among innovative housing solutions, barndominiums have emerged as a captivating alternative that effortlessly embodies these sought-after qualities.
But what exactly is a barndominium, and why has it captured the hearts of so many? This architectural gem blends the rustic charm of a barn with the modern conveniences of a modern home.
The appeal of barndominiums lies not only in their versatility but also in the unexpected variety of styles they can embrace. While you might envision them as barn-like structures, you couldn't be further from the truth.
Barndos seamlessly incorporate features that you'd find in traditional homes, including the timeless dormer. In this guide, we will introduce you to five barndominiums with dormers you shouldn't miss.
Get ready to be inspired as we take a closer look at these remarkable homes offering the perfect synergy between urban chic and rural simplicity.
What is a Dormer?
Dormers are like charming, unexpected details on a house that draw your eye. They are the architectural features that give character and functionality to your roof.
These unique roof extensions come in a variety of styles. Among the most common are:
Gable Dormer: This is your classic triangular-shaped dormer. With a pitched roof, it adds extra headroom and allows for larger windows, flooding your room with natural light.
Shed Dormer: Unlike the gable dormer, the shed dormer has a single-pitched roof that slopes in one direction. It's a perfect choice for adding space to an attic or loft.
Hipped Dormer: With a hipped roof, this dormer provides an elegant and seamless extension to your roofline. It's a bit like a miniature version of your main roof, blending beautifully with the overall architecture.
Eyebrow Dormer: Picture a charming, curved arch over a window. This adds a touch of whimsy and uniqueness to your home.
Flat Roof Dormer: As the name suggests, this dormer has a flat roof, and it's all about clean lines and modern aesthetics. It's a great choice if you want to maintain a sleek, contemporary look.
Wall Dormer: A wall dormer is an extension of your wall, creating a vertical space that's perfect for tall windows and extra room inside your barndominium.
Dormers are like the cherry on top of your architectural sundae. They enhance the aesthetics and functionality of your living space, offering extra headroom, natural light, and a dash of style.
Barndominiums with Dormers
Each of these barndominiums tells a different story, sure to give you ideas for your own home.
Source: 1120 County Road 322, Westcliffe, CO 81252
1. 1120 County Road 322, Westcliffe, CO 81252
If your heart gallops for horses and ranch life, this Colorado barndominium is your equestrian dream come true. Nestled on a sprawling 35-acre parcel, this barndominium boasts 1800 square feet of living space with 2 bedrooms, 2 bathrooms, and an inviting office area.
The stunning dormers steal the show. With a vibrant green roof and eye-catching yellow metal siding, these gable dormers make a statement. They not only add visual appeal but also serve a crucial function by ushering in an abundance of natural light.
The best part? All the buildings on this property are constructed with low-maintenance metal, ensuring you spend more time in the saddle.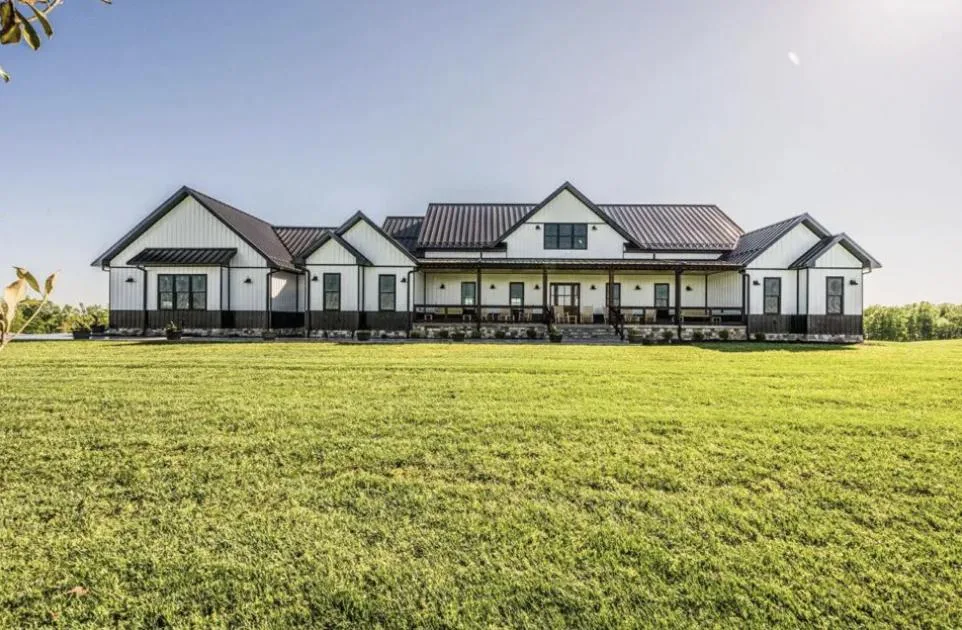 Source: 7415 Nolin Dam Rd, Mammoth Cave, KY 42259
2. 7415 Nolin Dam Rd, Mammoth Cave, KY 42259
Set in Mammoth Cave, this modern farmhouse-style Kentucky barndominium is the definition of space, comfort, and luxury. With 5 bedrooms and 5.5 bathrooms sprawled over a generous 6,790 square feet, it's a property for those who appreciate grandeur.
The real charm lies in the wall dormers that add character to the exterior. From the front porch, you can admire a wall dormer in all its glory, creating depth and intrigue to the facade.
As if that weren't enough, there are over 2,000 square feet of covered porches with poplar wood ceilings that offer breathtaking views of the surrounding countryside.
Source: 15607 Ireland Rd, Moores Hill, IN 47032
3. 15607 Ireland Rd, Moores Hill, IN 47032
A custom-built Moores Hill, Indiana barndominium on 7+ private acres is a gem for rustic luxury. The sleek and stylish design is complemented by shed dormers that seamlessly blend with the home's aesthetics.
Inside, you'll find an open living area with vaulted ceilings and 10+ feet of headroom throughout. The kitchen is a custom-designed masterpiece featuring soft-close doors, ample storage, and quartz countertops. And let's not forget the 40×30 attached garage to store your toys, boats, and more.
The property is surrounded by serene natural beauty, offering a covered patio area and a gorgeous front porch where you can watch various wildlife.
Source: 70959 Batchelor Dr, Niles, MI 49120
4. 70959 Batchelor Dr, Niles, MI 49120
Escape to your private oasis in Niles, where outdoor adventures meet the comforts of this custom Michigan barndominium. This 16-acre property boasts multiple modern gable dormers that adorn the exterior and flood the spacious living area with natural light.
A unique feature of this home is the state-of-the-art garage and workshop, which adds 1700 square feet to the floorplan. This space is equipped with an electric car charging port and a walk-behind lift, making it a car enthusiast's dream.
The vast irrigation pond also adds a touch of tranquility to this innovative barndominium, creating a perfect blend of modern living and natural beauty.
Source: Arkansas Barndominium With Open-Plan First Floor and Modern Interior
5. Arkansas Barndominium With Open-Plan First Floor and Modern Interior
Our final stop takes us to this 2-story Arkansas barndominium. The exterior showcases classic gable dormers that accentuate the home's rustic vibe. The front facade exudes rural living, with a peaked roof, exposed wooden beams, and colonial panel windows that add to the charm.
Inside, the open living spaces are a testament to simplicity and functionality, while the surrounding natural beauty completes the picture. Whether it's the stunning exteriors, the tasteful interiors, or the picturesque pond view, this Arkansas barndominium is the embodiment of country living at its finest.
Final Thoughts
Barndominiums with dormers, in all their diverse forms, have not only added visual appeal but have also unlocked a world of functionality, natural light, and character. Each barndominium is a testament to the fusion of rustic allure and modern comfort, creating living spaces that are as inviting as they are inspiring.
If these captivating homes have sparked your imagination and you're eager to explore more about barndo living, you're in luck. Dive deeper into the Barndominium Life for comprehensive guides, invaluable tips, and a wealth of inspiration to help you on your journey to building your dream barndo home.
Your own slice of barndominium heaven awaits – it's time to make your dream a reality.
Noah Edis is a passionate staff writer at Barndominium Life, a leading online resource for all things barndominium. With years of experience in the writing industry, Noah has made a name for himself as a skilled storyteller and a knowledgeable authority on the topic of barndominiums.
Noah's interest in barndominiums began when he stumbled upon the concept while researching alternative housing options. Intrigued by the rustic charm and functionality of these converted barns, he soon became obsessed with the idea of living in one himself. He spent countless hours researching the construction, design, and decorating aspects of barndominiums, and soon became an expert on the topic.
As a staff writer at Barndominium Life, Noah enjoys sharing his knowledge and passion for these unique homes with others. He has written numerous articles covering a wide range of topics, from the history of barndominiums to the best ways to decorate them. Noah's writing is informative, engaging, and always on-trend, making him a valuable asset to the Barndominium Life team.
Noah is a graduate of the University of British Columbia, where he earned a degree in English Language and Literature. When he's not writing about barndominiums, he can be found exploring the great outdoors, trying new restaurants, or spending time with his family and friends. Noah is dedicated to his craft and is always striving to improve his writing skills and knowledge of the barndominium lifestyle.
Connect with Noah on LinkedIn