Renovating your barndominium bathrooms and giving them a new statement look has never been easier with these bathroom ideas! These barndominium bathroom ideas are refreshing, modern, and antique designs from the barndominium collection that you will love.
From bathroom faucets, toilets, sinks, and accessories to tiles, vanities, and floorings architect, we review some elevated designs, with an emphasis on quality and innovation to give you all the ideas you are searching for. The beauty, elegance, and pattern have been combined with innovative technology and materials to create a variety of luxurious and stylish bathrooms that add a touch of world-class elegance to any décor. Have a look at a variety of design inspirations to refresh your space and rejuvenate your spirit.
The Country Style Texas Barndominium Bathroom has a unique look for shapes, colors, and shades. Different shapes and textures can be used for mirror style, vanities, and countertop. A round mirror can be paired with sharp-edged countertops and vanities. It is designed to be shared by several people as it has wide space. Various compartments, huge space, and multiple vanities have allowed several people to use the bathroom at a time.
Another important feature of a country-style bathroom is lighting through fixtures. Light tips fixtures have been used to enhance the warm environment and to add style and vividness to the bathroom. Tiles and hardwood are matched / similar to each other to enhance the richness of colors and texture. A blend of dark colors has been used with a lighter background to make the bathroom more welcoming as well as bringing the entire home together.
Add a touch of class to your bathroom by opting for the characteristic elegance of the Kentucky barndominium for your basin and countertop. This light-filled bathroom reflects the beauty of the external setting. The Porcelain Tile on the floors of this bathroom brings in a surge of energy while the hoary paint sets an instant calm. The bathroom, like the rest of this Kentucky barndominium, is nicely equipped.
This helps to create a sense of isolation between the bathroom and the rest of the house. We like the transition from hardwood to stone tile flooring. The vanity features a beautiful granite surface as well as brushed steel hardware for a modern yet inviting appearance.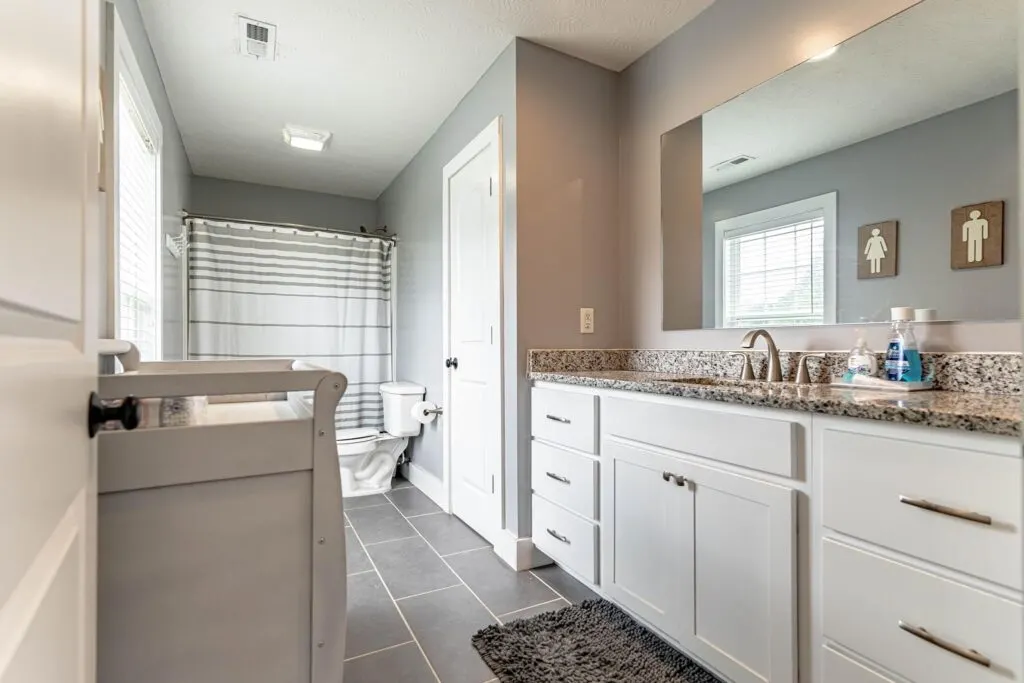 The wood pattern tiling in this shower is one of our favorites. Mosaic tile adds gorgeous, intricate designs to this bathroom and is extremely versatile. A lovely claret red accent wall in the bathroom grabs the eye by creating an understated elegance throughout the space. They combine very well with more modern elements in a bathroom. The vintage deck-mounted sink contrast between old & new, vintage & modern, making it exciting.
In a timeless transitional design, this bathroom wall light from Breathtaking Ocala, Florida Barndominium is an elegant lighting choice. It comes in a rich satin nickel finish and has three clear glass shades that provide a clean, classic look. The perfect finishing touch above a sink or vanity Mirrors reflect light around the room and visually widen narrow spaces. Modern taps have sensors, so you don't have to use your hands to turn them on. This works for better germ control and hygiene.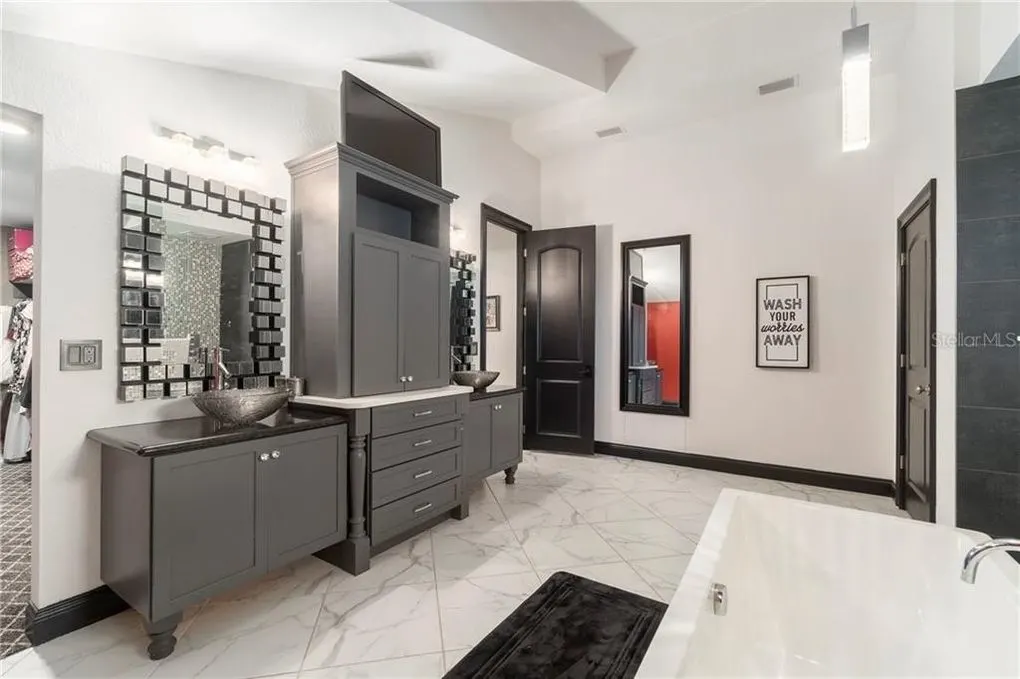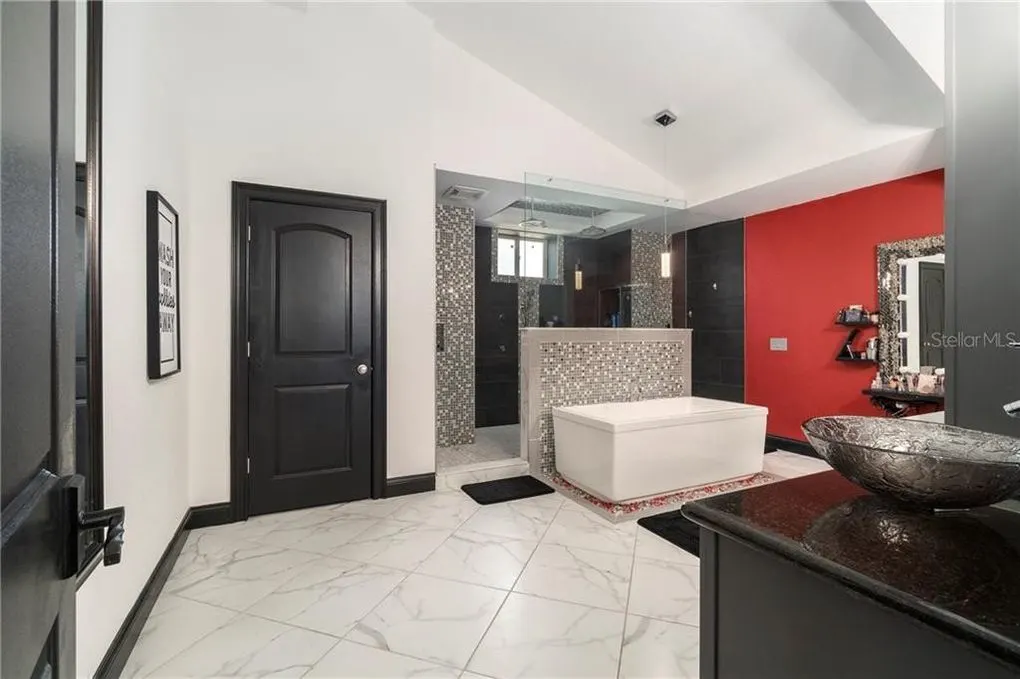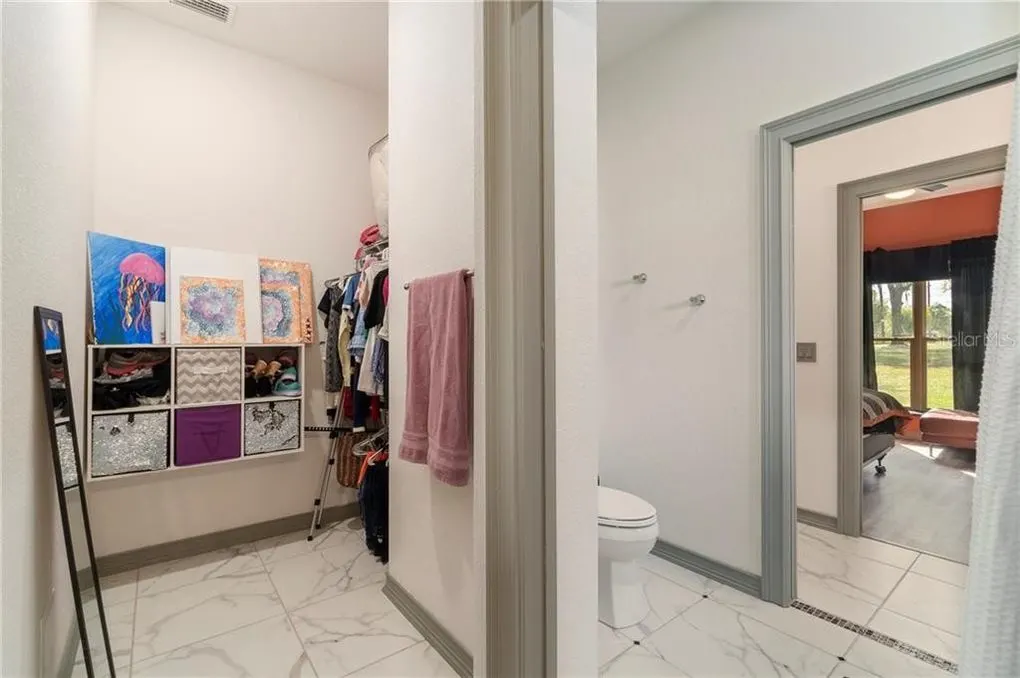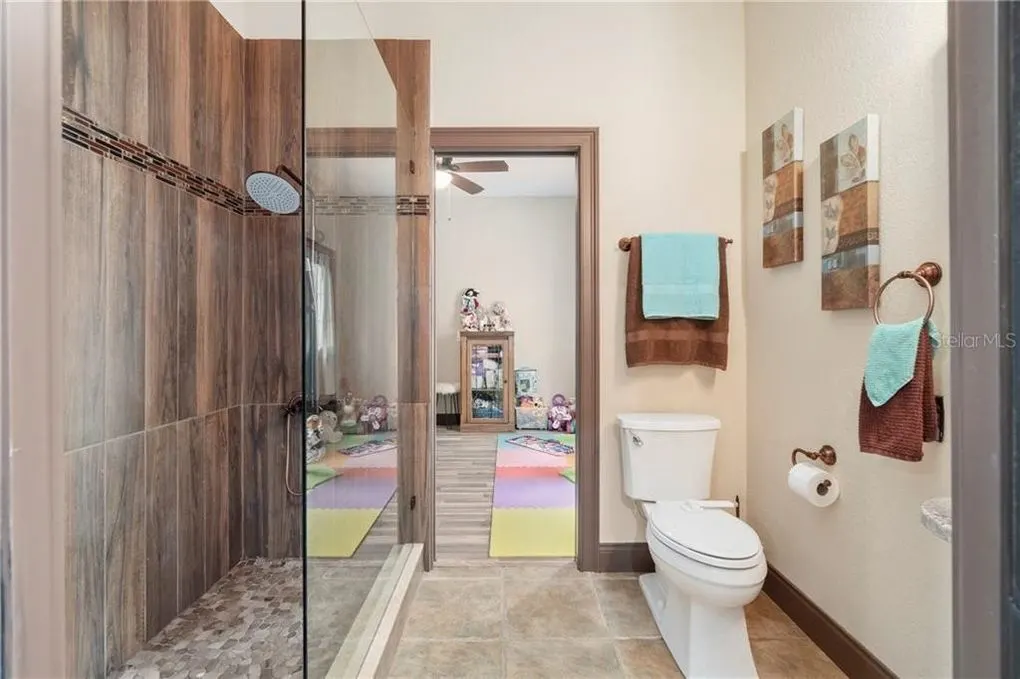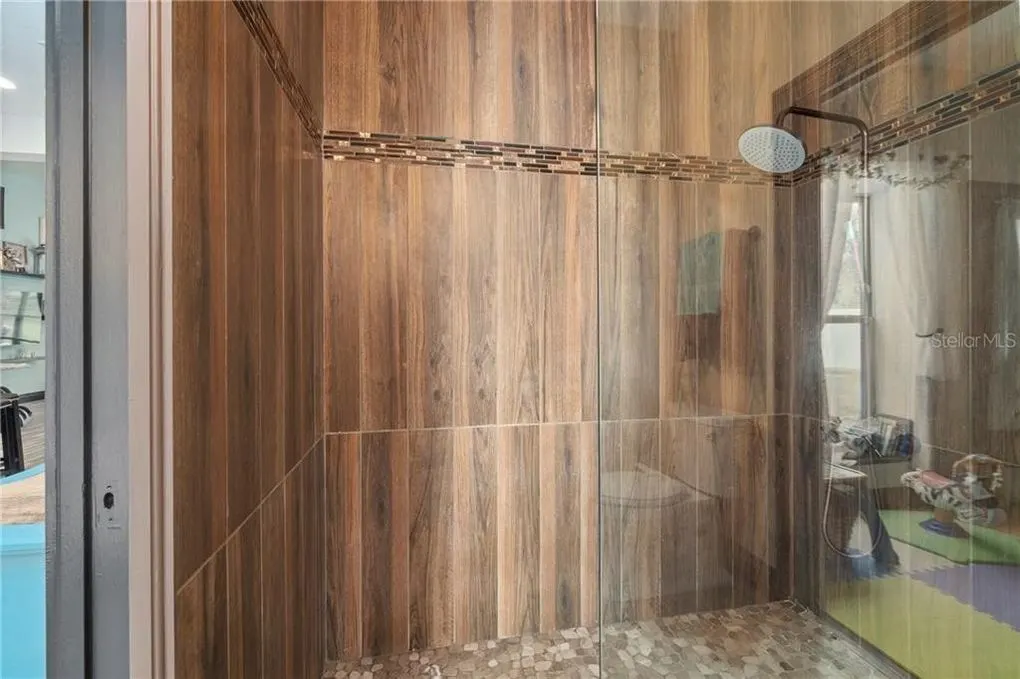 Everything about this bathroom reads "smooth and sleek": This bathroom shows that nobody should be afraid of mixing patterns.
Floor-to-ceiling tiling, built-in cubbies for goods, a waterfall showerhead, a corner bench, and a handheld showerhead can all be found in the master shower of the Odom Family Florida Barndominium. This stone-look tan tile on the floor and bath, brick tile around the bath, and patterned mosaic add movement.
We can't deny the appeal of a perfectly drawn bath; letting the water run in one of these beauties elevates the humble shower to a spa-worthy experience. There's also a great contrast of light and dark textures. But the light fixture stands out as bold lighting. This spacious shower is ideal for washing away the day's grime.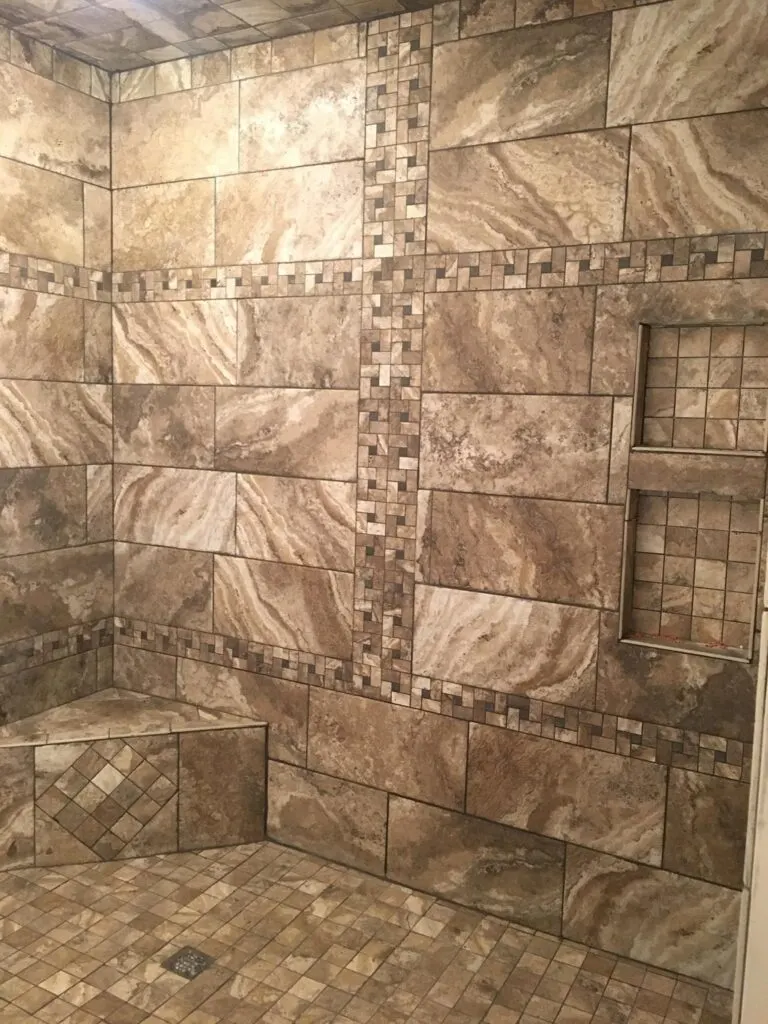 With the barndominium bathroom designs from show-stopping bathtubs and sleek vanity units to enviable decor and carefully curated accessory ideas, this gallery of images is exactly what you need. Creating a better bath isn't just an indulgence; it's a smart idea. One of the best home improvements you can make is from open space and a minimalistic approach to cluttered and retro designs. Selecting one of these designs can refresh your spirits. Start thinking now about what would make a real difference to your quality of life.
If you would like more guides like this one, check out the rest of BarndominiumLife.com. There, you will find more helpful tips and tricks from the pros. You will also find featured barndominiums, barndominium floor plans, and information on financing and insurance. Knowing as much as you can will help you get the best results for your dream home.
Gail currently spends her free time geeking out about what's new and trending in the world of barndominiums.
She is the former executive editor of BarndominiumLife.com and loves working with the team and members of the barndominium community. She now contributes to the blog on occasion, but only when she feels like it!