There's a reason barndominiums are more popular than ever. As a recent housing trend, they have gained traction on home improvement shows because they are affordable, customizable, and offer great curb appeal. When housing prices and contractor waitlists are incredibly high, you can cut the line by building your dream barndominium today.
And really, when it comes to making your floor plan vision a reality, the options with a barndominium are endless. You can use the open concept to create a home workout space, a dine-in kitchen, or a woodworker's fantasy workshop. Or maybe you're looking for your dream garage, with living quarters attached to your car playspace. If this option sounds like a concept you'd enjoy, then you've just upgraded your barndominium ambitions to the level of a garagedominium.
But what is a garagedominium? Read on to learn everything you need to know about the garagedominium lifestyle, why a garagedominium could be right for you, and how you can start building your ideal garagedominium today.
How to Build Your Own Barndominium & 200+ Floor Plans
Get started today with our program "Barndominiums Made Easy: How to Build Your Own Barndominium" and get 200+ barndominium floor plans included!
What is a garagedominium?
First, let's review the definition of a barndominium. The basic blueprint of a barndominium combines a metal post frame design and a concrete slab floor to make an open concept home. You get the facade of a 21st-century converted barn, but beyond the frame and floor, every style detail and flooring plan idea is up to you and your budget.
Similar to a shopdominium, a garagedominium is not just a barndominium with a garage. Yes, it includes a garage space and living quarters. But this is more than a one- or two-car garage held inside a metal frame. Your vehicles become the main focus of your home with the help of a garagedominium floor plan.
If you spend your time working on your own cars, if you specialize in sportscars maintenance as a career, or if you're just looking for more storage for your family's recreational endeavors, a garagedominium could be the barndominium floor plan you've been waiting for.
Why build a garagedominium?
The most important advantage of a garagedominium is the cost. Building material prices are at an all-time high, which means that you may break your own housing budget just from getting the supplies and building the frame for your home.
A garagedominium takes less time to build and fewer materials to create, so you will see the value of the money you invest in your home faster. They also come with easy maintenance, and they can be built on practically any property you buy. You don't have to keep a plumber or electrician on speed dial when you choose to build a garagedominium.
You can use your extra garage space for storage, especially if you have boats, extra sporting equipment, or even a golf cart to help get around your property. But it's also important to keep in mind that you can use a garagedominium for business purposes.
If you want to use your garagedominium as a source of income, you could turn the garage portion of your home into a mechanic shop. With a garagedominium, you can work on custom cars as a job and still have room to store your own vehicle inside away from hazardous weather. Or you can consider renting out some of the garage space in your garagedominium, which could help offset the cost of your home financing without you raising a finger.
Finally, remember a garagedominium is worth your money now because of what you can sell it for in the future. The time you take to build a garagedominium could offer you a nice profit, based on the rising popularity of barndominium homes.
How to Build Your Own Barndominium & 200+ Floor Plans
Get started today with our program "Barndominiums Made Easy: How to Build Your Own Barndominium" and get 200+ barndominium floor plans included!
Garagedominium vs barndominium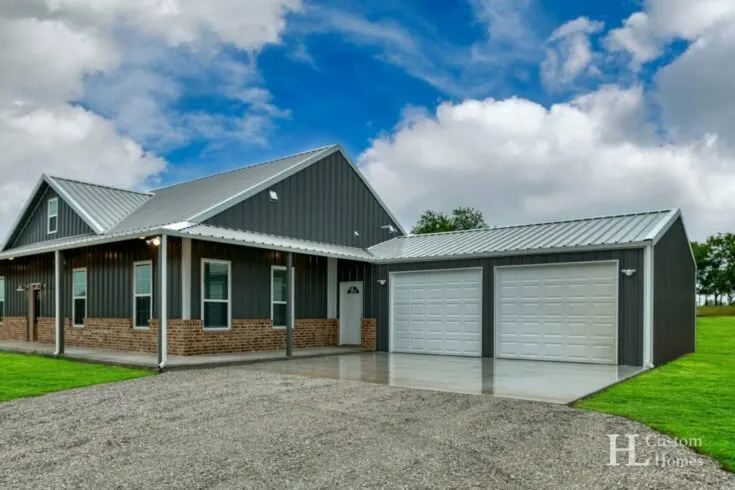 But what exactly is the difference between a garagedominium and a barndominium? Don't barndominiums have garages too? Why might you prefer a barndominium over a garagedominium?
The biggest difference in any barndominium custom build is in how you use the space. A barndominium is designed to be a home first, with a unique barn facade and modern curb appeal. Even with its open concept floor plan, you should come to a barndominium design with ideas of how to make it a livable residence for you and your family. All other customizations are added as you go.
A garagedominium, on the other hand, has a divergent purpose in mind from its beginning. No matter how you end up using the garage space, a garagedominium is a garage first and home second. In fact, many people will design the living space of a garagedominium for the second floor or as a lofted space in the home, instead of making it an extension of the first floor. This allows the living space to function separately from the home's garage portion.
In short, you will only help yourself if you invest in the garage portion of your garagedominium from the beginning of your build. Otherwise, you might find yourself creating your garage as a second thought to your living space. And then you'll miss out on all the fun of a garagedominium home.
Pros of a garagedominium
Here are the top reasons a garagedominium could be right for you:
Vehicles and Parking
Are you building in an area where you need to store your cars out of rain or snow? Or have you purchased land in a more temperate area where outdoor parking will work? Do you have children living with you who will want to drive their own cars someday? With all of these ideas in mind, a garagedominium can be tailor-made to fit a multi-vehicle home and lifestyle.
With a garagedominium floor plan, you can easily add a parking pad or extra carport to the side of your open concept home. You can even store all your cars inside your garagedominium and still have room for your power tools and space to work on a vehicle without feeling cramped or overcrowded.
Hobbies and Storage
A garagedominium is great for the family with an active lifestyle. You no longer have to depend on a separate shed on your property to safely store multiple recreational vehicles, your boating equipment in between trips to the water, or even an RV for your cross-country road trips.
Because you are building your garagedominium from the ground up, you can also include custom electric outlets and lighting in your garage design. This can be ideal if you plan to use your garagedominium as a workspace once you move in.
And don't forget the opportunities for storage! Whether you're addicted to Christmas decorations or you prefer to buy food in bulk and need a place for extra freezers and shelves, your garagedominium can accommodate your need for extra space. Your living quarters never need to feel stuffy thanks to the storage options in your garagedominium.
Cons of a garagedominium
There are a few downsides to a garagedominium, and it's important to keep these in mind before you commit to your new build:
Insulation costs
The large, open spaces of your garagedominium home are going to require a lot of energy to combat outdoor heat or cold. On top of this, power tools and custom lighting take a lot of electricity to run. If you don't prepare for these unique characteristics of a garagedominium, you could be facing bigger energy bills than you anticipated.
You can cut a lot of cost corners when building a garagedominium, but you really can't skip out on paying for good insulation. This will require more money up-front for your garagedominium, but you will save yourself a lot of money on future energy bills if you make this investment.
Financing your garagedominium
Choosing to participate in a newer housing trend can also mean that bank financing hasn't yet caught up with your building plans. This doesn't mean garagedominium financing is impossible, but you will need to do your research.
Garagedominiums can be confusing to housing lenders, as they can appear to be more of a commercial space than residential. Even with the traditional combination of garage and living quarters, the larger garage space could mean you won't be approved for a mortgage or other conventional home financing.
However, there are also many unique barndominium and garagedominium financing options based on the area where you are building your home. If you're willing to take the time to investigate, your dream garagedominium will only benefit from your work.
Conclusion
Now that you've read through our garagedominium ultimate guide, you have all the tools you need to dream up your own garagedominium today. Then the only thing left is to start building your garagedominium! Feel free to also look for further barndominium inspiration on our Barndominium Life blog, including barndominium mudroom ideas and how to keep your barndominium on a budget.
Want to learn more before you commit to building your garagedominium? Then you should check out our program, "Barndominiums Made Easy." It's affordable, informative, and will give you every resource you need to confidently move forward with your barndominium build.
If you would like more guides like this one, check out the rest of BarndominiumLife.com. There, you will find more helpful tips and tricks from the pros. You will also find featured barndominiums, barndominium floor plans, and information on financing and insurance. Knowing as much as you can will help you get the best results for your dream home.
Like this Post? Sign up for our email list!
Be the first to see new posts about the best barndominiums, construction guides, floor plans, and more! Enter your information below to become a BarndominiumLife VIP.
Alicia Drier is a wordsmith with over two decades of writing experience as an English teacher, marketing assistant, podcast cohost, and blogger. As a copywriter, she gets to daily invest in the research and writing she loves – while keeping the time and energy to be the parent she wants to be.