Today's featured home is a large and contemporary Indiana barndominium, with a comfortable living portion and a huge garage/shop area, owned by Josh Bowen.
Modern Indiana Barndominium
Set in the bucolic vistas of Southern Indiana, this barndominium's design places great emphasis on the functionality of rural living, while still leaving plenty of room for comfortable and welcoming living space, made all the more attractive with a range of modern comforts and design conventions.
Let's take a closer look at what makes this barndo so great!
Exterior
This Indiana barndominium's exterior is simple and to-the-point, with enough to create an attractive aesthetic and comfortable outdoor space, without overloading it with unnecessary frills and embellishments.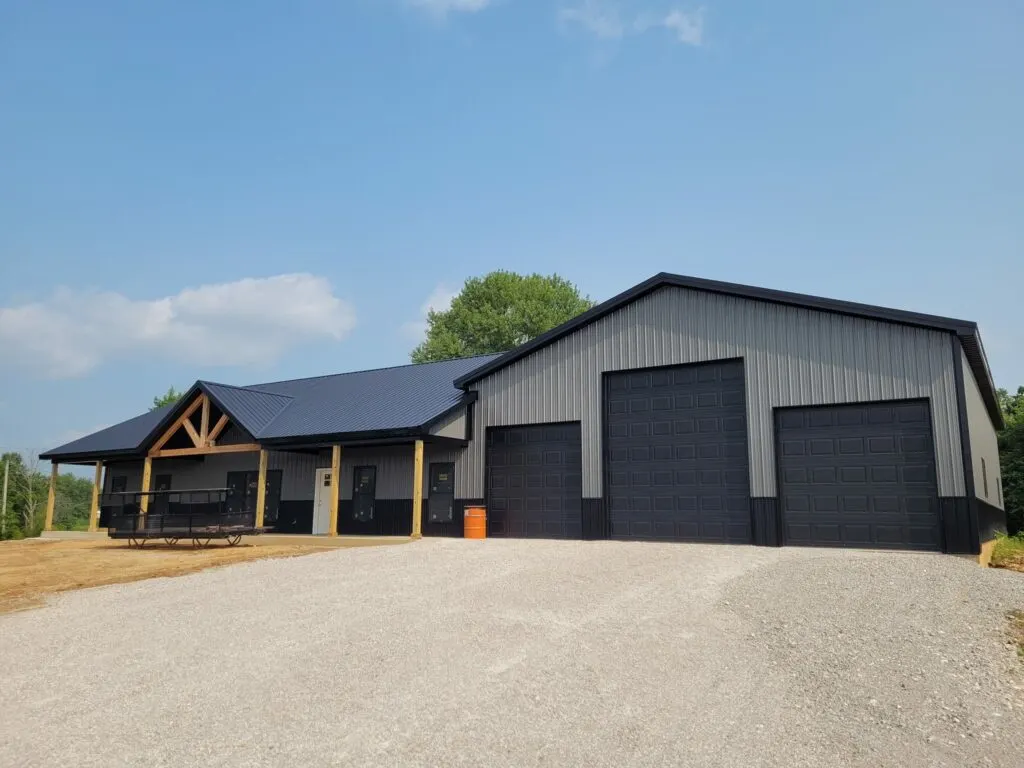 A long, wide driveway brings you up to the magnificent garage, which is accessible by three doors, one of which has ample height to fit an RV. Right next to the garage facade, a modestly-sized, yet comfortable porch stretches the width of the home, with a peaked roof aligned with the front door and supported by natural wood beams. It's fitted with a row of spotlights in the ceiling and a row of low wicker chairs, perfect for relaxing on long summer evenings.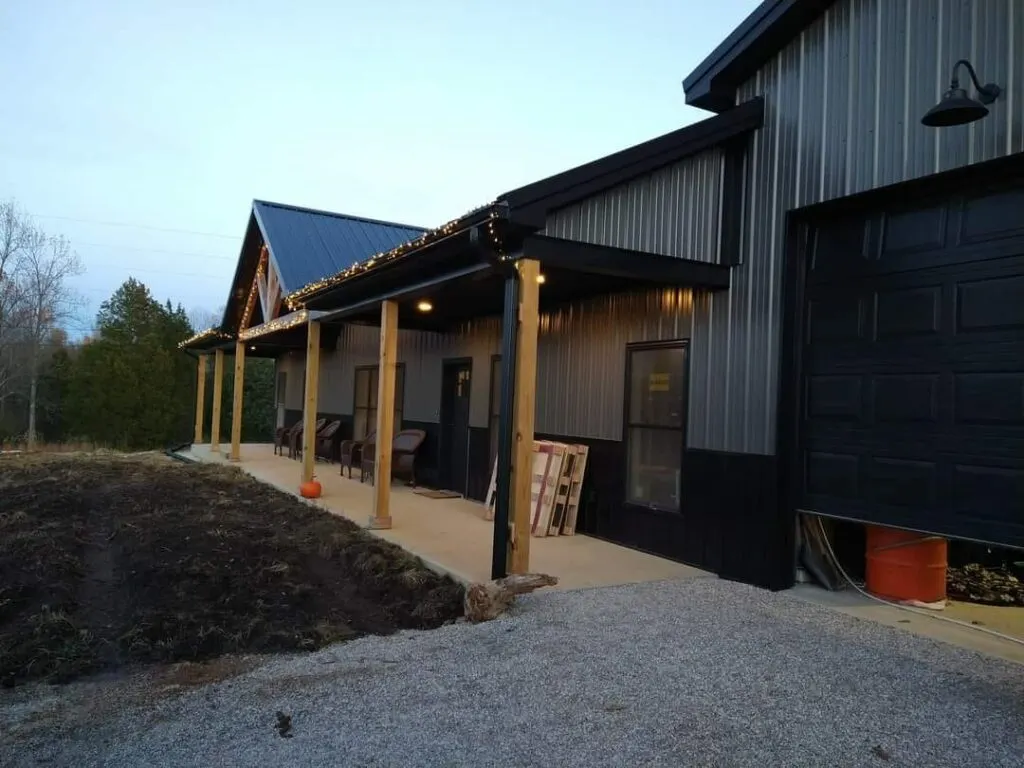 A smaller porch hangs off the rear of the home, covering two exterior doors leading into the main home and the shop, allowing excellent freedom of movement from one portion to another.
Living Room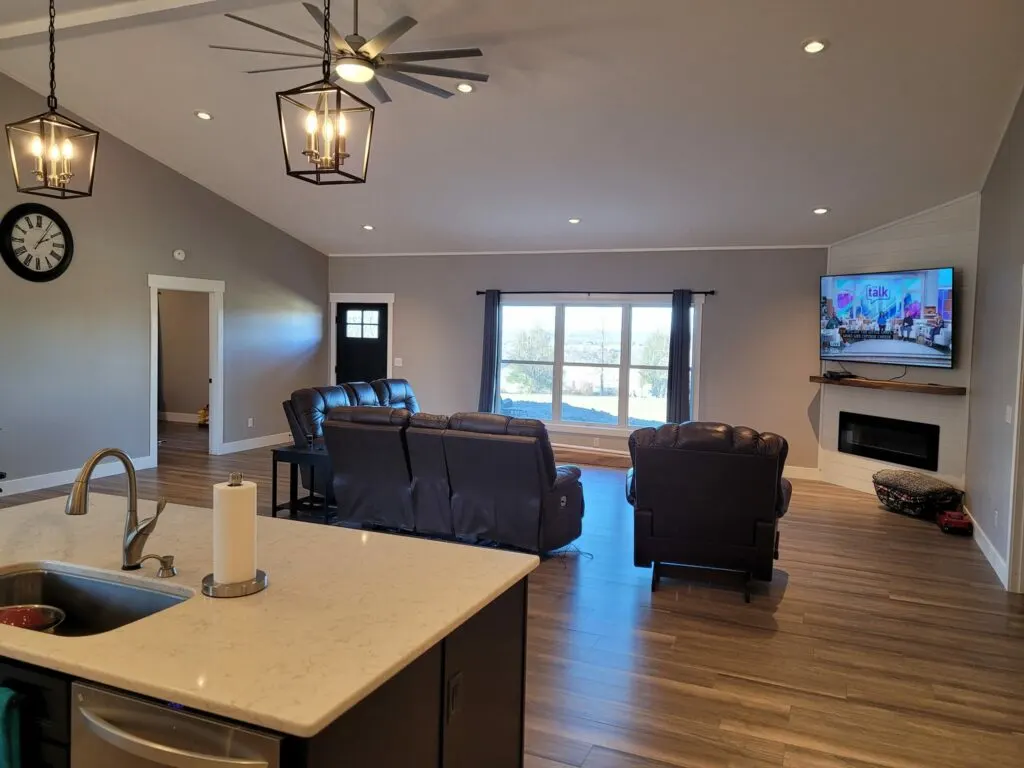 The front door opens directly onto the living room, where we're introduced to the homes stunning modern decor. This open, breathable space is furnished with a comfortable suite of brown leather furniture, centered around a large bay of casement windows that offer a great view of the stunning vista outside, act as a pleasant focal point, and fill the place with natural light.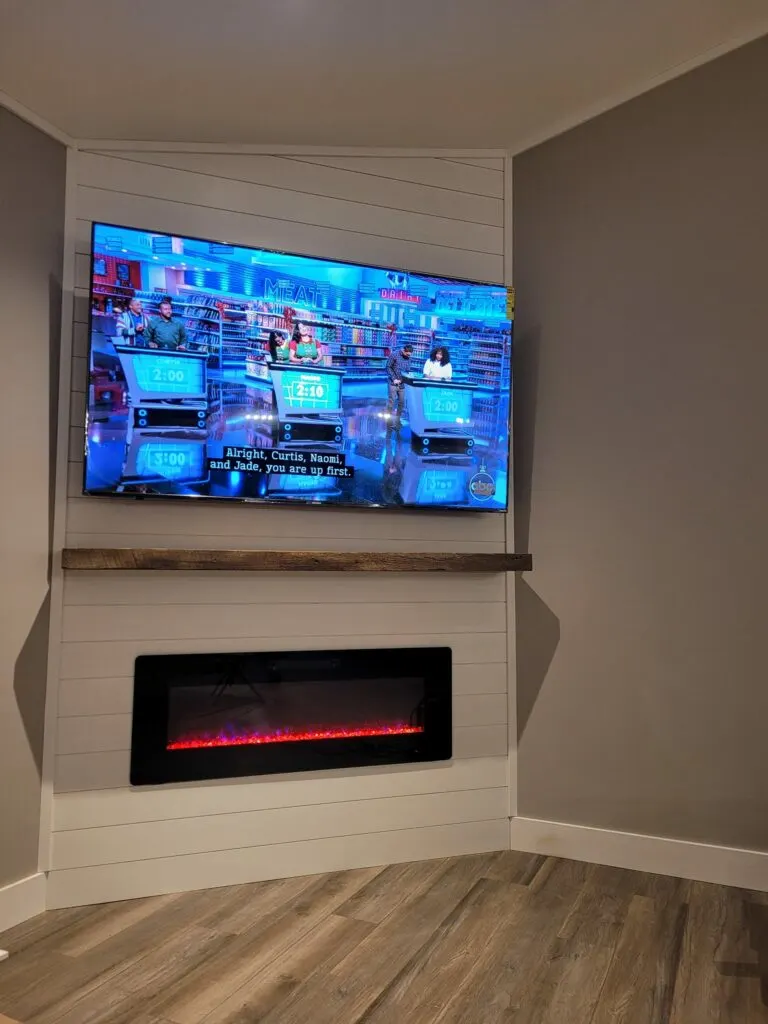 The color palette of the furnishings, drapes, flooring, and paint makes for a distinctly mellow mien that offers a perfect backdrop for the white doorways and trims. We love the unconventional, yet aesthetically pleasing wedged corner where the TV is mounted, just over a digital fireplace with a sleek black border.
Kitchen / Dining Area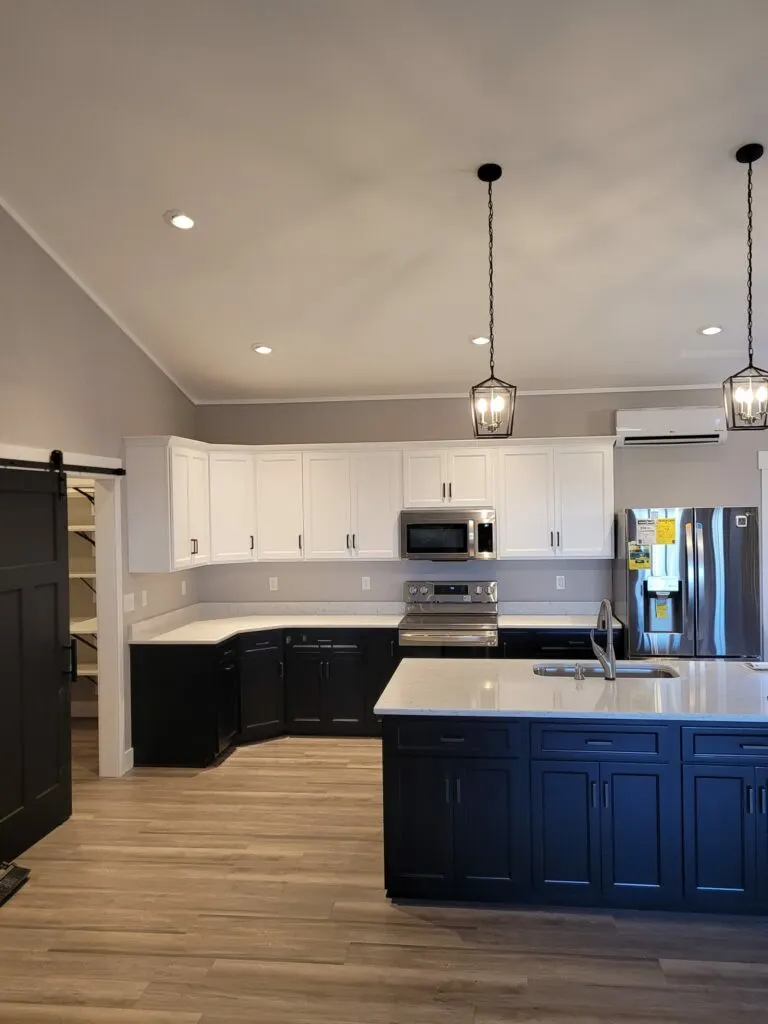 A short way back from the living room area, a huge, modern kitchen takes up its own corner of the main interior space. A generously-sized kitchen island stands at the center, with a base made up of stark black cabinetry contrasted beautifully a white marble effect worktop with its own integrated kitchen sink. Two hanging bulbs, set in Victorian-style lamp cases, and a large wall clock to match, introduce a more classic tone to the space, and prevent the modern elements from feeling too cold and clinical.
The sleek, contemporary, white-on-black color scheme runs consistently against the back wall, with a huge array of white storage space mirrored by black partners along the base. We love sharp contrasts like this in any kitchen design, especially when it stresses a more universal sense of modernity that runs throughout the rest of the home. When you're looking for an effective backdrop to chrome appliances like the ones used in this home, you could do a lot worse than white and black!
Just off the kitchen, a large dining table stands near a beautifully tall window, the perfect place to sit for a relaxed meal while you take in the view of the land outside. With ease of access from all corners of the main space, and a hanging light unit to light it up, this dining table has been placed perfectly for the natural traffic flow around the home.
Bathroom
The simple, yet beautiful modernity of this barndo continues into these barndominum bathrooms. The main basin unit has two square basins set on a clean white surface, with each portion lit up by a wall-mounted unit of three simple bulbs in sleek black fittings. We love the way that this unit is flanked by two tall cabinets, which resume the stunning contrast seen in the kitchen.
A separate position for the shower and toilet is situated just off from this part of the bathroom. This is one of the more unique bathrooms we've seen on Barndominium Life, as it's been designed to be accessible for everyone, with a plumbed-in urinal, lowered wall hooks, and a rail in the shower.
Master Bedroom
The master bedroom shows a break from the deliberate modernism of the other parts of the home.
Though the gray-green color of the walls and sleek, contemporary ceiling fan ties it closely to the rest of the home, the focal point of the space is an antique-style, wood-framed queen bed, with a set of end tables and a tall dresser to match. We love seeing these quaint touches in otherwise modern homes, as they do a great job of tying the interior design to the kind of rustic, rural lifestyle that goes hand-in-hand with the barndominium building community.
Wrapping Up…
We hope you've enjoyed our look around this stunning Southern Indiana Barndominium, and drawn some inspiration from its unique, wonderful approach to modern barndominium decor.
If you would like more guides like this one, check out the rest of BarndominiumLife.com. There, you will find more helpful tips and tricks from the pros. You will also find featured barndominiums, barndominium floor plans, and information on financing and insurance. Knowing as much as you can will help you get the best results for your dream home.