Known for their a classic, beautiful design that exudes the spirit of country homesteads, monitor barndominiums have gained a lot of popularity in recent years, and there's plenty of reasons why!
Related: Check out our Build your Dream Barndominium Ebook on Amazon!
Get a FREE 18 Month Barndominium Planner
There are 39+ steps that must be taken before groundbreaking. Learn them all in this FREE checklist, available for immediate download.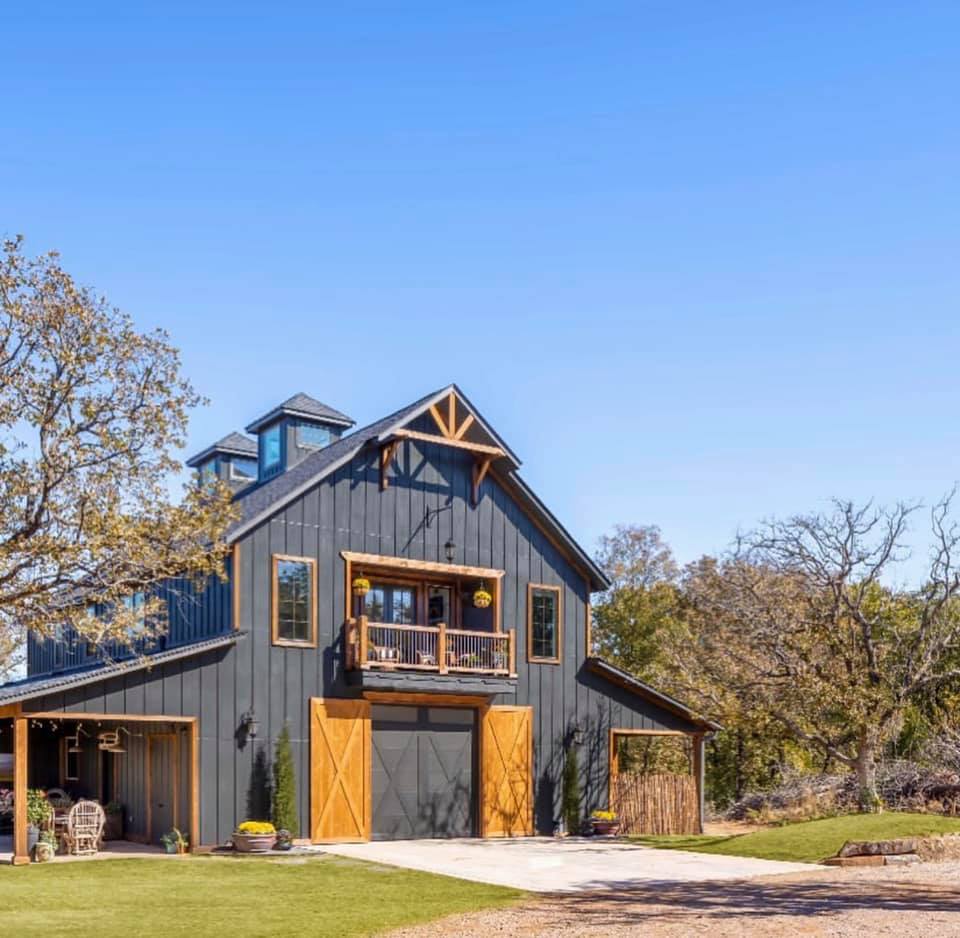 Whether you've crazy about the idea of a monitor barndominium for weeks or this is the first time you're hearing about them, this distinctive style of build is brimming with potential for those looking to build a barndominium as a rental property or a permanent home.
In today's post, we'll be taking a deeper dive into monitor barndominiums; what they are, why you might want to consider building one, before showcasing some of our favorite monitor barndominiums from around the country.
What is a Monitor Barndominium?
Monitor barndominium, sometimes called RCA (raised center aisle) barndominiums, are barndominiums based on a floor plan that includes a raised section running down the peak ridge of the roof, giving it an overall higher roof than a more typical gable-style barn structure.
A common sight in rural areas throughout North America, this classic structure was developed in the late 19th century, for structures holding livestock. It quickly gained popularity for the way the raised portion of the roof helped with ventilation, and reduced the risk of bacteria and mold flourishing in closed-off, stuffy barns. The portions with the lower roof were used for housing horses and cattle, while the central section was a walkway.
Though monitor barndominium plans tend to get drowned out in the wide range of varied barndominium plans out there, they're actually among the earliest styles of barndominium, going back to a time when repurposing barns as living spaces was a totally new concept!
3 Benefits of Monitor Barndominiums
This timeless design of barndominium offers a range of enticing benefits that will make a barndo more practical and comfortable…
Great Ventilation
As we said above, monitor barndominiums are designed to provide better airflow compared to other barn structures, and they do the job brilliantly! The raised loft section of the roof will allow heat to dissipate and prevent humidity gathering in the lower portion, and the windows in the raised section create more openings for fresh air to flow through.
More Sunlight
By the same token, any windows in the raised portion of the roof will let in more natural light, making the whole building feel bright and airy. This is an especially nice feature when the loft section is filled with skylights, and the upstairs rooms has a pale color scheme that reflects it throughout the second floor.
More Vertical Space
Finally, monitor barndominiums have more vertical space to play with as you design the living spaces in your barndo. Many monitor barndominium floor plans have the entire middle section (both the first and second floors) dedicated to a main living area and bedrooms, but this is just one way of making use of all that great space!
These broad, angular sections of the home are great for offices and studios, playrooms, or simply as extra storage. The front-facing end can also be trimmed back to create space for a balcony. There's any number of ways to divide up and utilize the raised portion of a monitor barndominium, so go ahead and brainstorm!
How to Build Your Own Barndominium & 200+ Floor Plans
Get started today with our program "Barndominiums Made Easy: How to Build Your Own Barndominium" and get 200+ barndominium floor plans included!
Examples of Monitor Barndominiums
Now that you know what a monitor barndominium is and the features that make them a popular choice, here's a couple of our favorite monitor barndominiums from our featured home archives. We hope they'll inspire you, and give you a better idea of what living in a finished monitor barndominium would be like.
Rustic Texas Barndominium
This cozy Texas barndominium is a great example of how a monitor barndominium can be a great living space, while maintaining a strong sense of its roots. The first-floor level's original barn door, and the covered areas flanking it, give you a great sense of how this building fit into an active, functioning farm.
The raised portion of the roof has been converted into a compact, but comfortable living space, where natural woods, the metal of the roof, and a medley of rustic, earthy tones combine to create a welcoming, quintessentially southern interior.
We also love the large timber balcony extending from the front, affording great views of the pastoral Texas landscape surrounding the property.
Luxury Oklahoma Barndominium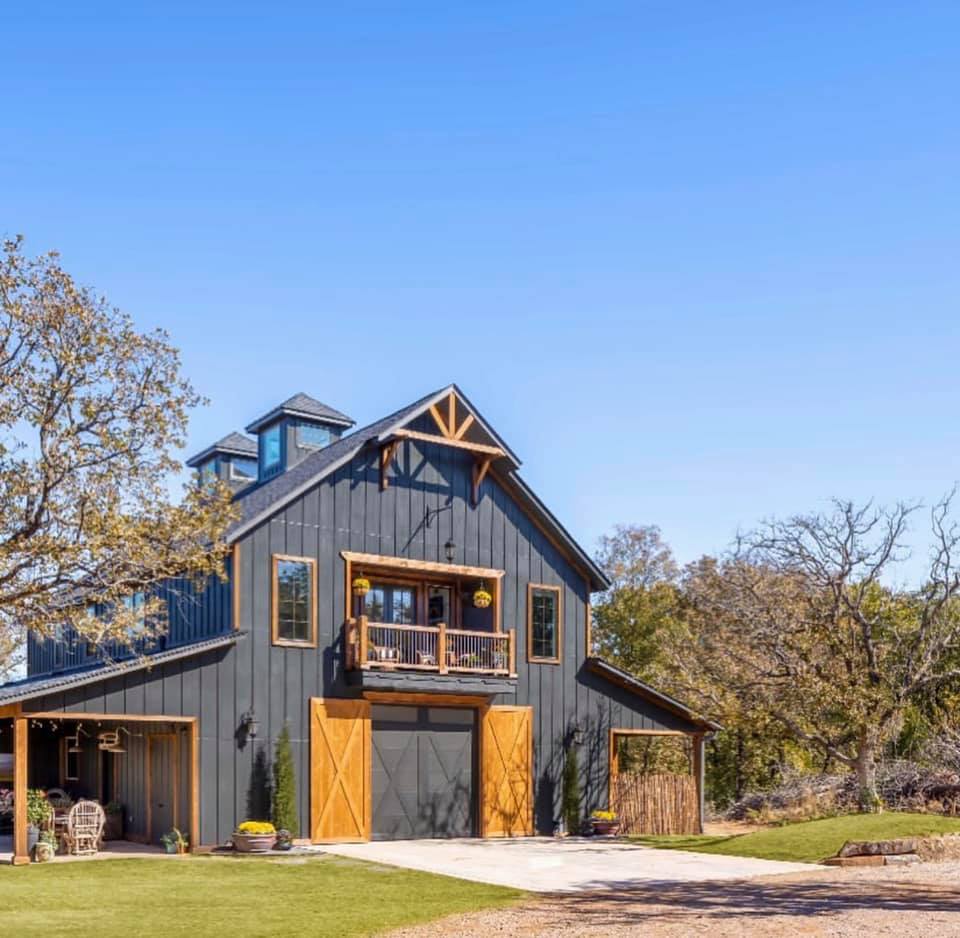 Monitor barndominiums lend themselves beautifully to rustic-style decor, but they're also a great option for people who want to go for a more stripped-down, contemporary style.
This sprawling Oklahoma barndominium features a broad raised section that also ends in a balcony, with a unique navy-and-orange color scheme that blends nicely with the surrounding landscape.
This balcony comes straight off a great room, where the modernity of the plain white walls provides a canvas for more rustic, ranch-style decor, including an antler chandelier, mounted deer head, and faux cowskin ottoman.
We love the twin cupolas with windows an all four sides, which lets natural light stream down into the room and stresses the magnificent size!
Wrapping Up…
We hope you've found this introduction to monitor barndominiums informative and inspiring. If you want more guidance during your barndo build, be sure to check out our Barndominiums Made Easy Program!
Like this Post? Sign up for our email list!
Be the first to see new posts about the best barndominiums, construction guides, floor plans, and more! Enter your information below to become a BarndominiumLife VIP.
Gail currently spends her free time geeking out about what's new and trending in the world of barndominiums.
She is the former executive editor of BarndominiumLife.com and loves working with the team and members of the barndominium community. She now contributes to the blog on occasion, but only when she feels like it!