Seeing as you've made it here, you've probably resolved to embark on a self-build project and fulfill your dreams of building a home on your own piece of land. After some initial research, you've probably also started to feel a little overwhelmed by the sheer number of options out there, and all the different terms like "barndominium" , "shouse", and "post frame home."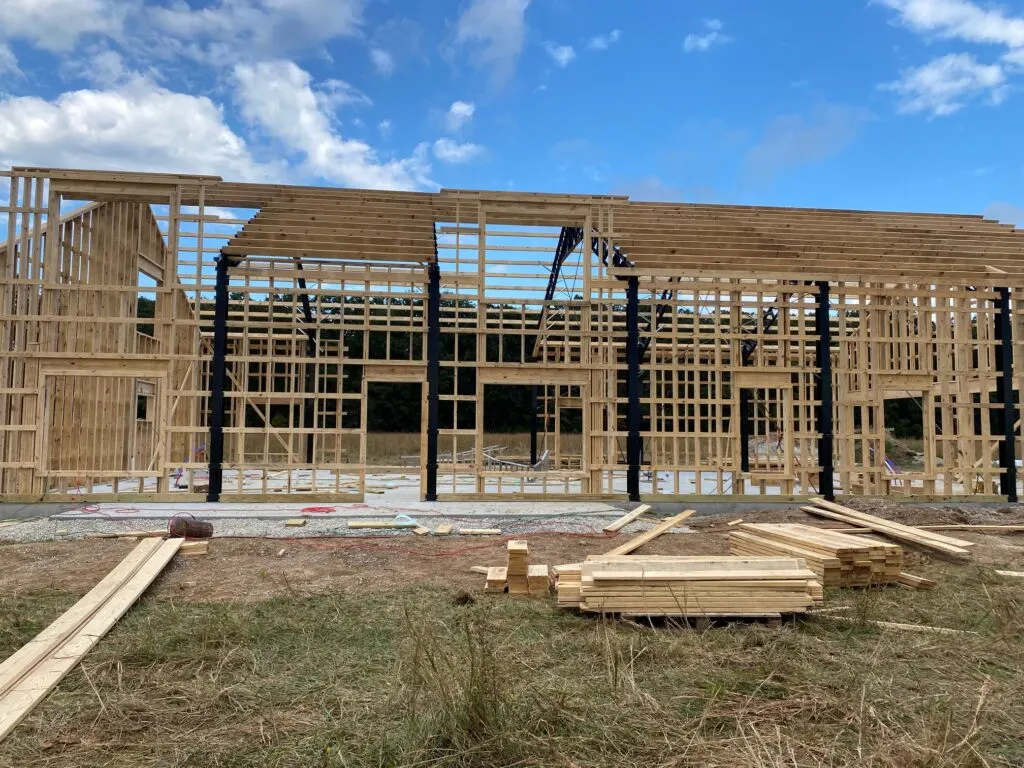 Related: Check out our Build Your Dream Barndominium eBook!
While building a home is a very fulfilling project, there's a lot of information to unpack if you want to execute it correctly. In this post, we'll try to clear some of the confusion by having a closer look at post frame homes, and the pros and cons to keep in mind before settling on this kind of build.
Get a FREE 18 Month Barndominium Planner
There are 39+ steps that must be taken before groundbreaking. Learn them all in this FREE checklist, available for immediate download.
What is a Post Frame Home?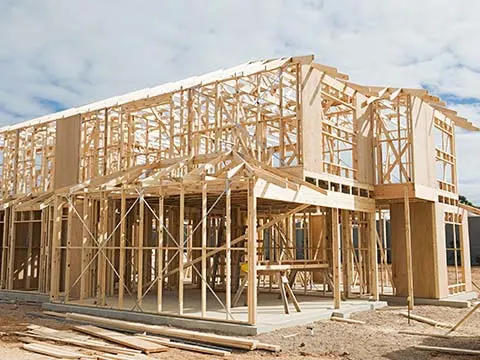 "Post frame" refers to a style of construction made with a wood frame, which can be finished with a variety of exterior coverings. Simple, yet effective, post frame is known for its strength, flexibility, and affordability compared to more conventional forms of construction, and has been used as a well-trusted construction method for self-builds throughout the US.
They can be built on a number of different foundation options depending on the conditions of the building site and surrounding climate. Other features typically include strong, laminated upper posts, heavy-duty wooden trusses, and steel exteriors similar to that of a barndominium.
Due to their sturdy, interlocking frames and dense columns, post frame homes can be built a lot faster than other self-build style homes, which is one of the big reasons they've become so popular in recent years.
How Long do Post Frame Buildings Last?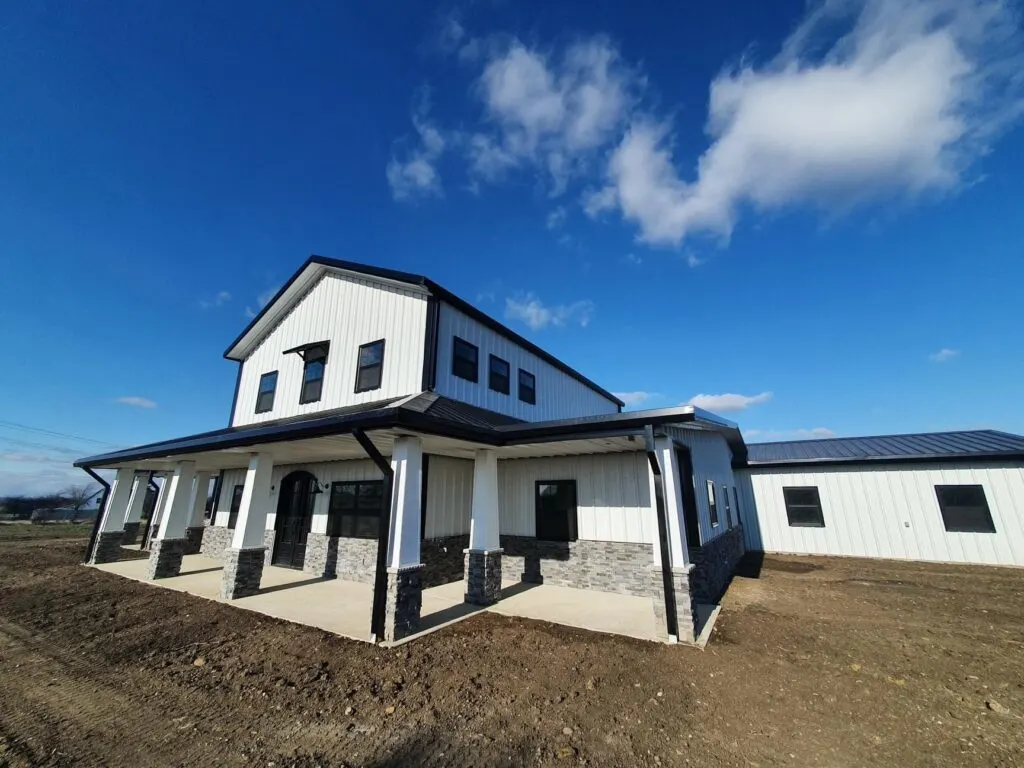 Like any other building, the longevity of a post frame home will depend on the quality of the construction. With properly treated wooden components, high-quality exterior materials, and labor carried out by a qualified, experienced team, a pole frame home can easily stand for a century or even longer!
Furthermore, because post frame homes are designed to transfer the force of strong winds into the ground through their support beams, they're great at standing up to adverse weather conditions.
Is a Post Frame Home Cheaper?
The answer to this question depends. If you were to build a post frame home or a traditional brick-and-mortar home with the exact same design and square footage, it's highly likely that the post frame home will come out cheaper. However, there are a range of different factors that can influence the cost of building a post frame home, such as square footage, regional building regulations, materials used, features, and labor requirements.
Your post frame home may be less expensive or more expensive than the alternatives you're considering. It all depends on what you need from the end result to suit your wants and needs. Calculating the cost and budget with a thorough understanding of every little thing you'll need to account for will reveal how much more or less your post frame build will cost compared to the other options.
Are Post Frame Homes a Good Investment?
Short answer – yes! Property in general is one of the safest kinds of investments you can make, with very little risk of the value decreasing over time.
While building a new property with plans to sell it further down the line typically won't garner the same kind of profits as 'flipping' an existing home in the 'burbs, if you're hoping to build a post frame home as a rental property, the potential is huge.
As we discussed in the previous points, post frame builds are typically cheaper per square foot compared to other construction techniques, which reduces the initial investment, and due to their sturdy construction, the need for upkeep is minimal compared to more traditional constructions.
How to Build Your Own Barndominium & 200+ Floor Plans
Get started today with our program "Barndominiums Made Easy: How to Build Your Own Barndominium" and get 200+ barndominium floor plans included!
Post Frame Home Planning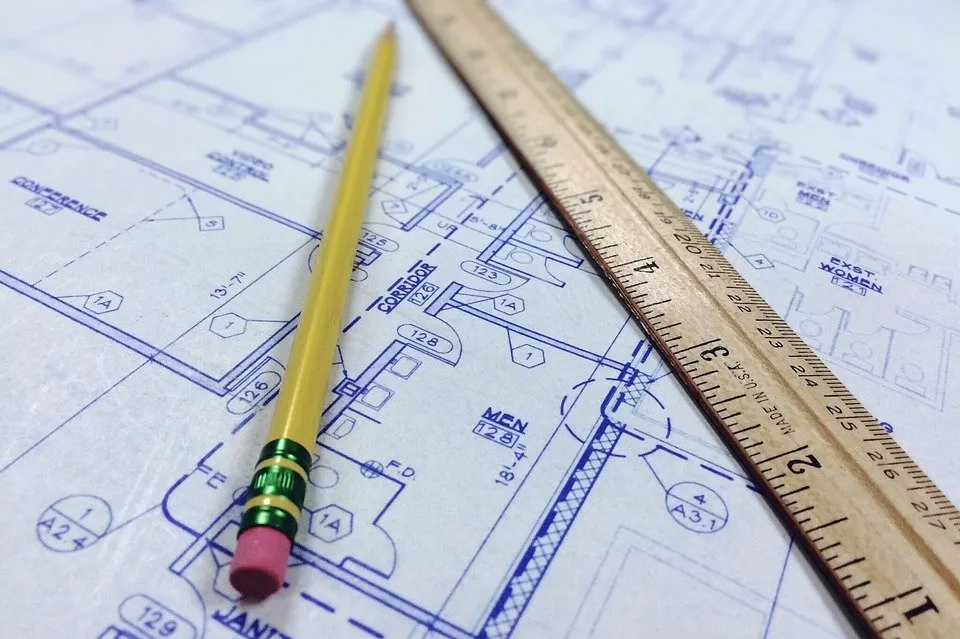 Effectively planning a post-frame home is a broad, complex topic that could easily be the focus of a whole other article. However, the necessary steps for planning a successful post frame home can generally be divided into three main categories:
Design: Whether you're building a 'forever home' for you and your loved ones or a profitable rental property, this post frame home is going to be a part of your life for a long time. Choosing the right design for your needs and preferences requires careful consideration of a number of things, including your lifestyle, the space you'll require, the typical flow of traffic around your existing home, and cosmetic considerations.
Choosing the barndominium floor plan that's right for you can take a while, but it's probably the funnest part of the whole process, except perhaps shaking hands with your foreman and turning around to see the finished building!
You can start right now by checking out all the great floor plans we have to get some great ideas!
Financing: Less fun, but still very important, you'll need to understand how to finance your post frame home from day one. This requires extensive research, and often the advice of people more experienced in construction than you are.
Prices of land and permits in your chosen area, the square footage and distinctive features of your plan, the construction team and other contractors you're planning to hire, and even the current state of the market, are all things you'll need to consider.
It may not be the most exciting part of building a property, but good financial management can mean the difference between a beautiful home and a total disaster. Make sure you're giving it due diligence, or you may wind up regretting it!
Construction: Any construction project is a complex endeavor with a lot of moving parts. To ensure you don't run into any avoidable issues, you should aim to take an active role in planning and managing the actual construction.
Even if you have absolutely no background in construction, this project is about fulfilling your vision for a post frame home. Keeping in close communication with the construction foreman regarding things like time management, cost control, quality of work, and risk management, will help to ensure the project is carried out as smoothly as possible.
Pros and Cons of Post Frame Homes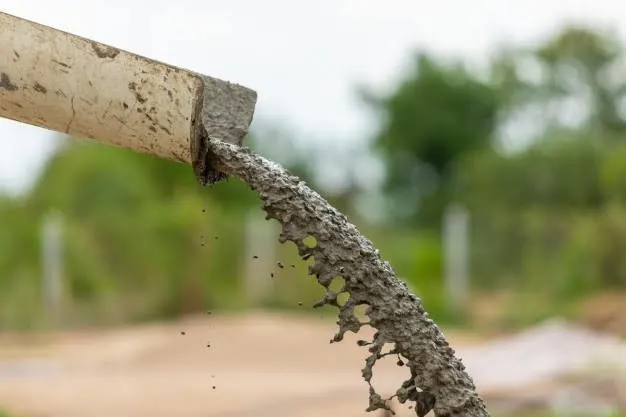 Now that you know the basic ins and outs of post frame homes, here's a quick list of pros and cons to help inform your future building projects!
Pros of a Post Frame Home
Post frame homes are cheap! Due to the fact they usually have concrete slab foundations rather than basements, you'll shave off a large portion of the construction costs compared to brick-and-mortar homes.
When properly insulated, post frame homes have great energy efficiency. This is because the studs are more spaced-out than traditional builds, allowing more space for insulation. Be sure to research Barndominium insulation to ensure your barndo is insulated properly.
Post frame homes require less framing overall than brick-and-mortar homes, meaning faster construction overall.
Post frame homes' steel-pannel exteriors require less maintenance than brick, wood, or other common building materials.
Many post frame home plans are designed with self-build projects in mind, which isn't always the case with other methods of construction.
Cons of a Post Frame Home
While post frame homes are often cheaper than brick-and-mortar homes, this isn't a guarantee, and unforeseen complications during construction can render them more expensive than the alternatives.
Permitting your post frame home can be a slog depending on your area, as some zoning boards maintain a blanket ban on steel siding and post frame construction.
Some appraisers, lenders, and construction professionals aren't familiar with post frame homes, which raises the potential for complications. You want to check out these tips for finding a barndominium builder.
Wrapping Up…
We hope you've found this information useful for planning and tackling your post frame home project! For more information on how to carry out a self-build project the right way, check out our Barndominiums Made Easy Program today!
Like this Post? Sign up for our email list!
Be the first to see new posts about the best barndominiums, construction guides, floor plans, and more! Enter your information below to become a BarndominiumLife VIP.
Gail currently spends her free time geeking out about what's new and trending in the world of barndominiums.
She is the former executive editor of BarndominiumLife.com and loves working with the team and members of the barndominium community. She now contributes to the blog on occasion, but only when she feels like it!