Today's featured home is an exciting tour as it is also currently listed for sale by Haley Auctions and Realty! This breathtaking Russellville, Kentucky barndominium is an impressive homestead that boasts tons of living space, a covered patio area and massive shop.
It is hard to imagine anyone wanting to sell such a beautiful barndominium, however, if you are in the market for a once-in-a-lifetime barndominium in Russellville, Kentucky, you may want to see what this home has to offer!
How to Build Your Own Barndominium & 200+ Floor Plans
Get started today with our program "Barndominiums Made Easy: How to Build Your Own Barndominium" and get 200+ barndominium floor plans included!
Exterior – Kentucky Barndominium
A bird's eye view of the property shows off the large lot that this impressive Kentucky barndominium sits on, as well as the beautiful scenery that surrounds it. With just a few neighbors in sight, the home is perfectly private, with plenty of green space and open areas to be enjoyed.
The exterior of this Kentucky barndominium is a stylish grey horizontal siding with a natural stone border and exposed wooden beams. The property also features multiple covered porch areas that are perfect for entertaining or enjoying stunning views.
The covered breezeway between the home and the shop is an amazing outdoor area that allows for tons of outdoor seating and entertaining opportunities for family and guests alike. A large stone fireplace and outdoor TV provide the perfect place to spend time outdoors with all the comfort of indoors.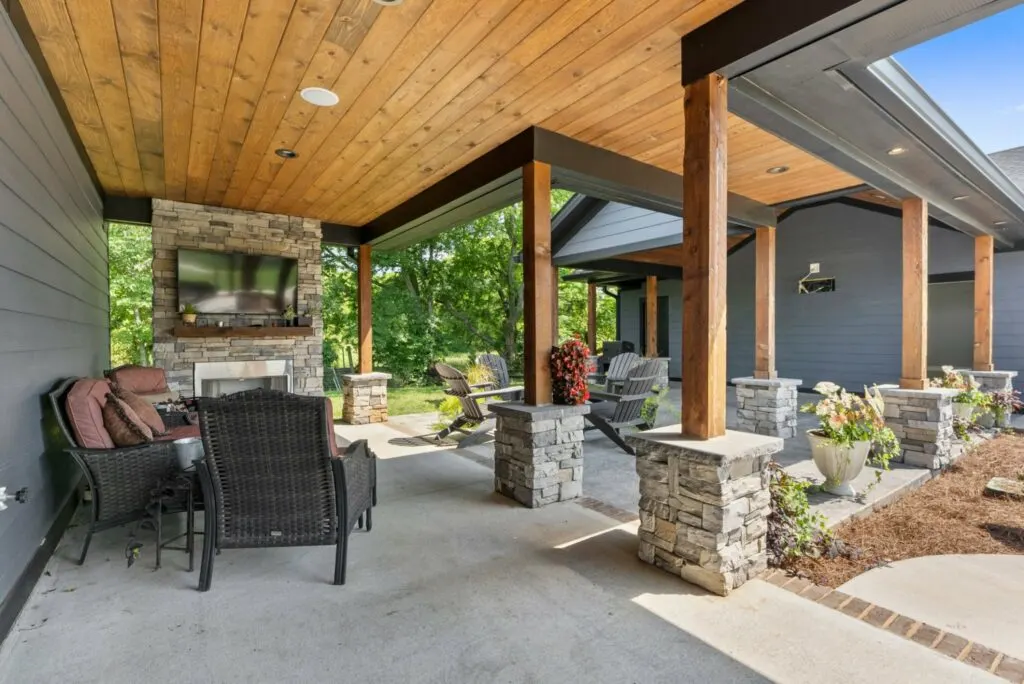 Garage/Shop – Kentucky Barndominium
The large attached shop is any car or DIY lover's dream! With space for multiple vehicles, projects, and plenty of storage, this shop is the perfect place to spend time working on hobbies or tinkering with cars.
On the other side of the home, there is an attached garage that has space for parking for up to three vehicles. Also, not that you would need it in this expansive home; it provides an opportunity for additional storage as well.
How to Build Your Own Barndominium & 200+ Floor Plans
Get started today with our program "Barndominiums Made Easy: How to Build Your Own Barndominium" and get 200+ barndominium floor plans included!
Interior – Kentucky Barndominium
The interior of this Russellville barndominium is just as impressive as the outside. The open concept floor plan allows for plenty of natural light to flow throughout the home.
Living Room
The living room is a large open area that features a number of large windows, exposed duct work, a beautiful wooden ceiling, and a large stone fireplace acting as the space's focal point.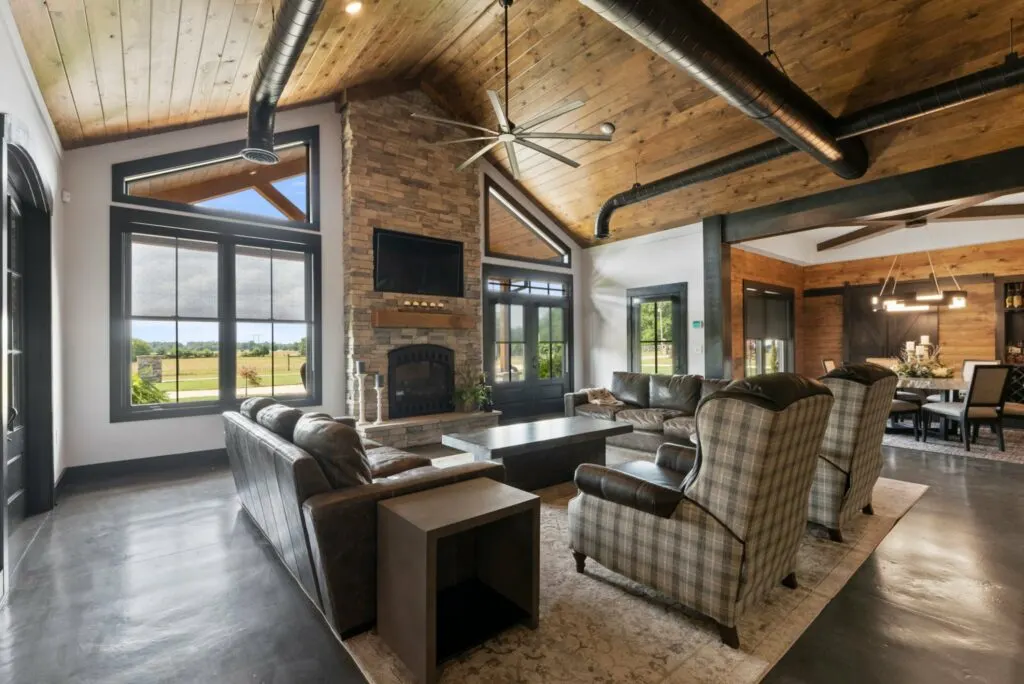 With its open layout, there is plenty of room for seating. The living room, though spacious, still has a very intimate and cozy feel.
Kitchen
The kitchen is also part of the main living area and is an absolute show-stopper! Natural wood cabinetry blends ideally with the rest of the home's trendy rustic decor.
The large island adds not only seating options, but it also provides more storage and additional surface area. The island is outfitted with two sinks for added convenience, making this stunning kitchen and a chef's dream.
Though the home has a spacious separate dining area, the kitchen island has enough space for five stools. Whether it is a quick breakfast or additional seating during a party or gathering, having options is always appreciated!
Dining Room
The dining area is located off the main living area and is a stylish cove that is a great space to host dinner parties or family meals!
Most unexpectedly, two additional beds are in the dining room tucked behind a set of sliding barn doors. Whether it's a place to rest for family and friends or if a dinner party becomes an unplanned sleepover, additional sleeping arrangements don't take up any extra space.
Laundry Room
The main floor laundry room is spacious and provides owners with plenty of conveniences. Multiple cabinets provide for storage, while the extra-long countertop allows for a clean area to fold and organize clothes.
Home Office
Set off the kitchen is an executive home office that will impress any clients. Completely covered in brick, the windows ensure the room is bright and airy all day long.
Bedrooms
This stunning Kentucky barndominium features four large bedrooms. The first bedroom, the master, is a light, spacious room that evokes feelings of calm and relaxation.
The second bedroom is also bright and open and, with its black door accents, is also extremely trendy.
The third bedroom completes the main floor sleeping quarters and is also light and fresh like the rest of the rooms.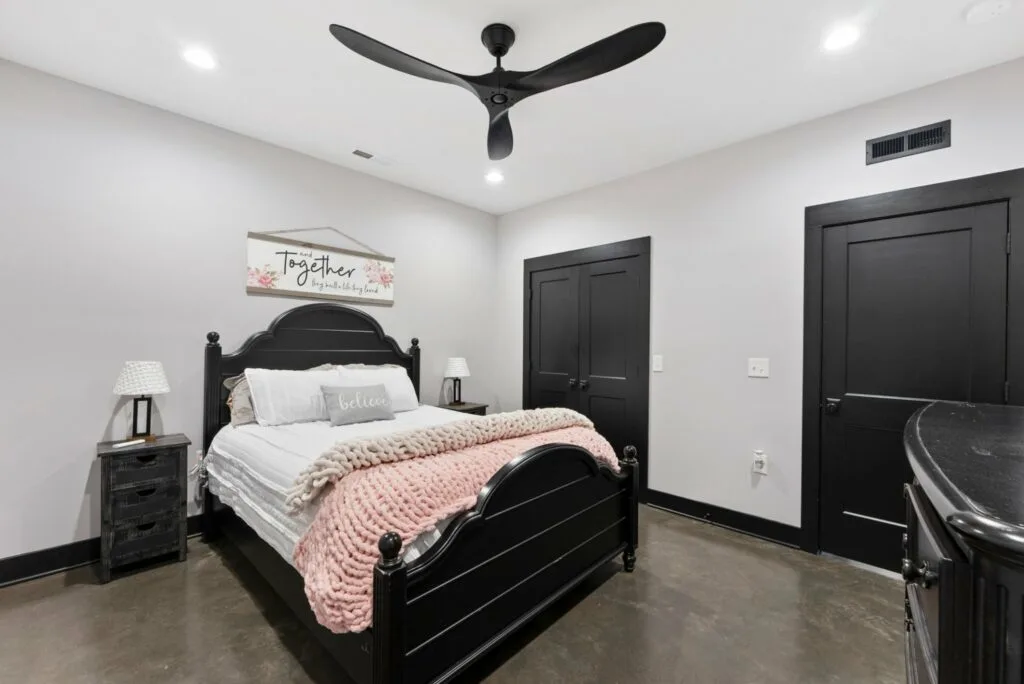 Upstairs, the final bedroom is more of a guest suite. Complete with a sink, dishwasher, and microwave, this is an ideal space for long-term guests or those who need a bit more privacy.
Attached to the guest suite, there is a large attached bathroom, walk-in shower, and closet area.
Guests will be perfectly cared for in this beautiful space! Be careful who you invite, though – they might not want to leave!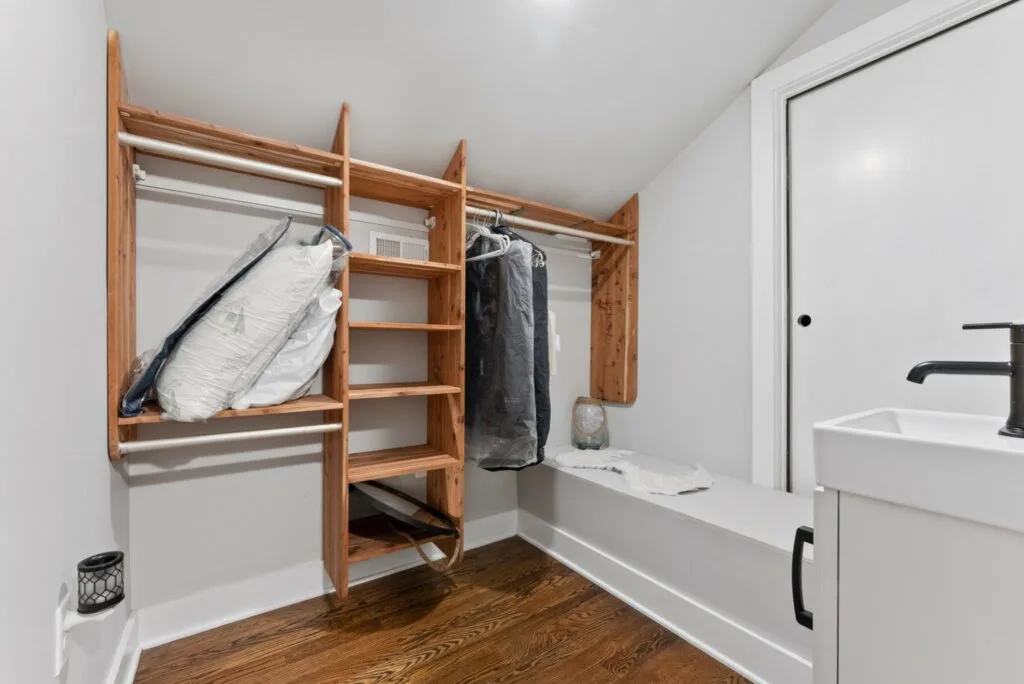 Bathrooms
The master ensuite is a true retreat for owners and is filled with many luxurious features. Opting for black versus the traditional white, the room immediately takes on a divine atmosphere.
There is ample storage and counter space so there is no worrying about fighting over sink or mirror time!
The spacious walk-in shower is also ultra-sophisticated and, with the sparkling tile work, takes on a spa-style feel.
The guest bathrooms are also well appointed and feature many upgraded amenities for friends and family members.
Loft/Reading Room
Our final room on the tour of this amazing Kentucky barndominium is the upstairs reading room. Quietly tucked away from the heart of the home, this cozy nook is a great place to relax with a good book and enjoy some quiet time.
As we've mentioned, this Kentucky barndominium is unique in the fact that it is currently listed and available for one lucky family! For any interested parties, please contact [email protected].
If you would like more guides like this one, check out the rest of BarndominiumLife.com. There, you will find more helpful tips and tricks from the pros. You will also find featured barndominiums, barndominium floor plans, and information on financing and insurance. Knowing as much as you can will help you get the best results for your dream home.
Like this Post? Sign up for our email list!
Be the first to see new posts about the best barndominiums, construction guides, floor plans, and more! Enter your information below to become a BarndominiumLife VIP.