As the housing market gets more competitive, Americans are becoming pickier about what they want in their homes. According to a recent survey, budding homeowners are most interested in a spacious kitchen, an outdoor area, an entertainment room, and extra storage spaces.
While the traditional home can provide these amenities, it can be quite expensive. Fortunately, barndominiums, a popular alternative to cookie-cutter homes, offer everything homeowners seek – and more!
Today's barndo feature will take you to South Dakota, home to Mount Rushmore and the Badlands, where this peaceful country retreat mixes well with stylish city living.
Let's jump right in!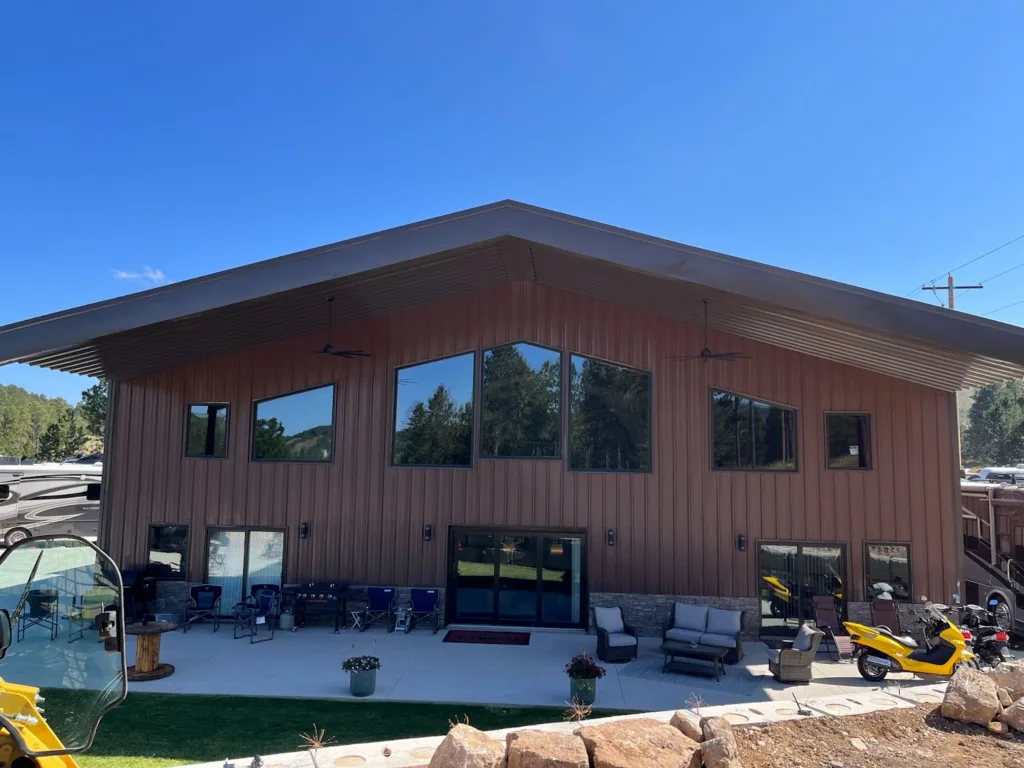 About the Barndominium
This stunning South Dakota barndominium feature is by Terry Neubaum, called "Whiskey Barrel Ranch."
Constructed in 2021, this barndominium measures 150 x 60 feet, with 3,000 square feet of garage/shop space complete with stunning 14 x 14 glass doors. With six and a half bathrooms and eight bedrooms, this makes for an ideal multi-family home.
Whiskey Barrel Ranch barndominium sits on a five-acre property filled with open outdoor space, a country home suitable for anyone looking for a quiet retreat away from the city. Although covered areas are more functional, uncovered areas offer a touch of nature so you can go outside and play.
As a side note, if you are considering barndominium landscaping, you only require a little space, and it is well worth the investment to enhance the curb appeal of your property.
Getting to Know the Owner
Let's find out how Terry Neubaum developed his Whiskey Barrel Ranch barndominium.
What inspired you to build a barndominium?
Due to Terry's background of owning buses and race cars, he was inspired to build a barndominium. Multi-vehicle owners and car enthusiasts can benefit significantly from having a barndo home because it usually has plenty of garage space.
Barndominium homes often feature large, open-concept layouts that can be customized to include specialized work areas, storage racks, and even car lifts.
Did you build your barndominium yourself or hire a builder?
Terry works as a general contractor, so he was able to design and build his South Dakota Whiskey Barrel Ranch barndominium according to his specifications.
If you have limited building experience – don't worry! Our extensive directory of qualified barndominium builders and barndominium kit providers in your area is available on our blog. With them, you can also design your dream barndo home.
What is the one thing you wish you would have known before building?
One word: taxes.
When building a barndominium, tax classification may differ from that of a traditional home. Barndominiums are often categorized as "mixed-use" properties, which may be subject to different zoning and tax regulations. Depending on local regulations, this can lead to higher property taxes or additional building permit fees.
Planning and understanding the financial implications of building a barndominium can greatly aid in budgeting for construction costs. Despite this, constructing a barndominium is typically less costly than building a conventional home when all expenses are considered. Be sure to research barndominium taxes prior to beginning your project.
What is your favorite part of your barndominium?
The Whiskey Barrel Ranch barndominium has a game room with a whiskey barrel ceiling that's sure to set the scene. As an eye-catching design element, this ceiling can add warmth and character to any room.
Let's Tour this Barndominium!
Ready to be inspired by this one-of-a-kind home's rustic charm and modern elegance? See more below!
How to Build Your Own Barndominium & 200+ Floor Plans
Get started today with our program "Barndominiums Made Easy: How to Build Your Own Barndominium" and get 200+ barndominium floor plans included!
Exterior
The large gable roof is among the most striking features of the Whiskey Barrel Ranch exterior. Also known as a peaked or pitched roof, it is a simple, cost-effective roof style used in homes for centuries. While it may seem like a basic option, it can create a dramatic and striking effect when incorporated into the right home design.
Brown metal siding is primarily used to give the home's exterior a natural and muted appearance. This gives off a certain sophistication well complemented by its modern elements, such as oversized glass garage doors.
How to Build Your Own Barndominium & 200+ Floor Plans
Get started today with our program "Barndominiums Made Easy: How to Build Your Own Barndominium" and get 200+ barndominium floor plans included!
Interior
As you enter the Whiskey Barrel Ranch barndominium, your eyes are immediately drawn to the stunning centerpiece: the whiskey barrel ceiling. The rich, warm tones of the wood create an inviting and cozy atmosphere reminiscent of a traditional whiskey distillery. A lot of glass windows let in plenty of natural light as well.
Great Room
As you take in the rest of the space, you'll notice that the barrel ceiling sets the tone for the entire design aesthetic. The cabinetry, furniture, doors, and other features are various types of rustic wood that complement the ceiling perfectly, while comfortable leather sofas and chairs invite you to relax.
There's no doubt that the game room is great for family and friends. The island bar has plenty of comfy seating for watching games or just hanging out.
Kitchen
With stainless steel appliances and contemporary cabinetry, the kitchen maintains its rustic charm with its whiskey barrel ceiling.
A mini-pantry on the side, constructed with detailed brickwork and polished wood, provides a cozy area for preparing small meals and drinks.
Other Rooms in Whiskey Barrel Ranch Barndominium
The view from inside the barndominium garage is particularly appealing, where Terry showcases his race cars with a stunning view of the outdoors as he works. This is a clear benefit that glass doors can offer when considering a garage door for your home.
Make Building your Dream Barndo Easy with Barndominium Life
The Whiskey Barrel Ranch barndominium by Terry Neubaum turns a simple gable roof home into a standout with clever design choices. With the potential for customization, this home is a great showcase of what barndominium design can do.
Does putting together your dream barndominium get you anxious? Let us ease your worries with our 'Barndominiums Made Easy' program, packed with everything you need to know to make your dream home come true!
If you would like more guides like this one, check out the rest of BarndominiumLife.com. There, you will find more helpful tips and tricks from the pros. You will also find featured barndominiums, barndominium floor plans, and information on financing and insurance. Knowing as much as you can will help you get the best results for your dream home.
Like this Post? Sign up for our email list!
Be the first to see new posts about the best barndominiums, construction guides, floor plans, and more! Enter your information below to become a BarndominiumLife VIP.
Noah Edis is a passionate staff writer at Barndominium Life, a leading online resource for all things barndominium. With years of experience in the writing industry, Noah has made a name for himself as a skilled storyteller and a knowledgeable authority on the topic of barndominiums.
Noah's interest in barndominiums began when he stumbled upon the concept while researching alternative housing options. Intrigued by the rustic charm and functionality of these converted barns, he soon became obsessed with the idea of living in one himself. He spent countless hours researching the construction, design, and decorating aspects of barndominiums, and soon became an expert on the topic.
As a staff writer at Barndominium Life, Noah enjoys sharing his knowledge and passion for these unique homes with others. He has written numerous articles covering a wide range of topics, from the history of barndominiums to the best ways to decorate them. Noah's writing is informative, engaging, and always on-trend, making him a valuable asset to the Barndominium Life team.
Noah is a graduate of the University of British Columbia, where he earned a degree in English Language and Literature. When he's not writing about barndominiums, he can be found exploring the great outdoors, trying new restaurants, or spending time with his family and friends. Noah is dedicated to his craft and is always striving to improve his writing skills and knowledge of the barndominium lifestyle.
Connect with Noah on LinkedIn