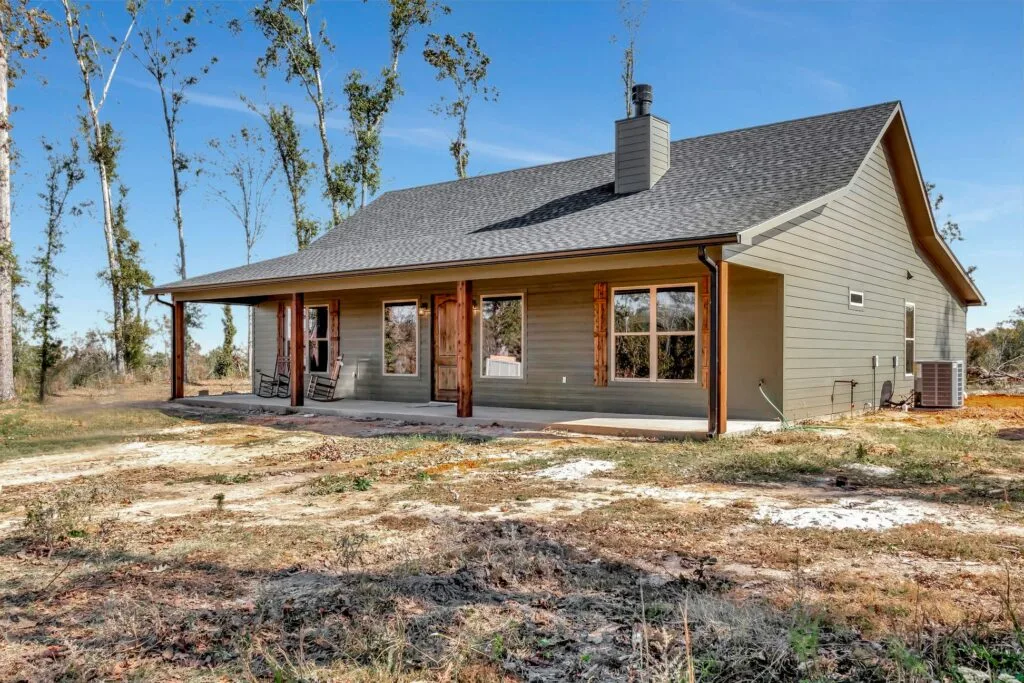 Editor's Note: You can purchase the house plans for this home by clicking here!
Today's featured home is a truly beautiful barndominium in Martinsville, Texas, built by Lufkin-based custom home builders Petty Constructions.
Martinsville, Texas Barndominium with Modern and Classic Design Motifs
With a moderate stature, a timeless exterior, and interiors that are full of beautiful modern decor, this barndominium is another great example of barndos that fuse classic ranch decor and a strong sense of hominess with the best modern materials and design conventions.
There's no shortage of things to love about this Texas barndominium, so, without further ado, let's take a closer look!
How to Build Your Own Barndominium & 200+ Floor Plans
Get started today with our program "Barndominiums Made Easy: How to Build Your Own Barndominium" and get 200+ barndominium floor plans included!
Exterior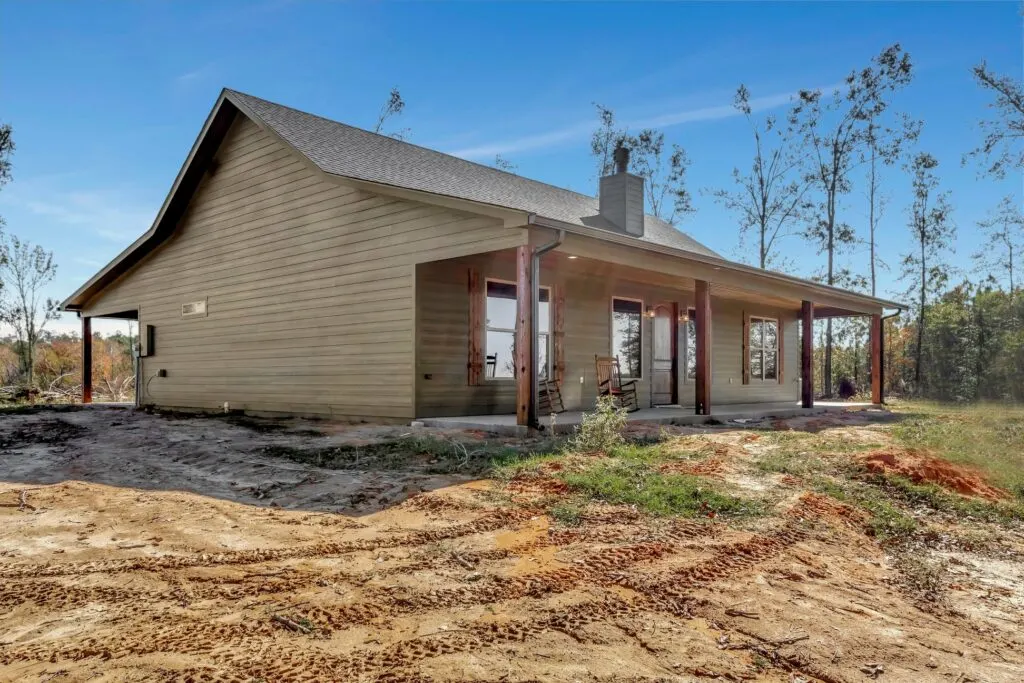 This home gives you a warm welcome from the first sight of it, with a charming simplicity in its one-story design and a porch stretching the width of the house. The humble, instantly-recognisable shape of the home, as well as a woody, natural color scheme made up of a cool green and reddish brown wood accents, lets the barndo blend beautifully with the sparse treelines surrounding it.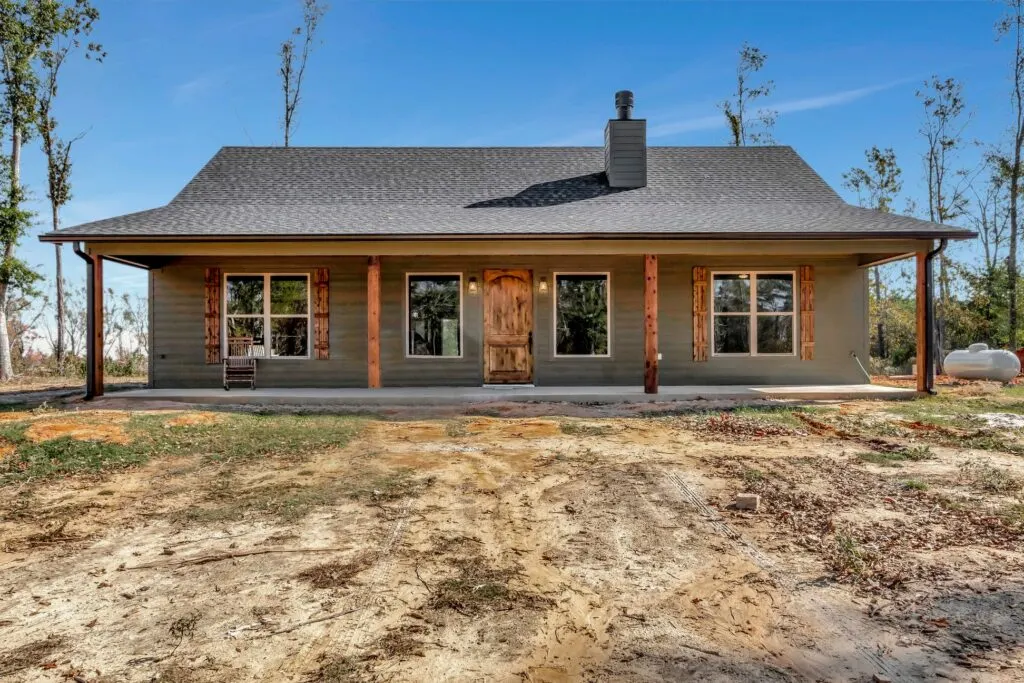 The home feels even more welcoming when you get closer and step onto the porch, with a classic wooden door flanked by two caged bulbs mounted on the front wall, as well as two large, fixed windows in white frames, which gives the place a nice modern touch that doesn't clash with the more classical elements.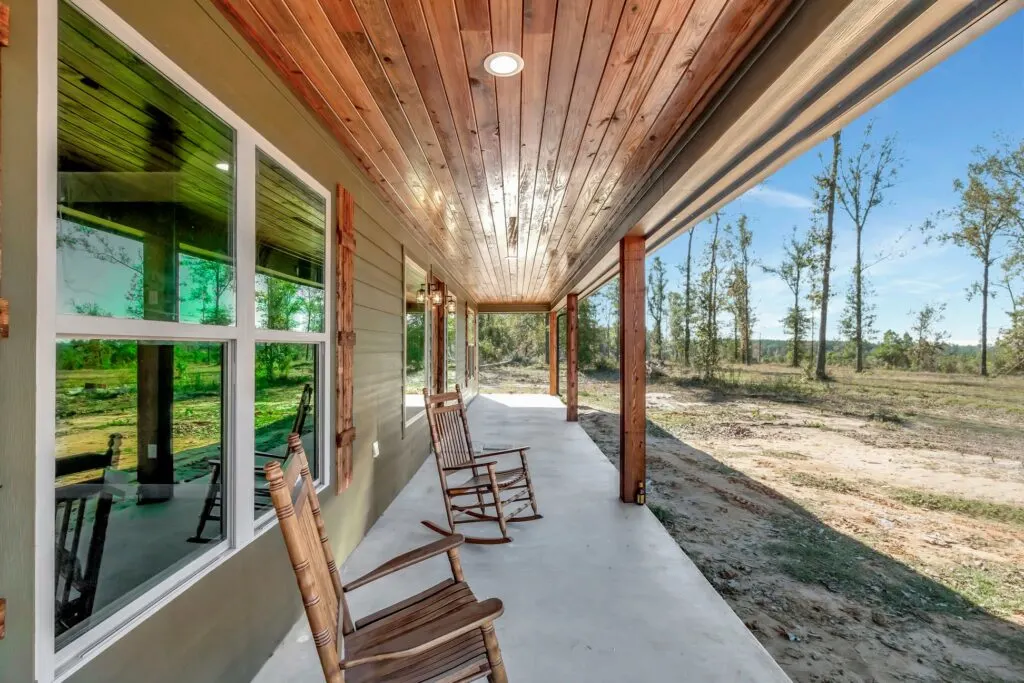 A pair of beautiful wooden rocking chairs provides the perfect finishing touch to the exterior's potent old-world charm.
Living Room
The timeless ranch decor of the exterior gives way to a a beautifully modern living room. Gleaming wood-effect floors, wood paneling in the ceiling, a row of recessed spotlights, and a generous use of whites and grays, plants the home firmly in the 21st century, contrasted by a trio of deer heads mounted on the largest wall.
We absolutely adore the living room's focal point; a white-brick fireplace with a subtle curve at the base softening the room's straight lines, a simple mantel made of a light-colored wood, and a tall column of exposed brickwork mapping out the shape of the chimney. The stunning pale hues of this feature are reflected nicely by a simple suite of pale gray furniture.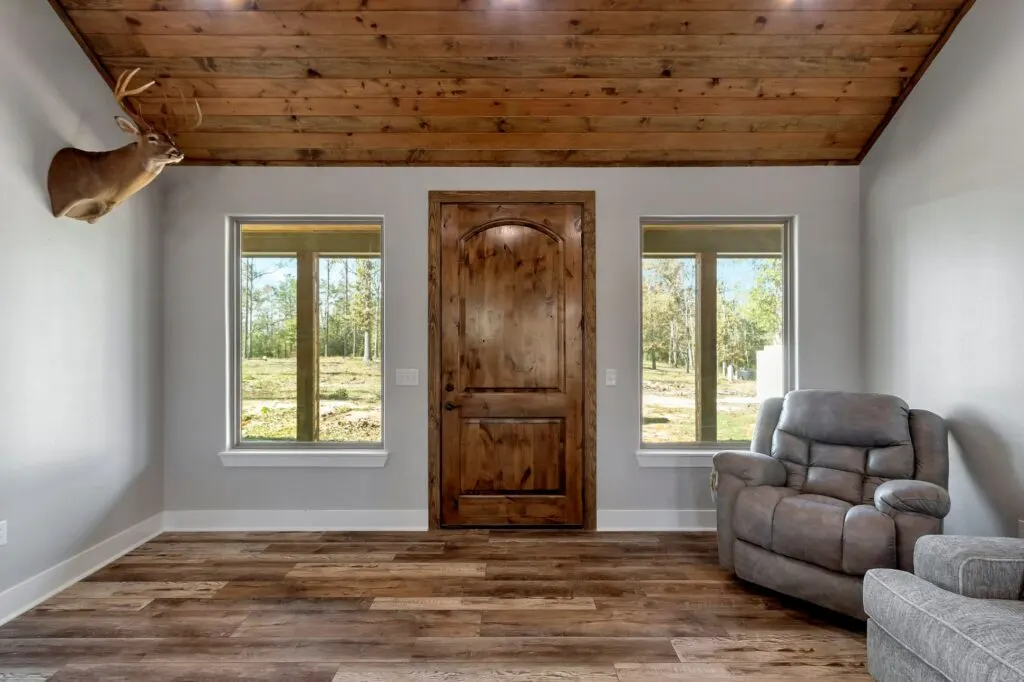 Though the space is fairly simple and not especially large, the tall ceiling of the living room with its modern fan at the center, and the fact that it allows you to walk straight through to the kitchen, gives it an open, breathable quality that makes the whole room feel more grand and spacious.
How to Build Your Own Barndominium & 200+ Floor Plans
Get started today with our program "Barndominiums Made Easy: How to Build Your Own Barndominium" and get 200+ barndominium floor plans included!
Kitchen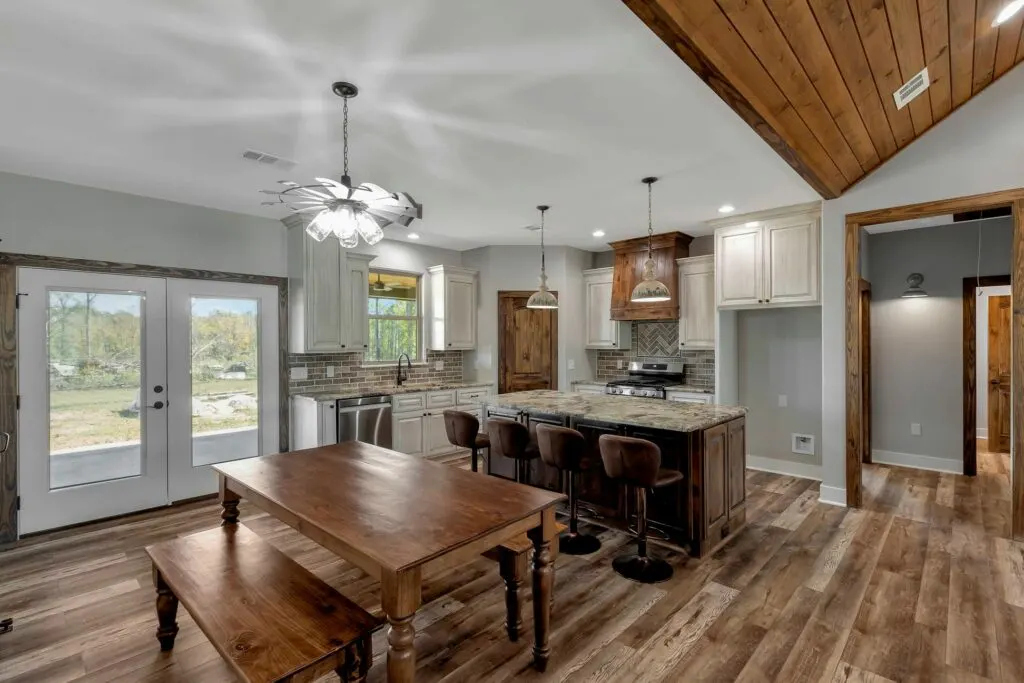 The kitchen exhibits the same charming character as the lounge, where modern and classical design conventions are arranged in perfect balance.
A generously sized kitchen island, with a wooden base in a dark, warming color and a beautiful marble top, stands at the center, accompanied by a row of pretty brown barstools with adjustable height.
We love the pair of hanging lamps above the island with the rustic shape of their weathered-effect metal shades, which act as a beautiful foil to the space's more modern elements.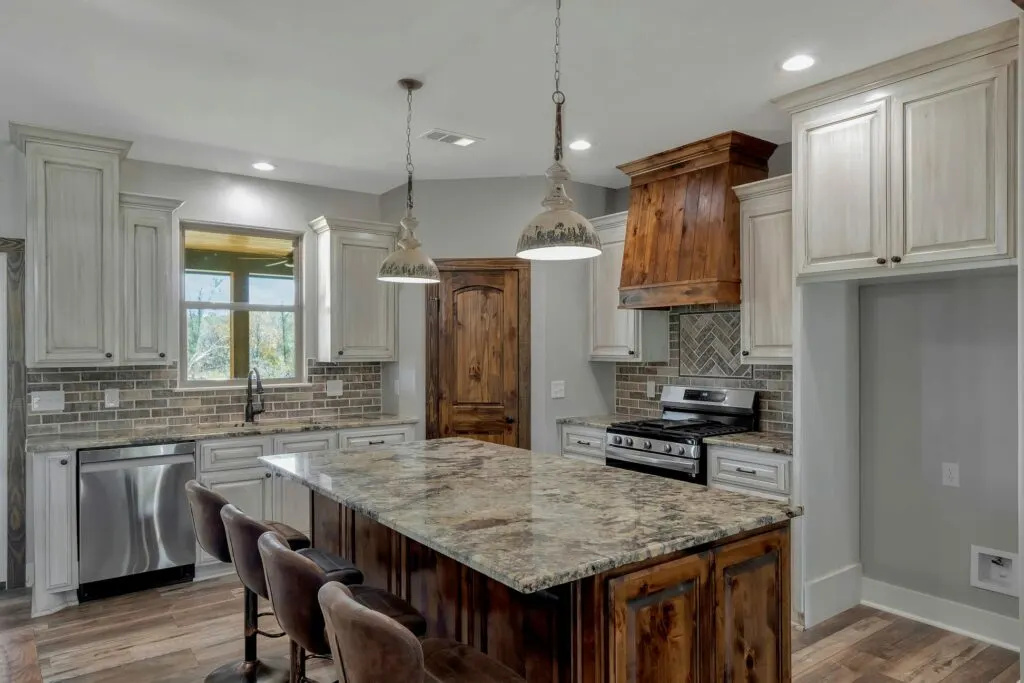 The perimeter of the kitchen is characterized by the off-white shade of the cabinets, creating a striking contrast against the warm color of the woods used in the base of the island, the stove hood, and a door to a corner pantry. The classic black handles of the cabinets and drawers, as well as a stand-out wrought iron colored tap, and a subtly darker gray on a brick-effect backsplash surround, create wonderful accents to a cool, bright color palette.
A simple wooden dining table with benches stands a short way back from the kitchen, aligned with wide, white double doors that afford a far-reaching view of the land outside, and invite you to leave them open for breezy summertime dining.
Floor Plans
If you're looking for the floor plan for this handsome barndominium, look no further. We were able to work with the designer of this barndo to provide the floor plan on this page. If you're interested in purchasing this entire house plan to build, CLICK HERE.
Bathrooms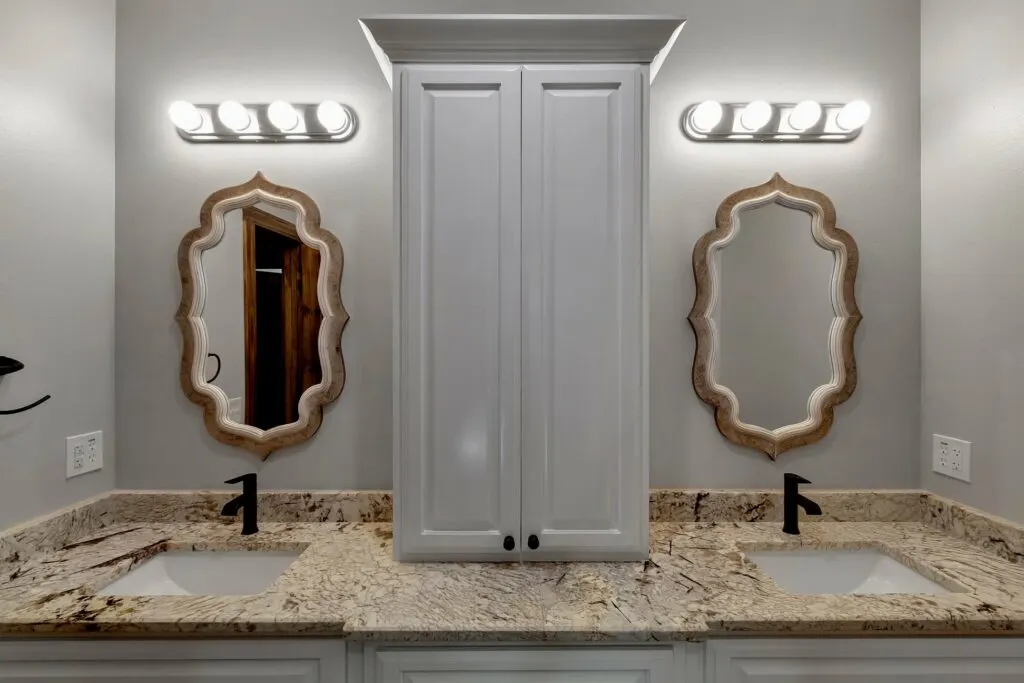 In the barndominium bathrooms, the more antiquated ranch-style motifs of the interior are replaced by a simpler, stripped-back, and palpably modern mien.
The main bathroom's basin unit uses a gorgeous marble worktop similar in color and texture to the surfaces used in the kitchen, with the deep, square basins separated by a tall white cabinet, and fitted with a black, minimalist faucet. We love the interesting shape of the wall-mounted mirrors, and rounded light units that accompany each one, working together to fill the space with light.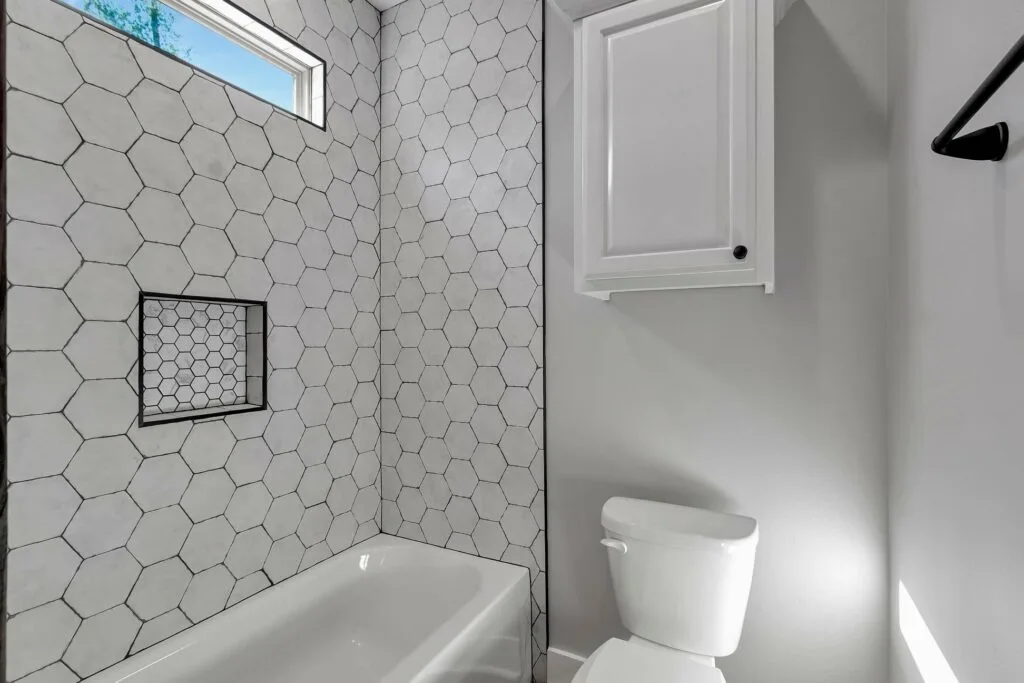 A bath/shower unit occupies the opposite wall, which has a short, long window inviting in natural light while maintaining total privacy. The tub is surrounded by a white honeycomb tile design with black trims that fortifies a sense of modernity, without causing a harsh clash with the more classic design of the other rooms.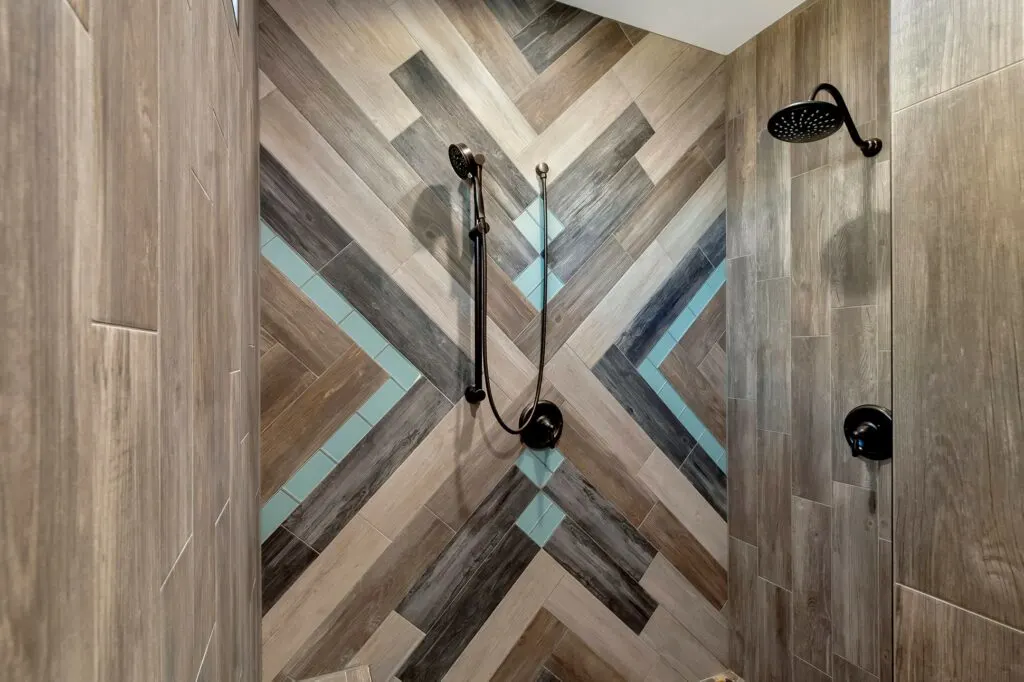 A second bathroom features a large shower unit with an equally striking design that emphasizes this barndo's luxurious modern comforts. A black rainforest showerhead stands out boldly against a mellow brown sidewall, with another, conventional showerhead set against the back wall, where a medley of blacks, browns, and azures work together to create an eye-catching focal point in a stand-out 'X'-shaped mosaic.
Wrapping Up…
This stunning Texas barndominium is a prime example of how classically lovable ranch-style decor can work together with modern elements in perfect balance.
If you would like more guides like this one, check out the rest of BarndominiumLife.com. There, you will find more helpful tips and tricks from the pros. You will also find featured barndominiums, barndominium floor plans, and information on financing and insurance. Knowing as much as you can will help you get the best results for your dream home.
Like this Post? Sign up for our email list!
Be the first to see new posts about the best barndominiums, construction guides, floor plans, and more! Enter your information below to become a BarndominiumLife VIP.
Editor's Note: You can purchase the house plans for this home by clicking here!