Timeless, rustic, and homey, ranch style barndominiums give off a potent sense of American history, and (just like barndominium living!) a distinct balance between indoor and outdoor living. If you're seeing in the construction of your first barndominium, or you've had one for a while that needs a little spruce-up, then you might want to bring some barndominium ranch style decor into your home.
Exploring barndominium ranch style decor can be a fun and rewarding project, but with so many elements to consider, you might find it a little tough to know where to start! Here, we'll go over 8 of our favorite barndominium ranch style decor ideas to get you inspired.
If you want more inspiration for interior design projects and much more, why not check out our Barndominiums Made Easy Program?
How to Build Your Own Barndominium & 200+ Floor Plans
Get started today with our program "Barndominiums Made Easy: How to Build Your Own Barndominium" and get 200+ barndominium floor plans included!
Ranch Style Barndominium Decor Ideas
Simple Wooden Barn Doors
One of the most effective ways to invoke the distinctive ranch character in your barndominium, especially if you're only just starting to choose components for construction, is to substitute standard doors with wooden barn doors. These offer a striking alternative to more traditional European doors and will work wonders for invoking the kind of potent, rustic character that sets a ranch style home apart. Going for warm, dark woods will provide a nice contrast to white or cream-colored rooms, and will let the doors act as a background focus piece in their own right.
Bright, Open Room Layouts
A lot of popular barndominium floor plans emphasize airy, wide-open spaces as it is, and when you lean into this architectural style, it will help to stress the unique mien of barndominium ranch style decor. Using bright, minimal features such as white curtains or shiplap feature walls, will keep your spaces illuminated throughout the day, and play nicely with any wood features like your floors, doors, and furniture.
Barn Lofts with Exposed Metal Ceilings
Vaulted ceilings are one of the distinctive characteristics of many barndominium builds, and another great way to bring your ranch style designs home. A simple addition of some flooring and a railing will give you a traditional barn loft, making the whole interior feel instantly more breathable and "outdoorsy". Whether you simply use it for storage or more living space, this will give you a rustic focal point that's visible throughout your ground floor, along with the freedom to play with dark, earthy woods without making your barndo feel too dark or cramped.
How to Build Your Own Barndominium & 200+ Floor Plans
Get started today with our program "Barndominiums Made Easy: How to Build Your Own Barndominium" and get 200+ barndominium floor plans included!
Rustic Fireplaces and Woodburners
A memorable focal point that screams "ranch style living", is a grand barndominium fireplace with classic mantels that will bring tons of warmth and authenticity to your ranch barndo's interior. With a crackling fire burning through the colder months, its soft glow will reflect off windows and brightly-colored walls, filling your spaces with light and making it feel that much cozier. Obviously, if you're already a good way into your construction or your barndominium has been built, then installing a full fireplace isn't going to be the most practical project in the world. Still, installing a wood burner with a chimney is a much easier undertaking that will give your home the same rustic character.
Rich, Warm, Barn-Like Colors
Achieving a ranch style decor in your barndominium is all about breaking down the aesthetic barrier between the inside and the outside, inviting natural elements in for a distinctly rural character. Filling your spaces with light, woody neutrals with upholstered furniture and as many wooden features as you can get your hands on will never fail to capture the classic homestead spirit you're going for.
To accentuate the natural element of your ranch style designs, we'd also recommend using glass cabinets for storage and display wherever possible. Because they let the light stream through them, glass cabinets will frame the natural shades in your ranch style barndominium with a consistent brightness, avoiding dark patches and breathing a little more life into your neutral furniture and decorative features.
Accent Barndominium Ranch Style Decor with Classic Stone and Wood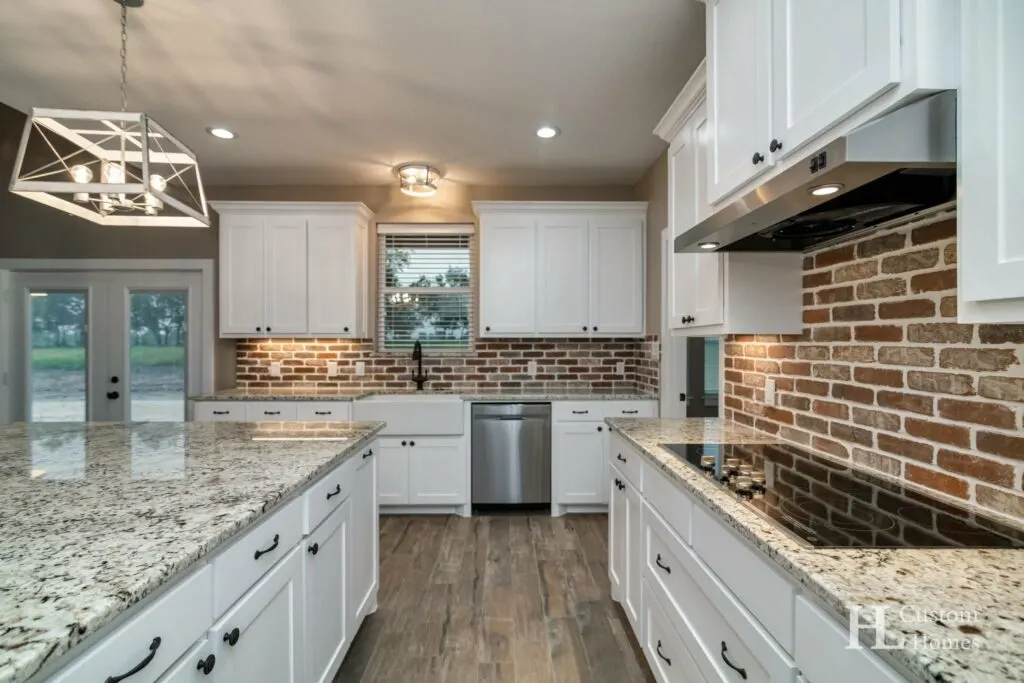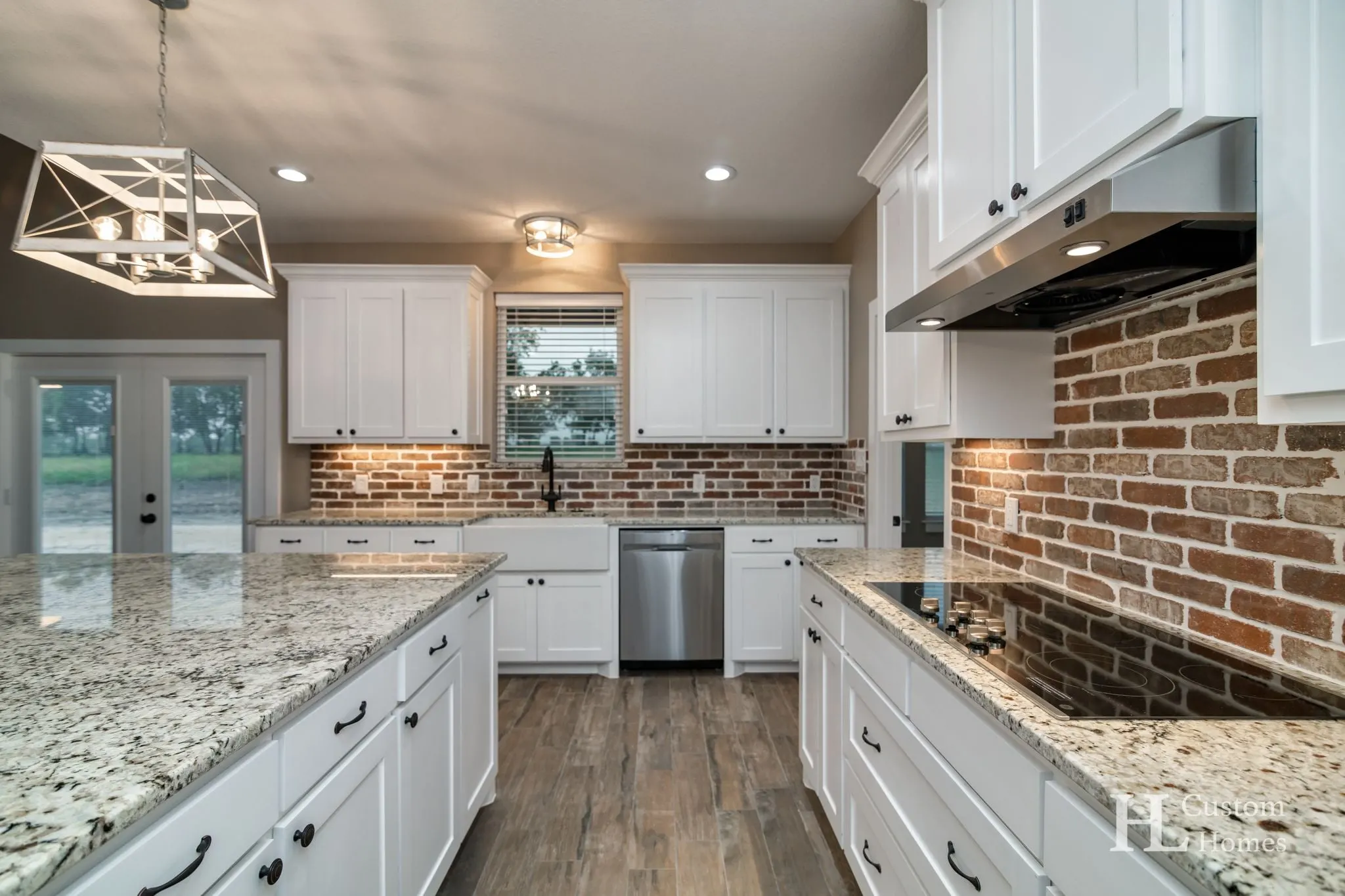 Rustic feature walls are another great way to stress the vintage ranch charm of a barndominium, especially when you've already got wood flooring. Whether it's exposed red bricks or more modern stone wainscotting, wood and stone feature walls present another great way to bring a bit of the outside inside, and create a strong focal point in your barndominium. If you want to go all-out with the old west ranch aesthetic, then a cow's skull ornament mounted in the center of one of these feature walls will add an extra layer of intrigue.
Make Good Use of your Kitchen Corner
With the large, expansive spaces promised by barndominiums, you might be naturally inclined towards a kitchen layout centered around a kitchen island. While this design is certainly ergonomic, the way it's found in almost every modern newbuild tends to run contrary to a retro ranch aesthetic.
Consider substituting the usual kitchen island with a large traditional table instead. A round wood table with some classic embellishments carved into the legs makes a great way to accentuate the classic homesteading look. Put it near some windows, and enjoy chilled-out mornings looking across your plot of land with a cup of coffee.
Make Use of Rugs, Hides, and Rawhide
With all this natural wood in your barndominium, you're going to want something to soften it up, and seeing as we're aiming for a ranch style interior, traditional rugs, hides, and rawhide features are the way to go! Large area rugs in earthy colors, with fun little embellishments like aztec stripes, native arrows, and Texas stars, make for a fitting and eye-catching way to brighten up plain hardwood floors.
The hides of cows, reindeer, and sheep tend to be more expensive and harder to maintain, but will lend your ranch style barndo even more authenticity. If you really want to lean into these kinds of features, then rawhide lamp shades are another great way to pepper your interiors with some old-west intrigue.
How to Build Your Own Barndominium & 200+ Floor Plans
Get started today with our program "Barndominiums Made Easy: How to Build Your Own Barndominium" and get 200+ barndominium floor plans included!
Gail currently spends her free time geeking out about what's new and trending in the world of barndominiums.
She is the former executive editor of BarndominiumLife.com and loves working with the team and members of the barndominium community. She now contributes to the blog on occasion, but only when she feels like it!