Are you looking for a spacious and unique barndominium under $500k? If so, then we have the perfect barndominium options for you! These sturdy, rustic properties offer the best of both worlds – the bucolic charm of a traditional farmhouse complete with mod cons. Not to mention a weatherproof frame, high ceilings, and typically, a good amount of acreage.
But as barndo are still somewhat unconventional, pricing them isn't always straightforward. And neither is knowing exactly what kind of home you can afford. With that in mind, we've compiled a list of 6 live listings and recently sold barndominiums priced at $500k or less. This will give you an insight into what you could hope to buy with an ample budget as well as providing ideas for if you decide to build a barndominium yourself.
How to Build Your Own Barndominium & 200+ Floor Plans
Get started today with our program "Barndominiums Made Easy: How to Build Your Own Barndominium" and get 200+ barndominium floor plans included!
Cozy barndominiums priced under $500k
Interested in cozy barndominiums priced at $500k or less that would suit a couple or small family? Then these two attractive homes in Texas and Tennessee offer great inspiration.
$325,000 | 960 sq. ft. | 2 bedrooms | 1 bathroom
Completed in 2021, this 1 story rural property is based 8 miles west of Commerce in Hunt County. Its 10-acre plot boasts tree-lined pastures, a horse shelter, and an RV hook-up.
The house itself takes inspiration from traditional American barns, with bold red steel siding and a timber porch. To the rear, there is a large deck with hot tub – just one of many modern upgrades. Another is the HVAC system and ceiling fans which are essential for the summer.
The spacious kitchen features white shaker-style cabinetry and a timber-lined ceiling. This is balanced with sleek granite worktops, a breakfast bar and integrated appliances for a clean finish. Meanwhile, the cozy lounge leads into the main bedroom with a built-in closet to boost space. The bathroom with the tub is also very roomy, thanks to the slightly smaller guest room.
$379,900 | 2002 sq. ft. | 3 bedrooms | 2 bathrooms
If getting closer to nature is your aim, then you need a house like this one. Just a 10-minute drive from Pulaski, this barndominium has a shady creek and springs running straight through its backyard! And despite being located amongst a small village-like community, it's private covered back patio adds to the property's secluded feel.
This concept of indoor-outdoor living is evident in the hand-hewn timber beams above the front door and the double doors that open onto the porch. Inside, the 12ft vaulted ceiling is paired with a cozy TV nook, timber cladding, and pale blue kitchen cabinets for a homey feel.
And if you have multiple vehicles or boats to store, the triple garage with stepped openings demonstrates the perfect solution. Built into the barndo, it's also safer than external storage.
Mid-sized barndominiums for $500k or less
Need a slightly larger property for your family? Then how about something similar to these mid-sized barndominiums priced at $500k or less? Showcasing different styles may help you identify what you want from your next home and what you don't…
$439,900 | 2018 sq. ft. | 3 bedrooms | 2 bathrooms
Situated on a 1-acre plot just 9 miles outside of Hohenwald in Hickman County is this custom barndominium. Constructed in 2018, its unique exterior features a blend of grey metal siding and stone-effect cladding. This, along with perimeter flowerbeds and trees, large windows, and a classic timber porch, create a stunning country home.
Inside, the minimalist décor and contemporary open-plan kitchen are complemented by charming, white-washed wooden ceilings. There's also a separate pantry and laundry room, versatile loft space with a window seat, and a rear patio accessed via French doors.
Additionally, this inviting barndo boasts a central air system and ceiling fans to maintain a comfortable temperature year-round. Plus, there's a built-in garage/ storage area and a state-of-the-art water filtration system linked to the on-site well house. Better still, this is one of just a handful of barndominiums priced at $500k or less with so many features!
$450,000 | 2460 sq. ft. | 4 bedrooms | 3 bathrooms
Searching for something even more secluded? If privacy is top of your wish list, this magnificent farmhouse-style barndominium has it in spades. Located on a 5.53-acre plot in Spencer County, this rural property is encased by well-established trees. And access is via a private road that runs directly up to two integrated garages, so there's no passing traffic.
On the main floor, you'll find an open-concept living area and kitchen with a large island. Off to the side, there's the master bedroom with an ensuite and a separate cloakroom toilet to save a trip upstairs. Meanwhile, the upstairs bedrooms with spacious built-in closets are centered around a roomy loft – perfect for watching movies or entertaining guests. Alternatively, the covered patio with pretty outdoor lighting and a ceiling fan is ideal for parties and BBQs.
How to Build Your Own Barndominium & 200+ Floor Plans
Get started today with our program "Barndominiums Made Easy: How to Build Your Own Barndominium" and get 200+ barndominium floor plans included!
Large barndominiums priced at $500k or less
Finally, we come to the two largest properties on our list of barndominiums priced at $500k or less. Perfect for large families and those who entertain guests often, these stylish homes are great examples of what you can aspire for within budget.
$475,000 | 4400 sq. ft. | 5 bedrooms | 4 bathrooms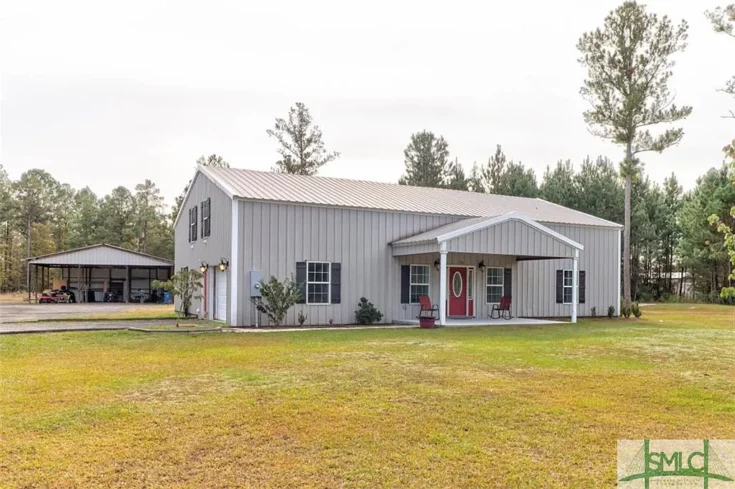 Built in 2016, this 2 story custom barndominium lies on a 5-acre plot in Effingham County. As one of the last houses on the street, it is surrounded by woodland and farmland. Even more appealing is its simple yet eye-catching façade of pale grey siding and classic sash windows with decorative shutters. There's also a large front porch as the centerpiece and a bigger porch at the back with ceiling fans and outdoor lighting – ideal for after dinner drinks. Other external features include an integrated garage and a separate 40×40 pole barn with a workshop.
Inside, the airy lounge leads into a walk-through corner kitchen with paneled cupboards and a breakfast bar. Also on this main level is the master bedroom with a walk-in shower and his and hers basins, plus an ensuite guest room. The other 3 bedrooms are upstairs, alongside the main bathroom and a flexible loft space. Movie room, anyone?
$359,900 | 4920 sq. ft. | 4 bedrooms | 3 bathrooms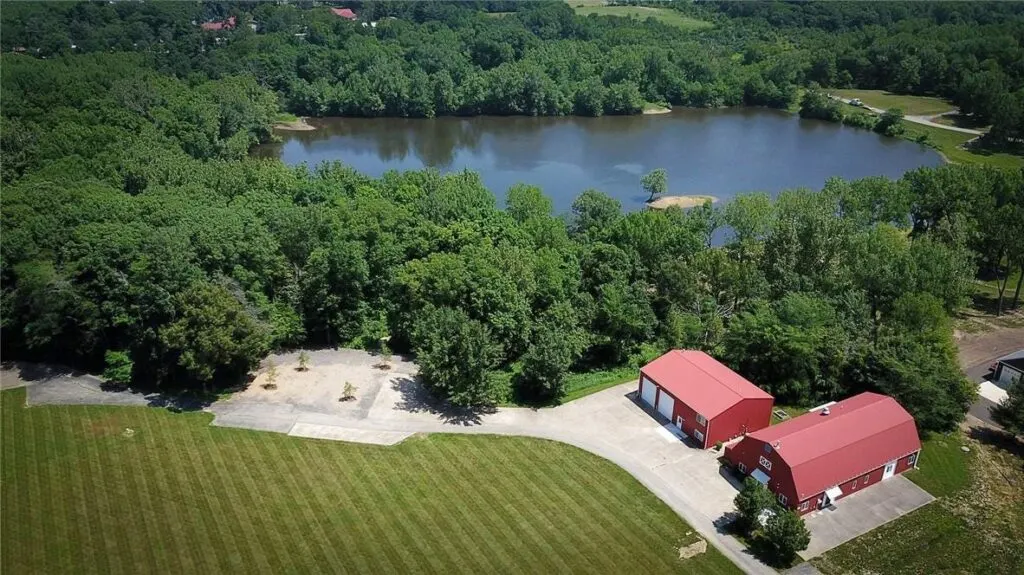 Encompassed by nature trails and wildlife conservation areas, it's hard to believe that this waterside retreat is just 3 miles from town. Overlooking a large tree-lined pond, this private red-toned barndominium with gambrel roof is truly striking. As is its coordinating double garage just steps from the front door, complete with a guest suite.
The contemporary main living area spans the full length of the property, with a brand new kitchen at the end. Running alongside it and looking down over it is a loft area that can be used for a variety of purposes. The house also features three spacious bedrooms, one of which leads directly out onto a rear deck and the waterside beyond.
Amongst the clean lines and simple décor, there's also a pretty quirky bathroom. With a mix of wood and corrugated metal cladding, it resembles a style more commonly seen in off-grid tiny homes. And it instantly injects some personality into this barndominium bathroom.
Conclusion
And that's it – 6 barndominiums priced at $500k or less to help you narrow the search for your dream property. Like the idea of designing a custom barndominium from scratch? Download a copy of our eBook for expert tips and advice to ensure a successful build.
If you would like more guides like this one, check out the rest of BarndominiumLife.com. There, you will find more helpful tips and tricks from the pros. You will also find featured barndominiums, barndominium floor plans, and information on financing and insurance. Knowing as much as you can will help you get the best results for your dream home.
Like this Post? Sign up for our email list!
Be the first to see new posts about the best barndominiums, construction guides, floor plans, and more! Enter your information below to become a BarndominiumLife VIP.
Rachel Dawson is an accomplished writer with a passion for all things barndominiums. With over a decade of experience in the industry, Rachel has established herself as one of the leading authorities on the subject of barndominium design and lifestyle.
Her work has been featured in numerous publications, including Barndominium Life, where she regularly contributes articles on a wide range of topics, from design trends and tips to the unique challenges and rewards of living in a barndominium. Rachel's ability to write with both authority and accessibility has earned her a loyal following among readers and enthusiasts alike.
Her commitment to excellence and her unwavering dedication to the barndominium lifestyle make her a true asset to the Barndominium Life community.