If you love the look of classic American pole barns but want a Texan home that requires less upkeep, look no further. Barndominiums offer the best of both worlds, blending rustic Southern charm with hard-wearing materials that can withstand all kinds of weather. Interested in learning about the other advantages they offer, how much they cost, and where to find a reputable builder? Read on for our complete guide to building a barndominium in Amarillo, TX.
What is a barndominium and what are the benefits?
Modeled on traditional barns and built around a post frame shell, barndominiums seamlessly fit into the Texan landscape. However, they are engineered from solid steel rather than timber. This makes them durable and weatherproof, not to mention rot and pest-resistant too. They're also more affordable than brick and mortar houses and can be built in around half the time. Prefabricated kits are also available for DIYers, so you can save on hiring external laborers.
But one of the major benefits of building a barndominium in Texas has got to be their endless customizability. As the frame supports the exterior walls and roof, there is no need for load-bearing interior walls. This means you can enjoy large, open-plan living spaces with high ceilings and fewer restrictions. There's also the option to add a barndominium loft or second-story, alongside the typical adjoining garage or workshop space.
Why build a barndominium in Amarillo, TX?
Known locally as the Yellow City, Amarillo is the largest city in Potter County, with a population of around 200,000. In contrast to south and east Texas, it is bordered by prairie land, and while summers are hot, they're not usually as humid as other parts of the State.
Amarillo is home to more than 50 municipal parks, and the impressive Palo Duro Canyon is only a short drive away. Other key attractions include Wonderland Amusement Park, the Botanical Gardens, and the Globe-News Center for the Performing Arts. As such, you'll never find yourself at a loose end if you set up home in this friendly, community-focused city.
You may also consider building a barndominium in Amarillo, TX, due to its low cost of living, good public schools, and job opportunities. Currently, food manufacturing and energy firms are some of the city's biggest employers, but there are also great commuter links.
How to Build Your Own Barndominium & 200+ Floor Plans
Get started today with our program "Barndominiums Made Easy: How to Build Your Own Barndominium" and get 200+ barndominium floor plans included!
The cost of building a barndominium in Amarillo, TX
How much does it cost to build a barndominium in Amarillo?
Wondering whether you can afford the costs associated with building a barndominium in Amarillo, TX? Then you'll be pleased to hear that they can be completed for significantly less than traditional properties.
In fact, you could build a barndominium in Amarillo, TX for between $85-$165 per sq. ft, depending on the complexity of the design and the quality of the finishes. Meanwhile, classic Texan homes that are fully custom start from at least $200-$250 per sq. ft.
You'll also need to factor in land surveys, permits, and fixtures and fittings. And on top of that, a concrete slab foundation to secure your barndominium will set you back $5,000- $10,000. Meanwhile, 1 acre of land in Texas currently averages $4,500, with prices rising year on year.
Barndominium builders in Amarillo, TX
One of the most important considerations you are going to have to make to build your barndominium in Amarillo, TX is the builder. By choosing a builder that will work with you to help realize your dreams, you can make sure the whole process goes smoothly. This can be one of the most crucial decisions you make, so it is important that you choose wisely. Luckily, we have put together a shortlist of the best barndominium builders in Amarillo.
One of the things to look out for when choosing a builder for your barndominium in Amarillo, TX is its reputation. By doing some research, you can usually find reviews and testimonials written by past clients. This should give you a good idea of what their customer satisfaction rate is and what they can do for you. If they have a history of helping their clients get the final product they're looking for, they will be able to do the same for you as well.
Juniper Hill Ranch Barndominiums
Based in Amarillo, Juniper Hill Ranch Barndominiums design and construct bespoke steel buildings for both commercial and residential purposes. They can provide turn-key homes that are ready to move into and have consultants ready to help with land research.
Triple B Custom Construction
Located in Boerne, Triple B Custom Construction is a family run custom home builder with over 20 years of experience. Their specialisms include barndominiums, warehouses and shops, and they also partner with local architects to manage the project from start to finish.
Barndominium kit providers serving Amarillo
Or perhaps you'd like the challenge and satisfaction of building a barndominium in Amarillo, TX yourself? In that case, here's where you can find all-in-one kits to simplify the process:
Absolute Steel Texas
Founded in 1999, Absolute Steel Texas provides barndominium and other metal building kits that are easy for beginners to erect. There are various standard sizes and styles to choose from, or you can request a kit tailored to your needs. Either way, you'll benefit from an eco-friendly home made from partially recycled materials that will stand up to all forms of weather.
Mueller Inc
Alternatively, Mueller Inc is one of the most well-known custom metal building suppliers in Texas and the southwest. With over 90 years in the construction trade, they create pre-engineered kits for farm buildings, barndominiums, workshops, garages and more. Each one is made from robust 26 gauge galvanized steel, with paint warranties lasting up to 30 years.
If you do choose the DIY route and you're new to constructing barndominiums, we'd suggest seeking advice from the experts. The easiest way to do this is to download our handy barndominium program, designed to guide you along the way. It is packed with tips on site assessments, zoning laws, insulation, plumbing, and so much more to prevent costly errors.
Where to find barndominium financing in Amarillo, TX
So you've decided to try your hand at building a barndominium in Amarillo, TX. But how are you going to finance it? While barndos are generally cheaper than traditional homes, you'll still need to pay a considerable amount of money upfront. If only to purchase the land, permits and building materials. And if you opt for help from laborers, you'll need to pay them too.
Luckily, you have several options. If your property is part of a working farm, an agricultural lender like Farm Credit may provide a rural home loan. First Financial Bank also offers mortgages for barndominiums, as well as construction loans for Texas residents.
With that said, navigating the terms and eligibility criteria can be tricky. If in doubt, specialists Barndominium Loans are your best bet. They'll find and compare loans on your behalf, then you just pick your favourite. Get a free estimate online to find out how much you could borrow.
One of the best resources for getting barndominium financing is by using BarndominiumLoans.com. They are a quote service that takes down your information and works behind-the-scenes with vetted lenders who are best for your location and financial situation.
Whether you have a perfect credit score or a subpar one, and whether you're located in South Carolina or South Dakota, you can submit your information to get a quote within 24-48 hours.
Barndominium Financing Request
How to insure a barndominium in Amarillo
Finally, you'll want to think about insuring your new home. As with any property, there's the risk of theft or vandalism even with security measures in place. With that in mind, covering your barndominium and its contents is vital. Plus, as Amarillo lies in the Texas Panhandle, there's the added threat of tornadoes – especially in May and June. And although barndominiums generally cope very well with strong winds and thunderstorms, it's best to play it safe.
Insurers like Germania Insurance and Texas Farm Bureau come highly recommended and both have experience in creating barndominium policies. However, to ensure you receive an accurate quote, it's best to get a valuation from an appraiser first. This will factor in the cost of the build and any extras you've added to shore up your barndominium, to determine its worth.
Barndominium floor plan ideas
Like the thought of building a barndominium in Amarillo, TX that's unique to you? If you're not sure where to start with your custom design, here are some floor plan ideas to inspire you: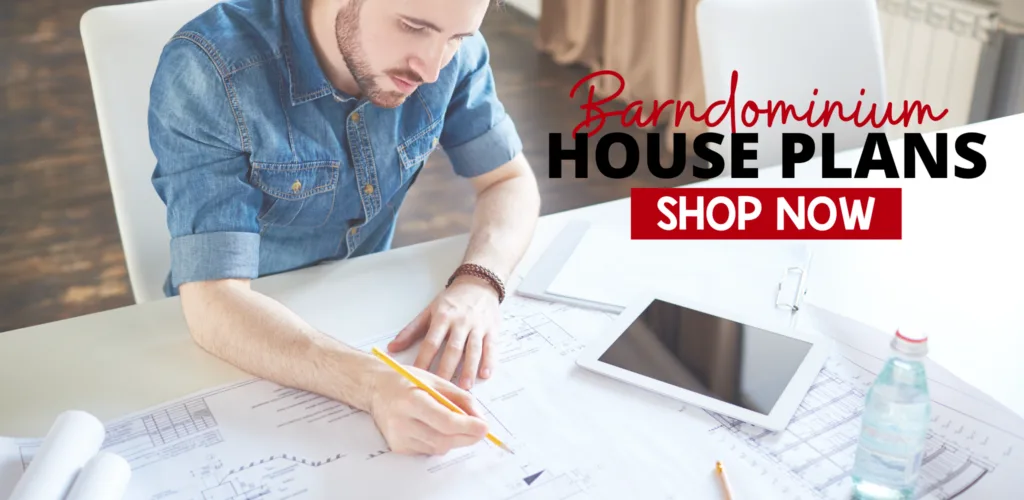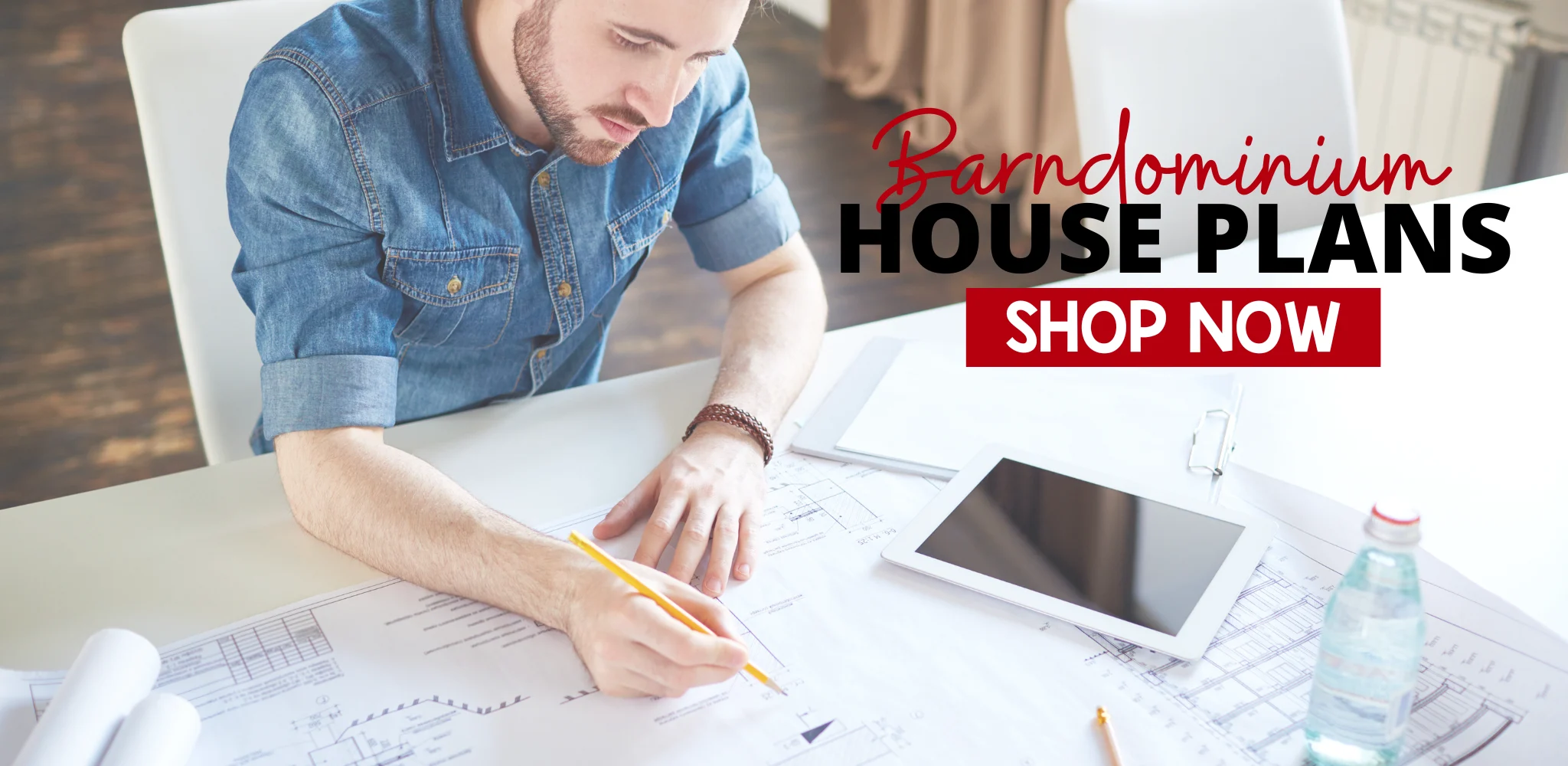 Conclusion
If you would like more guides like this one, check out the rest of BarndominiumLife.com. There, you will find more helpful tips and tricks from the pros. You will also find featured barndominiums, barndominium floor plans, and information on financing and insurance. Knowing as much as you can will help you get the best results for your dream home.
Like this Post? Sign up for our email list!
Be the first to see new posts about the best barndominiums, construction guides, floor plans, and more! Enter your information below to become a BarndominiumLife VIP.
Rachel Dawson is an accomplished writer with a passion for all things barndominiums. With over a decade of experience in the industry, Rachel has established herself as one of the leading authorities on the subject of barndominium design and lifestyle.
Her work has been featured in numerous publications, including Barndominium Life, where she regularly contributes articles on a wide range of topics, from design trends and tips to the unique challenges and rewards of living in a barndominium. Rachel's ability to write with both authority and accessibility has earned her a loyal following among readers and enthusiasts alike.
Her commitment to excellence and her unwavering dedication to the barndominium lifestyle make her a true asset to the Barndominium Life community.