Welcome to the world of barndominium living, where style, charm, and affordability converge to create unique and awe-inspiring homes.
In this feature of The Lark Haus in Elizabeth, Arkansas, barndominium, we explore the enchanting blend of French countryside charm and sophisticated design that can be achieved within the walls of a barndo.
Gone are the days when luxurious living was exclusively reserved for the wealthy. Barndominiums have emerged as a trendy and budget-friendly alternative to traditional homes, allowing homeowners to unleash their creativity and achieve an elegant aesthetic without breaking the bank.
The Lark Haus is a shining example of how clever design tricks and thoughtful interiors can transform a humble barn structure into a haven of sophistication and style.
Let's jump right in!
How to Build Your Own Barndominium & 200+ Floor Plans
Get started today with our program "Barndominiums Made Easy: How to Build Your Own Barndominium" and get 200+ barndominium floor plans included!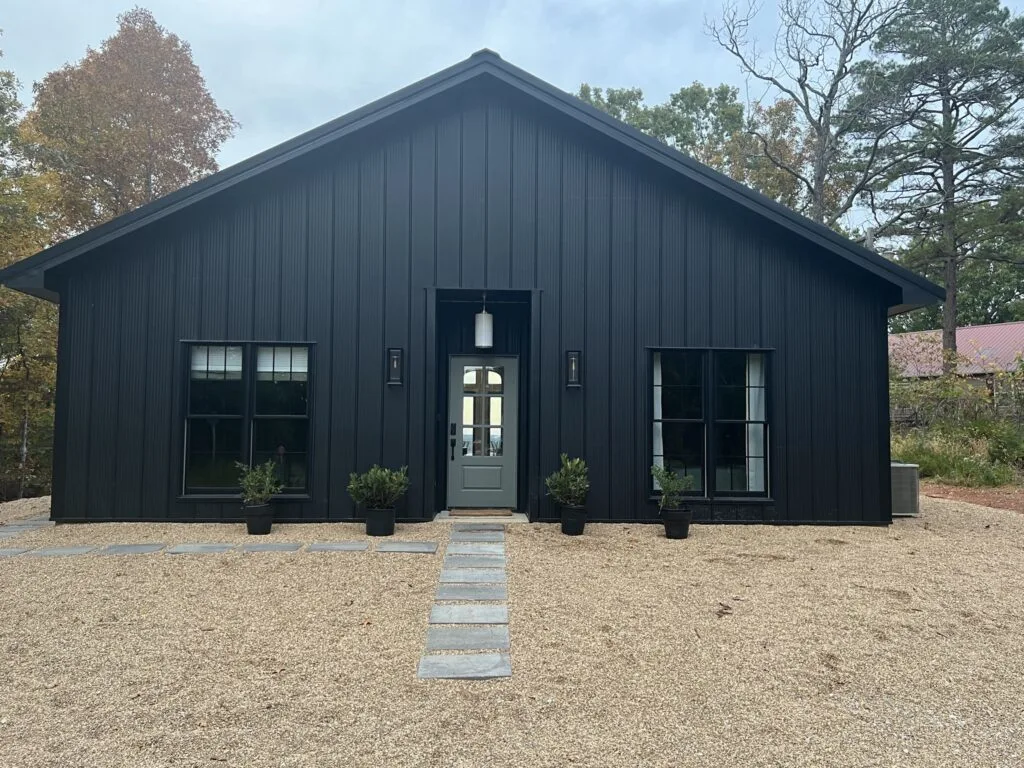 Exterior
Be captivated by the striking exterior of The Lark Haus. This all-black barndominium by Jen Walker boasts a symmetrical facade that exudes sleekness and modernity. It's the kind of home that turns heads and sparks curiosity as you approach.
As a bonus, this stunning property is available on Airbnb, an opportunity to experience the best of Arkansas's natural wonders. Imagine waking up in the morning and having easy access to not just one but two breathtaking lakes – Norfork and Bull Shoals.
So, not only does this Arkansas barndominium offer a modern exterior, but it also opens doors to incredible outdoor experiences.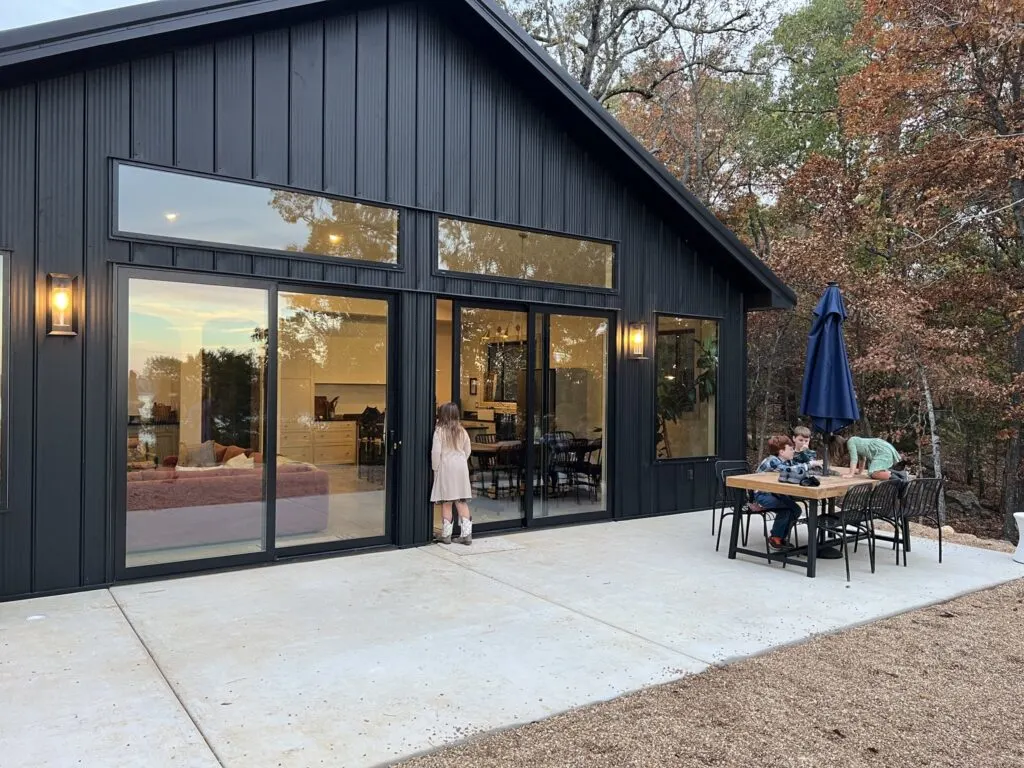 Large windows and glass doors to the patio seamlessly connect the indoor and outdoor spaces. You'll feel like you're practically living outside as you take in those breathtaking views of Lake Norfork. It's like having a front-row seat to nature's show.
Whether hosting a big bash or having a cozy gathering with loved ones, you'll have all the room you need to spread out, relax, and soak up the Arkansas sunshine.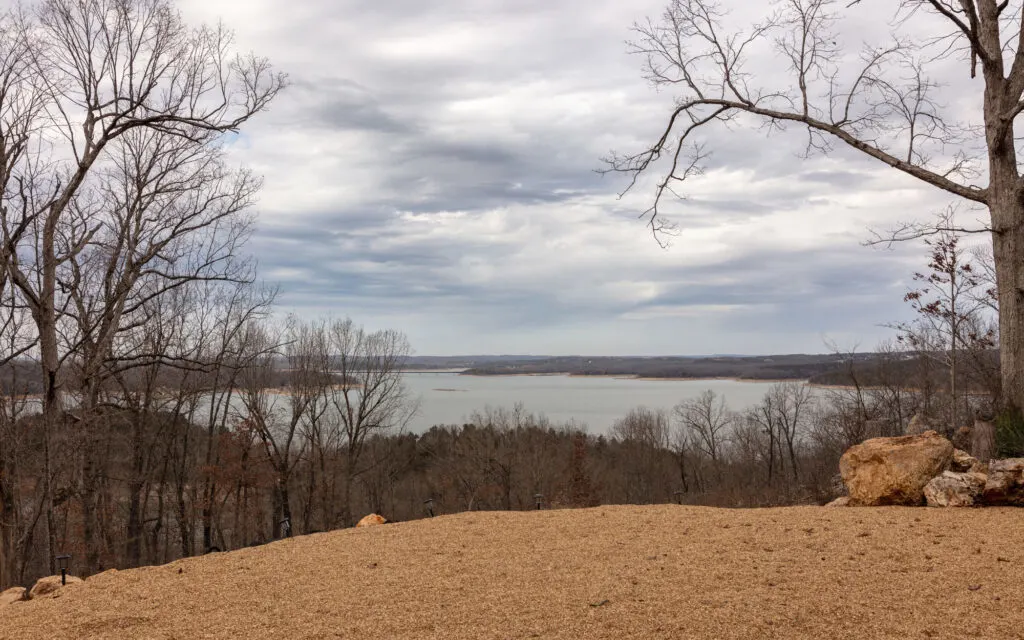 Grab a chair, kick up your feet, and let your worries drift away as you take in the stunning scenery.
Having an outdoor shower is a simple luxury that adds a whole new dimension to your home and elevates your connection with nature.
Outdoor showers can be practical, too, providing a convenient space to rinse off after a swim, gardening session, or any outdoor activity.
How to Build Your Own Barndominium & 200+ Floor Plans
Get started today with our program "Barndominiums Made Easy: How to Build Your Own Barndominium" and get 200+ barndominium floor plans included!
Interior
Step inside the enchanting interior of The Lark Haus and prepare to be transported to a world of French country elegance. With its clean and sophisticated design, this home is a gem where every detail has been carefully considered.
Compared to the all-black exterior, you're welcomed with a cozy and warm feeling.
Living Space
You'll be greeted by a timeless French country aesthetic that exudes warmth and charm as you enter. The clean interiors provide a blank canvas for the pops of colors and decorative elements that add vibrant accents throughout the space.
This Arkansas barndominium feels lived in with its mixture of textures, from wood furnishings and small plants to soft fabric cushions in assorted patterns.
The space's focal point is this white barndominium fireplace with muted decorative trim that blends seamlessly with the interior.
Even the hallway design has been carefully considered, surrounded by a charming wallpaper print combined with muted green accents, as if stepping into an old-fashioned cottage.
Kitchen & Dining
As you enter this barndominium kitchen, your eyes will be drawn to the large windows that offer breathtaking views of Lake Norfork.
The kitchen is an elegant example of a clean and sleek design, where rustic elements harmoniously coexist with contemporary flair. It's a space that effortlessly blends the best of both worlds.
Mudroom/Laundry Room
This home's laundry room and mudroom, where elegant wallpaper and sophisticated wooden cabinets with muted green accents combine functionality and style in one space.
Bedrooms
Get ready for a cozy retreat in the bedrooms of The Lark Haus, designed with comfort and style in mind.
With three bedrooms to choose from, this home offers ample space for rest and relaxation. Two bedrooms boast spacious queen beds, providing a luxurious haven for a good night's sleep.
The third bedroom is a charming bunk room, perfect for accommodating extra guests or creating a playful space for children.
This room is a peaceful haven. The muted colors lend an air of elegance to the space while still allowing the whimsical elements to shine.
The focal point of the second bedroom is the bed itself. The muted colors invite restful sleep while retaining the same palette as the other room.
The color orange, typically associated with liveliness and energy, has been masterfully incorporated into the master bedroom of this Arkansas barndominium to create a surprisingly cozy atmosphere. The bold hue adds a vibrant touch that instantly catches the eye while maintaining tranquility and warmth.
The cream and beige accents perfectly balance the striking orange setting. These softer tones create a harmonious interplay, grounding the space and adding a touch of serenity to the overall aesthetic.
There are elegant wallpaper prints scattered throughout the space, providing a natural feel that blends well with the indoor greenery.
Bathrooms
The bathrooms are stunning on their own. Gold fixtures complement this bathroom's brown and black aesthetic.
The cream background is a neutral canvas for the main bathroom, allowing the black and brown counter to take center stage.
To further enhance the luxurious feel, metallic fixtures adorn the bathroom, glistening and reflecting light throughout the space. From the faucets and handles to the towel racks, the metallic accents combined with warm wood add a touch of glamour and refinement, elevating the overall aesthetic.
Wrapping Up
The Lark Haus in Elizabeth, Arkansas, by Jen Walker effortlessly blends French countryside charm with modern sophistication – all in the form of a barndominium. From the striking all-black exterior to the meticulously designed interiors, every detail has been carefully curated to create an inviting and awe-inspiring space.
If you find yourself inspired by The Lark Haus and eager to explore barndo living for yourself, follow Barndominium Life. Our ideas and guides will help you discover what's possible with the barndo lifestyle.
It's time to embrace the charm, versatility, and affordability that barndominium living has to offer!
If you would like more guides like this one, check out the rest of BarndominiumLife.com. There, you will find more helpful tips and tricks from the pros. You will also find featured barndominiums, barndominium floor plans, and information on financing and insurance. Knowing as much as you can will help you get the best results for your dream home.
Like this Post? Sign up for our email list!
Be the first to see new posts about the best barndominiums, construction guides, floor plans, and more! Enter your information below to become a BarndominiumLife VIP.
Noah Edis is a passionate staff writer at Barndominium Life, a leading online resource for all things barndominium. With years of experience in the writing industry, Noah has made a name for himself as a skilled storyteller and a knowledgeable authority on the topic of barndominiums.
Noah's interest in barndominiums began when he stumbled upon the concept while researching alternative housing options. Intrigued by the rustic charm and functionality of these converted barns, he soon became obsessed with the idea of living in one himself. He spent countless hours researching the construction, design, and decorating aspects of barndominiums, and soon became an expert on the topic.
As a staff writer at Barndominium Life, Noah enjoys sharing his knowledge and passion for these unique homes with others. He has written numerous articles covering a wide range of topics, from the history of barndominiums to the best ways to decorate them. Noah's writing is informative, engaging, and always on-trend, making him a valuable asset to the Barndominium Life team.
Noah is a graduate of the University of British Columbia, where he earned a degree in English Language and Literature. When he's not writing about barndominiums, he can be found exploring the great outdoors, trying new restaurants, or spending time with his family and friends. Noah is dedicated to his craft and is always striving to improve his writing skills and knowledge of the barndominium lifestyle.
Connect with Noah on LinkedIn