Today's featured property is nothing short of spectacular! This Barnesville Georgia barndominium is the thing barndo-lovers dreams are made of!
An expansive property combined with a beautifully modern and spacious (4,600 sq feet!) barndominium is the absolute picture of country perfection. The main home area is 54×70 for the main structure, 12×16 for the connecting area, and 40×50 garage.
Officially, the Boswell Farms Hunting Perseve, this Georgia Barndominium, has us, once again, blown away by how far barndominium designs and floor plans have come.
How to Build Your Own Barndominium & 200+ Floor Plans
Get started today with our program "Barndominiums Made Easy: How to Build Your Own Barndominium" and get 200+ barndominium floor plans included!
Exterior
There is so much to take in upon first glance of this Barnesville Georgia barndominium, it's hard to know what to highlight first! The crisp white siding, contrasting black borders, exposed wood framing, and beautiful property in which the home is located have many stunning elements that work together to create this beautiful Barnesville, Georgia barndominium.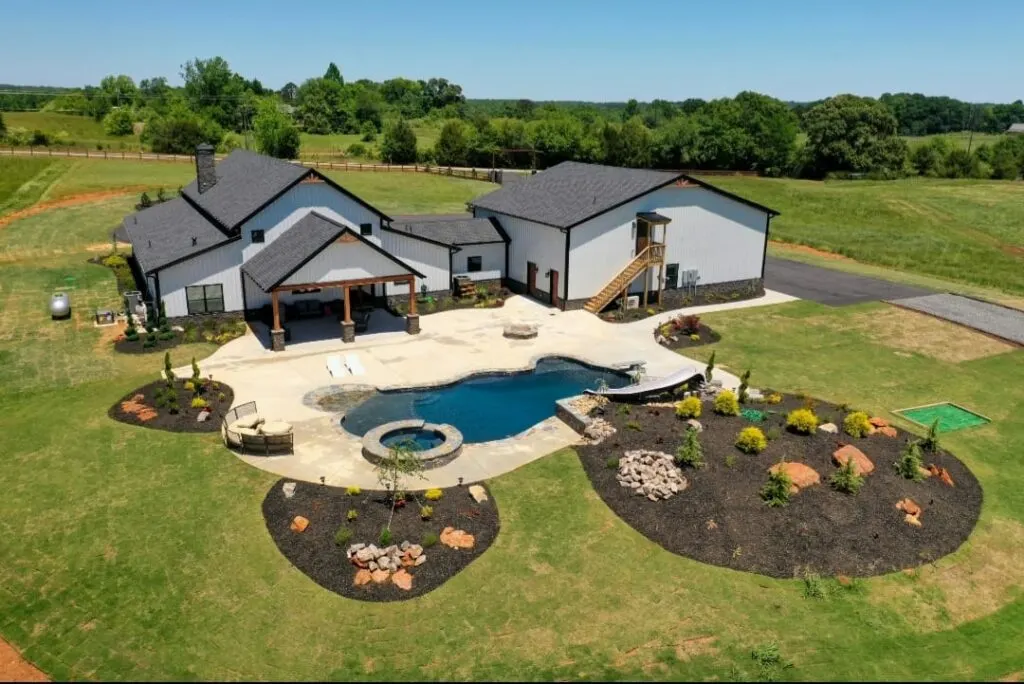 Checking out the backyard is equally as impressive with the stunning pool and carefully planned landscaping. An expansive matching shop is ideally attached to the main house, and the ample patio space adds many outdoor living options to this Barnesville Georgia barndominium.
As we can tell from these close-up shots of the pool area, this is truly an oasis to be envied! The surrounding stonework, custom waterslide, and attached infinity hot tub easily make the pool area in this Barnesville Georgia barndominium feel like a top-tier resort.
An aerial view of the property shows the large amounts of forestry surrounding the home and the private lake – complete with a guest house.
Whether it be an impromptu mini-vacation or a hunting outing, the lake and guest house are just another of the jaw-dropping features of this Barnesville Georgia barndominium.
How to Build Your Own Barndominium & 200+ Floor Plans
Get started today with our program "Barndominiums Made Easy: How to Build Your Own Barndominium" and get 200+ barndominium floor plans included!
Interior
The impressiveness doesn't stop at the barndominium's exterior. Inside is equally impressive and beautiful and perfectly set up and decorated to compliment the home and its property.
The mudroom is an open and spacious area that, despite the main purpose being function, is also beautifully decorated, eluding to the theme of the rest of this Barnesville Georgia barndominium.
A view from the loft shows off the full main living area – quite a view! This area is both stunning and warm, from the gleaming hardwood floors to the exposed wooden beams and towering stone fireplace.
Checking out the space from the main level allows us to see just how large the room is as it encompasses a large living room area, spacious dining room, and bright and airy kitchen. We have a sneak peek at the cozy second-story loft and can truly appreciate the tall ceilings and openness that the Barnesville Georgia barndominium offers.
Being a hunting camp, the natural and woodsy decor chosen perfectly suits the home and its intended use. From prized defeats proudly displayed on the walls to the weathered leather furniture and custom antler chandelier, everything about this breathtaking Barnesville Georgia barndominium has been perfectly incorporated and works together to create a unique home.
Kitchen
Tucked under the second-story loft area at the back of the property is the heart of the home – the kitchen. The cabinets are crisp and clean and match expertly with the wooden island and wood range hood. A large island offers additional preparation space, and the bar stools allow for a perfect quick meal option.
Nestled off the kitchen is any homeowner's secretly favorite (or not some secret for some!) feature – an expansive and aesthetically pleasing walk-in pantry. Large enough to house a second refrigerator, bar fridge, and several appliances!
Bedrooms
Making our way through this Barnesville Georgia barndominium, we find the bedrooms. There are three large bedrooms that each provide its residents a private retreat to enjoy and relax.
The master bedroom is the largest of the rooms and enjoys additional luxury features such as a spa-inspired ensuite. Large windows ensure the room is filled with natural light and looks bright and airy all year long.
The master ensuite is also bright and open and features a separate soaker tub and a massive glass-enclosed shower area. Whether it is soaking the stressors away after a long week or simply jumping in for a quick shower to start the day, this bathroom caters to any need imaginable.
The next door brings us to the master walk-in closet, which despite only offering a partial peek, we can confidently say that there is more than enough necessary room to keep all clothes, shoes, accessories and personal belongings neat and organized.
The next bedroom is also large and offers plenty of room for toys, books, and even any little girl's dream chariot-inspired bed.
The final bedroom, you guessed it, is much like the others – bright and spacious. Guests will happily stay the evening in the clean, simple space that offers a cozy and comfortable feel.
Playroom
A separate playroom, which could eventually be used for other purposes such as an additional bedroom, home office, or home gym, keeps all toys, activities, and clutter at bay.
A child's dream space, the playroom is conveniently located off of the main living area, and allows for a bit of separation while still being close enough to monitor.
Loft
The second story loft takes up a small portion over the kitchen. This space is being used for additional seating and an office area which is ideal as there is slight separation without having to fully remove oneself from the main living area.
Living Room
The second living room is located in the attached shop, which is ideal for different events or gatherings. Whether it's catching a football game or one of the major college games, a separate space to be as rowdy as necessary is the perfect addition to this Barnesville Georgia barndominium.
Today's featured Barnesville Georgia barndominium is nothing short of spectacular. From the moment one arrives on the property to the sprawling layout, resort-styled pool, separate guest house, and private lake, it is arguably one of the most impressive barndominiums around!
If you would like more guides like this one, check out the rest of BarndominiumLife.com. There, you will find more helpful tips and tricks from the pros. You will also find featured barndominiums, barndominium floor plans, and information on financing and insurance. Knowing as much as you can will help you get the best results for your dream home.
Like this Post? Sign up for our email list!
Be the first to see new posts about the best barndominiums, construction guides, floor plans, and more! Enter your information below to become a BarndominiumLife VIP.