Are you looking for some eye-catching photos to inspire your next home? Look no further than these stunning barndominiums! From rustic wooden exteriors to modern designs, you'll find plenty of design ideas and inspiration here. Whether you're looking to build a small weekend retreat or a full-sized living space, these barndominium pictures will help make the perfect barndominium come alive
Planning to Build a Barndominium?
If you are considering building a barndominium, you might not exactly know where to start. It can be difficult to know what you really want until you start to see what other people have done. With so many options available to you, it's easy to get overwhelmed with the possibilities and get stuck. That's why looking at photos of beautiful barndominiums that have already been built can be so helpful.
Below, we have laid out 51 of the best barndominium pictures in the United States. By checking out these photos and getting a good idea of what is possible with this kind of project, you can get inspired for your own barndominium.
By taking ideas and putting your own twist on them, you can come up with something that is truly original and incredibly beautiful.
Barndominium Pictures Inside and Out
If you're feeling a bit overwhelmed by all the pictures of stunning barndominiums out there, don't worry – that's why we put together this guide! Start to zero in on what elements make your dream home come alive. Analyze each photo for certain features like the color scheme and floorplan so that when it comes time create yours, you'll have plenty of ideas to help you create your design.
Design Style
There are all kinds of styles represented in the best barndominium pictures below. Knowing what kind of style you are looking for can help during the design process while you are putting together your own barndominium. There are different types of styles such as contemporary and mid-century modern, but you aren't stuck with any one of these. It's perfectly fine to mix and match and create something unique.
One of the things to watch for in these examples of the best barndominium pictures is how the rooms are laid out. Being able to see how rooms relate to one another and how they are situated within the house. This aspect of the design process will be figured out during the floor plan portion. A professional draftsman can help you put together an excellent floor plan that will fit with your style choices.
Colors
Perhaps one of the most important things to look for in these examples of the best barndominium pictures is color. Color can change the way a space feels and will be one of the first things people notice when they walk into your home. Look at the way color works on both the interior and exterior of these barndominiums.
One thing to take note of is how color can change the vibe of a room. Lighter colors tend to feel a little bit colder and more contemporary while darker colors make a space feel warm and cozier. Depending on your personal style choices, you can pick one or the other or some combination of both.
Many owners choose to build a white barndominium or a black barndominium, but the possibilities are endless.
Textures
Textures are incredibly important when figuring out how your barndominium is going to look. All of the best barndominium pictures make excellent use of textures and use them to their advantage. You can create excellent contrasts using different textures on both your interior and exterior.
The exterior of your home can benefit from texture contrast the most. Because barndominiums are generally made of steel, adding textures like stone or wood can do a great deal of good for your exterior. It can take something that is relatively plain and make it incredibly unique and special.
The Best Barndominium Pictures
If you live in Texas, you gotta love the pictures of this barndominium
Only three bedrooms and two baths, but it sits on 20+ acres of rolling Texas hill country. When you step inside, you'll lose all doubt that a born-here, gonna-die-here Texan decorated the place. We also love the barndominium's floor plan!
The perfect blend of rustic and modern in this stunning open floor plan barndominium. If needing more open space for family gathering this would be ideal.
This stunning hardwood floor master bedroom exudes warmth and elegance, creating the perfect sanctuary for a peaceful night's rest
Getting ready-made easy with his and her sinks and spacious walk-in closets, this luxurious bathroom is the ultimate haven for couples seeking convenience and style.
Relax and refresh as in indulge in a spa-like experience with a soothing soaking tub and convenient shower off to the side, perfect for a revitalizing start or end to your day.
Gather around the heart of the home in this stunning kitchen, complete with a spacious island perfect for entertaining and everyday meals with a touch of rustic charm.
A six bedroom Texas Barndo on A lake
If you're a fan of unique and spacious homes, you would have loved this 6-7 bedroom barndominium with 6.5 baths and a whopping 5200 sq ft of living space. With soaring ceilings and breathtaking lakefront views, this $1.4 million showplace was a true gem. Unfortunately, if you didn't act fast, you missed out on the chance to call it yours.
But don't worry; you can still admire the beauty and functionality of barndominiums through the stunning pictures available. From rustic kitchens to luxurious bathrooms, barndominiums offer a perfect blend of charm and modern convenience. Who knows, maybe you'll find inspiration for your dream home!
Bask in the natural beauty of the outdoors from the comfort of this stunning living room, featuring floor-to-ceiling windows that bring in an abundance of natural light and offer breathtaking views of the surrounding scenery.
Don't miss out on having more space in the mornings when getting ready by using his or her sinks in your master.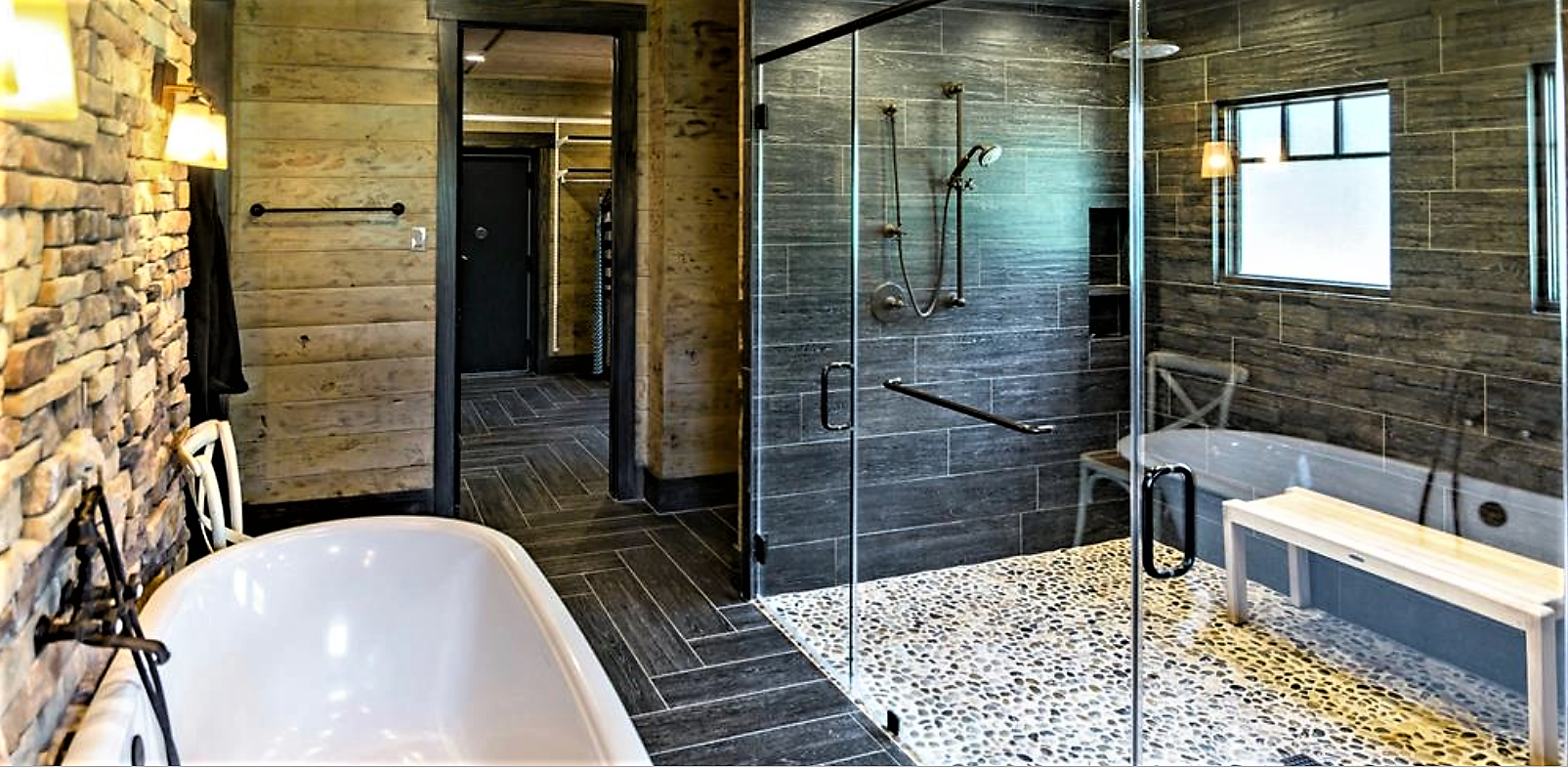 A Walk-in shower and soaking tub add to the luxury of having a master suite.
This charming guest bedroom provides the perfect blend of comfort and convenience, with a door that opens up to a private patio, inviting the fresh air and sunshine inside for a delightful and refreshing stay.
Wake up to tranquil lake views and the feeling of openness in this master bedroom, boasting high ceilings that create a sense of spaciousness and relaxation, making it the perfect view to wake up to each morning.
Step into your own private oasis with this lush backyard featuring emerald green grass that stretches out to meet the sparkling lake, offering a serene and view that's perfect for unwinding and enjoying the beauty of nature
An old style three story barn home
Get ready to be enchanted by this stunning three-story, 2540 sq ft barndominium. With its vaulted ceilings, cozy tucked-away lofts, and oversize cupola, this classic barn design is a perfect blend of rustic appeal and modern comfort.
If you're a fan of spacious and unique homes, this plan might be the one for you. Check out to see more pictures and details of this gorgeous barndominium below.
Looking for examples of how to build a multistory barndominium, then you are in luck! Check out these great inspirational photos for ideas on how to plan your next barndominium build.
Enjoy the warmth and inviting atmosphere of this beautiful barndominium, complete with a rustic fireplace and gorgeous wood beams that add a touch of character and charm to the space.
This inviting guest room combines the beauty of hardwood floors with the comfort of a cozy recliner, offering the perfect retreat for your guests to relax and unwind in style
his stunning kitchen boasts a beautiful barn-style sink, complemented by sleek countertops and elegant glass open cabinet doors that add a touch of farmhouse charm to the space, creating the perfect blend of style and functionality.
An old barndominium from New York finds a new home in Texas
Step back in time and experience the historic charm of this original hops barn, originally built in the Mohawk River Valley of upper New York State circa 1860. This restored barn is now located in Austin, Texas, where it serves as a beautiful art studio and guest quarters on a ranch.
Notice the intricate details of the barn, including the vintage barn siding that has been reclaimed to preserve its unique character and charm. The original high loft that was once used for drying hops has been transformed into an open sleeping area, providing a cozy and welcoming retreat.
Keep an eye out for the stairs leading up to the loft, as well as the whimsical slide for a fun and exciting way to come back down. Explore this fascinating barn.
This stunning barndominium features a unique blend of old vintage barn wood and sleek metal on the exterior, creating a perfect balance of rustic charm and modern elegance that is sure to impress.
Perfect open space for creating a workspace inside your home to help with the commute and the ease of running a business.
This sleek ceiling fan with its large blades not only keeps the air flowing but also adds a touch of style and sophistication to any space, making it the perfect addition to any modern or traditional decor.
This vintage decor and open space create a warm and inviting atmosphere that takes you back in time. With its timeless elegance and unique character, this space is perfect for creating cherished memories with family and friends.
This stunning open floor plan boasts a beautiful balcony that adds an extra level of sophistication to the space, creating the perfect vantage point to take in the beautiful surroundings. With the steps located nearby, the balcony is easily accessible, making it a great spot for entertaining or enjoying a quiet moment alone.
Enjoy breathtaking views from this balcony that leads to the upstairs rooms. This elevated feature not only adds extra space to the home but also creates a sense of openness and connection with the surrounding environment.
The wood beam in the middle of this living room ceiling adds a touch of rustic charm to the space, creating a warm and inviting atmosphere that is perfect for relaxing with family and friends. The natural wood grain and texture of the beam add a unique character and depth to the room, making it a standout feature in the overall design.
Barndominium Retreat Inspiration
Get inspired by the creative restoration of the Writers Studio Barn in Garrison, NY, by Hudson Design. Originally a garage with two horse stalls, this space has been transformed into a cozy retreat with unique features that you can emulate in your barndominium design. Take a closer look at their use of an abstract painting inset in an old barn door and the way they've repurposed old materials to create a charming and functional living space.
Enjoy the fresh air and a unique perspective with this angled side window that opens up to let the breeze in. Not only does this feature add a touch of architectural interest to the room, but it also provides a practical function that can help keep the space cool and comfortable.
Add warmth and character to your space with a wood beam ceiling. This design element brings a touch of natural beauty and rustic charm to any room. Whether you're going for a cozy cabin vibe or a more modern farmhouse look, a wood beam ceiling is a versatile feature that can be customized to suit your style. It's a classic design choice that never goes out of style and adds a unique touch of personality to any home.
The soaking tub invites you to unwind and recharge in the ultimate comfort while enjoying a stunning outdoor view. The tiled floor adds a touch of elegance and practicality, ensuring easy maintenance and slip-resistant safety. Whether you're soaking in the tub or getting ready for the day ahead, the beautiful outdoor view brings a sense of tranquility and serenity to your routine. This bathroom is a haven of relaxation and rejuvenation, offering the perfect escape from the daily hustle and bustle.
Make a statement with these charming barn-style doors and stunning grey siding. The rustic design of the barn-style doors adds a touch of country charm, while the grey siding gives a modern twist to this classic look. These doors not only look great, but they also provide a functional and space-saving solution, making them a practical choice for any room in your home.
The tall windows provide plenty of natural light, while the open design creates a spacious and inviting atmosphere. Whether you're lounging in the living room or cooking in the kitchen, you'll feel connected to the outdoors and enjoy the breathtaking views from every angle.
Barndominium in Ocala, Florida
While the exterior of this barndominium in Ocala, Florida may appear like a typical metal barn, the interior is anything but ordinary. A stunning island kitchen steals the show with its copper farm sink and custom cabinetry. The creative use of old suitcases as a bookcase adds a touch of vintage charm to the space. And don't miss the dramatic cypress stairway leading up to the loft area. All of this on 20+ acres of beautiful Florida land. Explore the photos and see for yourself why you should never judge a book by its cover.
A spacious and inviting open kitchen floor plan awaits in this stunning barndominium. With a beautifully tiled floor, the kitchen seamlessly flows into the dining and living areas, making it the perfect space for entertaining guests or enjoying time with family. The large island provides ample space for meal prep, while the surrounding countertops and cabinets offer plenty of storage for all your kitchen essentials.
A luxurious touch to any bathroom – a beautiful chandelier hanging over a soaking tub.
A unique design element in this barndominium – is wooden stairs located in the kitchen area leading up to the second floor.
A formal seating area typically refers to a space within a home that is dedicated to hosting guests and entertaining. This area is usually furnished with elegant and sophisticated furniture pieces such as a sofa, armchairs, and coffee table, and often includes accent pieces like lamps and artwork to create a cohesive and welcoming space. The layout is usually designed to encourage conversation and socialization, making it an ideal space for hosting dinner parties, cocktail events, or simply enjoying a conversation with friends and family This area is a perfect example of a great use of space if you are hoping for a formal room.
A large buffet-style table is a great addition to any dining area, providing ample space for serving food and entertaining guests. With a variety of sizes, shapes, and styles to choose from, a buffet table can be customized to fit any decor scheme, from rustic to modern. Consider adding one to your new home.
An open balcony that wraps around the upper level and provides access to all the rooms, creating a spacious and airy atmosphere.
A cozy outdoor living space awaits you in this barndominium! The back-covered patio boasts a comfortable sitting area, perfect for enjoying a cup of coffee in the morning or a glass of wine in the evening. The rustic wooden beams and charming string lights add a touch of warmth and ambiance to the space, making it a great spot to relax and unwind.
If you would like more guides like this one, check out the rest of BarndominiumLife.com. There, you will find more helpful tips and tricks from the pros. You will also find featured barndominiums, barndominium floor plans, and information on financing and insurance. Knowing as much as you can will help you get the best results for your dream home.