Barndominiums are becoming more and more popular, and for good reason, as they combine the rustic charm we all love with all the modern amenities that we can't live without! Those who jumped on the barndominium building opportunity early on are now wondering if they can add on to a barndominium as they are looking to expand and have more space in their home.
For these individuals, we have great news! With the right planning and execution, it is possible to add on to your existing barndominium! Read on to understand all the factors you need to consider when adding on to your barndominium.
Can you Add On To Your Barndominium?
Can You Add on to a Barndominium? The truth is that adding on to a barndominium is often easier compared to adding on to a traditional home.
However, as with any home improvement project, there are many details to consider for determining whether a barndominium addition is worth the cost and hassle. Here is what you should know.
Decide on the Size and Location of the Add-on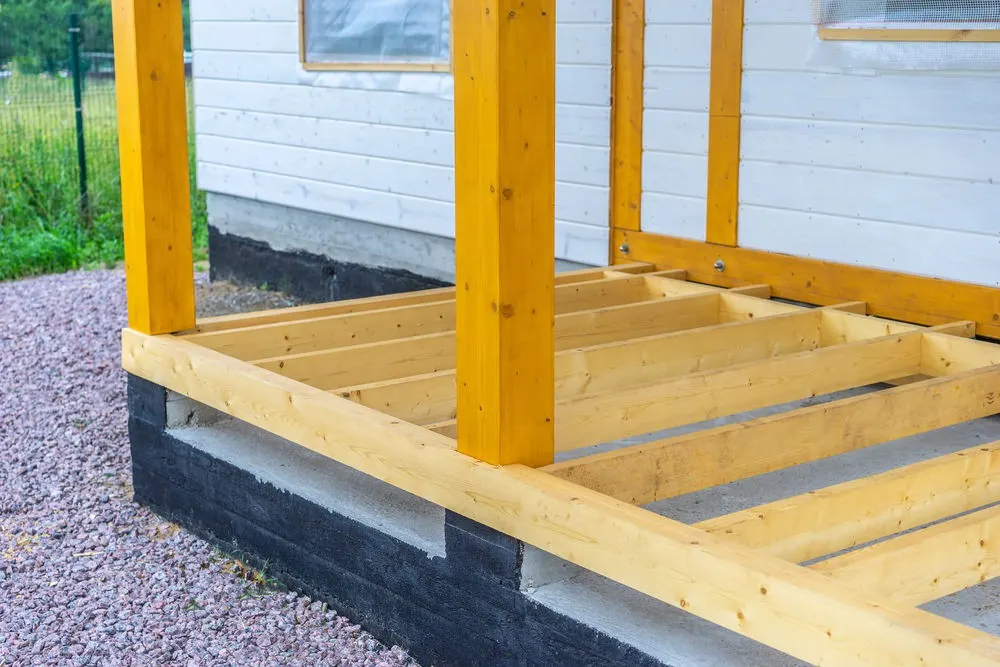 You should first think about the type of add-on that you want to build and what you intend to use it for. Some projects may involve extra steps.
For example, adding a second floor typically involves more work compared to extending the square footage of the ground floor. Adding a second floor may involve tearing down the roof and extending the frame to support another level.
Your add-on may also require electrical and plumbing work, especially when modifying or adding a bathroom or kitchen. Other considerations include electrical outlets, light fixtures, windows, and doors.
Depending on the type of add-on, you may also need to modify the existing frame or cut out a portion of an exterior wall. Simply adding a metal shed to the exterior is cheaper compared to opening part of the barndominium to add a room.
Evaluate the Condition of the Existing Frame
If your project involves modifying the existing frame or adding more weight to it, you need to inspect its condition before starting construction. You may need to remove a portion of the frame, which could impact the structural integrity of the rest of the frame.
Luckily, adding on to a post-frame building is easier compared to a stud-frame building. The extra spacing between the posts provides more options for a home extension without removing a post.
Barndominium posts are often spaced 8 to 12 feet apart while studs are typically spaced about 2 feet apart. You cannot add a hallway or door with just two feet of space. However, 8 to 12 feet provides more than enough room to extend your living space without changing the existing frame.
Even if you do not touch the existing frame, you should still inspect the property for signs of damage. For example, you may find signs of water damage or rust near the area where you want to add on. You need to deal with any issues that you come across before adding on.
If you plan on adding a second floor, you also need to examine the frame and the foundation. The original foundation is made to hold the weight of the existing frame. Placing a second story on the frame may increase the severity of existing foundation issues, such as cracks.
DIY vs. Hiring a Contractor for a Barndominium Add-on
If the existing frame is in good condition, the next step is to decide how you want to build it. Not all projects require hiring a contractor and subcontractors. If you just want to add a shed to the outside or increase your ground-floor living space, you may be able to complete the project on your own.
Complex projects, such as adding a second floor, extending a kitchen, or adding a bathroom, involve a lot more work. You may need subcontractors to handle electrical and plumbing work, along with building inspectors to ensure that your new plans meet local building codes.
Hiring a contractor to plan and complete the add-on eliminates some of the stress. You do not need to coordinate with multiple subcontractors or handle any of the work yourself.
Estimating the Cost of the Barndominium Add-on
The cost of adding more space to your barndominium depends on a variety of factors, including:
Square footage
Doors
Siding
Electrical
Plumbing
Lighting
Constructing a metal building costs about $3 to $5 per square foot for the metal materials. You also need to spend about $4 to $6 per square foot for the foundation, if extending the size of the ground floor. Windows, doors, siding, and other features add to the cost.
You can expect to spend close to the same cost as building a new barndominium, which is about $30 to $40 per square foot. For example, adding a 10'x20' room to the side of your barndominium may cost $6000 to $8000.
Decide How You Want to Finance the Barndominium Add-on
If you are adding on to an existing barndominium, you likely have several options for paying for the construction:
Cash
Personal loan
Second mortgage (home equity loan)
Refinancing
Paying cash provides the best value, as you do not need to pay interest on a loan. If you do not have enough cash, you could try saving up for the addition.
Personal loans are often the most expensive option. Most lenders charge between 10% and 28% interest on personal loans. You could easily pay $1500 or more on a five-year, $6000 personal loan.
Mortgages typically come with lower interest rates. If you have lived in your barndominium for at least a few years, you may have enough equity to take out a home equity loan. A home equity loan is essentially a second mortgage that you take out on your home. It works just like any other mortgage, but often with lower interest rates.
The final option is to refinance your existing mortgage for a higher amount to cover the cost of the addition. Instead of two loans, you only need to deal with one. However, a home equity loan may still provide better rates.
Summary: Can You Add on to a Barndominium?
You can add more living space to a barndominium. Adding on to your barndominium involves the same steps as adding on to a standard home. However, some add-ons are more difficult than others.
If you want to add a second floor to your barndominium, work with an experienced contractor. Adding a second floor may impact the structural integrity of the ground floor, especially if there are any issues with the frame or the foundation.
Ground-floor extensions may involve less work, potentially allowing you to complete the project yourself. The most difficult tasks involve adding electrical lines, outlets, and light fixtures, which may require a licensed professional.
If you would like more guides like this one, check out the rest of BarndominiumLife.com. There, you will find more helpful tips and tricks from the pros. You will also find featured barndominiums, barndominium floor plans, and information on financing and insurance. Knowing as much as you can will help you get the best results for your dream home.
Gail currently spends her free time geeking out about what's new and trending in the world of barndominiums.
She is the former executive editor of BarndominiumLife.com and loves working with the team and members of the barndominium community. She now contributes to the blog on occasion, but only when she feels like it!