Are you among the many people who dream of owning a home in Louisiana but are discouraged by the rising cost of real estate? Don't worry, you're not alone.
With the average home in Louisiana costing around $182,959, it's no surprise that many are turning to alternative options, such as barndominiums.
Combining the charm of a barn and modern luxury, these unique homes can be surprisingly affordable. A barndominium cost can even start as low as $20,000 with some kits!
So, if you need inspiration for your own barndominium dream home, you're in luck. Today, we're featuring the lovely Lake Charles, Louisiana, barndominium by Sharamie Trahan Moore.
This stunning home boasts lush greenery and a bungalow-style design, complete with cozy decor that will make you feel right at home.
So, take a look and get inspired to create your affordable dream home in Louisiana!
About this Barndominium:
Property Size: 4. 8 acres
Bedrooms: 3
Bathrooms: 3 1/2
Square footage: 2400 square feet
Garage / Shop Size: 780 Square feet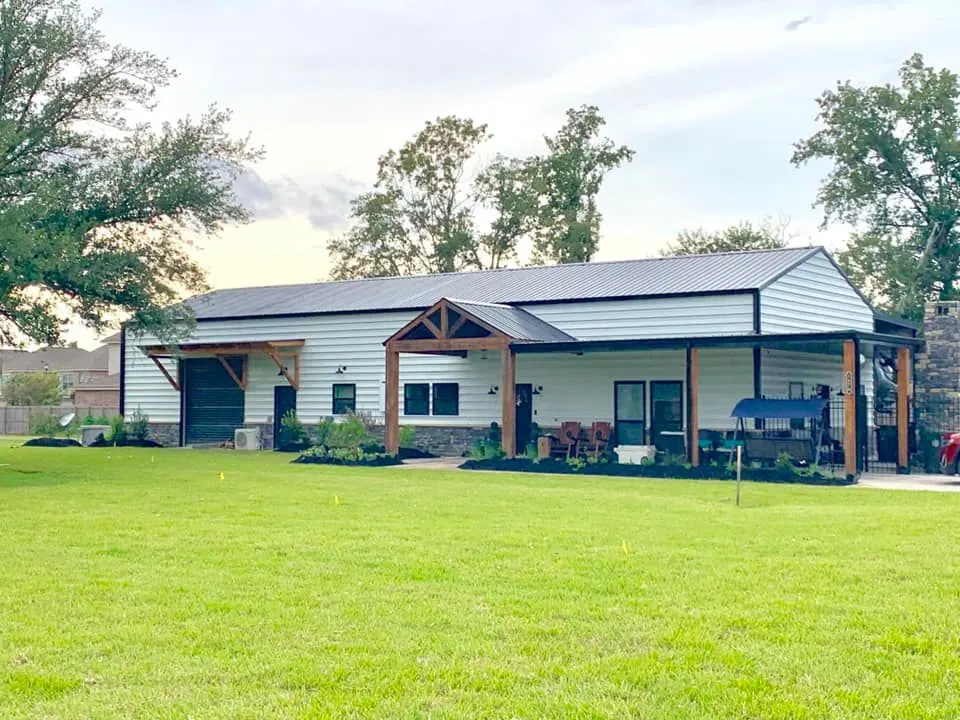 How to Build Your Own Barndominium & 200+ Floor Plans
Get started today with our program "Barndominiums Made Easy: How to Build Your Own Barndominium" and get 200+ barndominium floor plans included!
Exterior
Today's feature is this Lake Charles, Louisiana, barndominium by Sharamie Trahan Moore. This unique home boasts a spacious 30×80 layout, three bedrooms, 3.5 bathrooms, a 30×30 attached shop, and an outdoor kitchen area for entertaining guests.
And that's not all! There's also an 80×16 rear cover, perfect for storing your boat or camper.
From the moment you lay eyes on this home, you'll be struck by its charming bungalow-style design. The white exterior is accented by exposed wood beams and columns, giving it a rustic yet modern feel. Wooden accents are always an excellent barndominium design idea.
Step inside, and you'll find a spacious, open floor plan with plenty of natural light and stylish decor.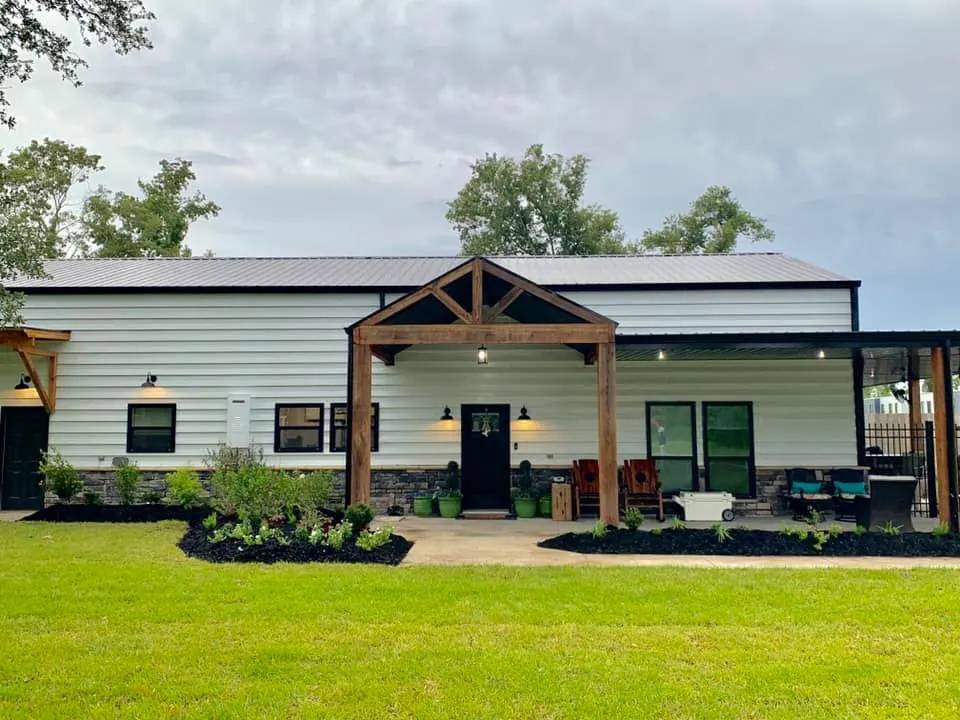 When owning a home, we all want it to look its best inside and out. That's where barndominium curb appeal comes in.
This Louisiana barndominium is a great example of how to make the most of any green space. Adding a garden and potted plants wrapping the home adds to its aesthetic appeal and creates a welcoming, natural environment.
The wraparound side porch is a welcome addition for entertaining guests with cozy seating.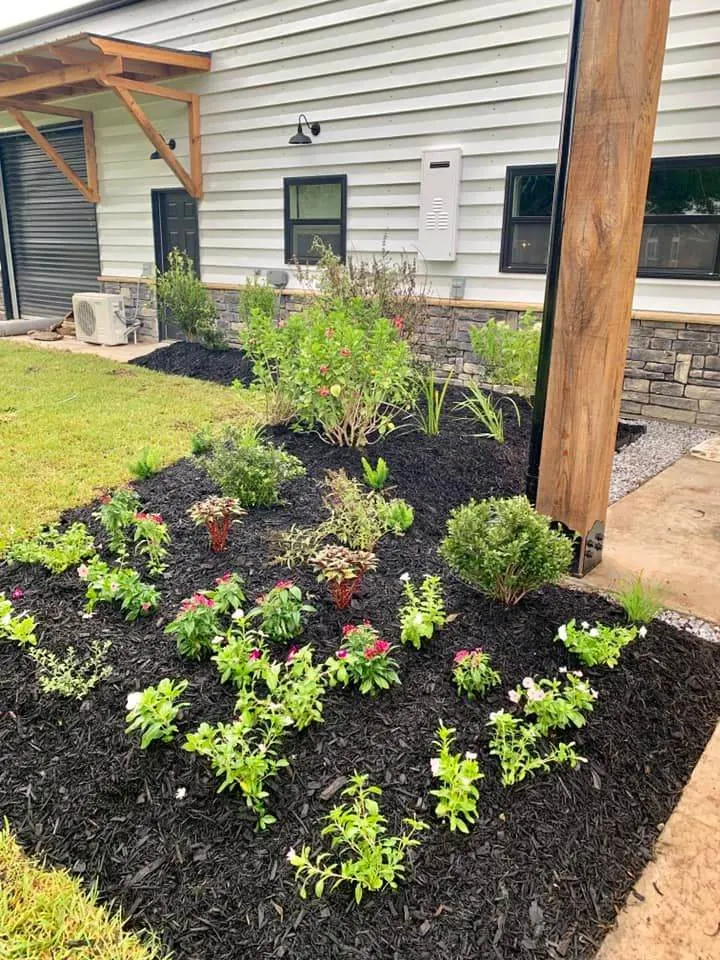 An eye-catching feature at the back of the home is the giant rear cover, which is ideal for storing large vehicles. The wraparound porch extends to this area and is a perfect outdoor kitchen.
As you work on the grill, there is plenty of seating for large parties with friends and family!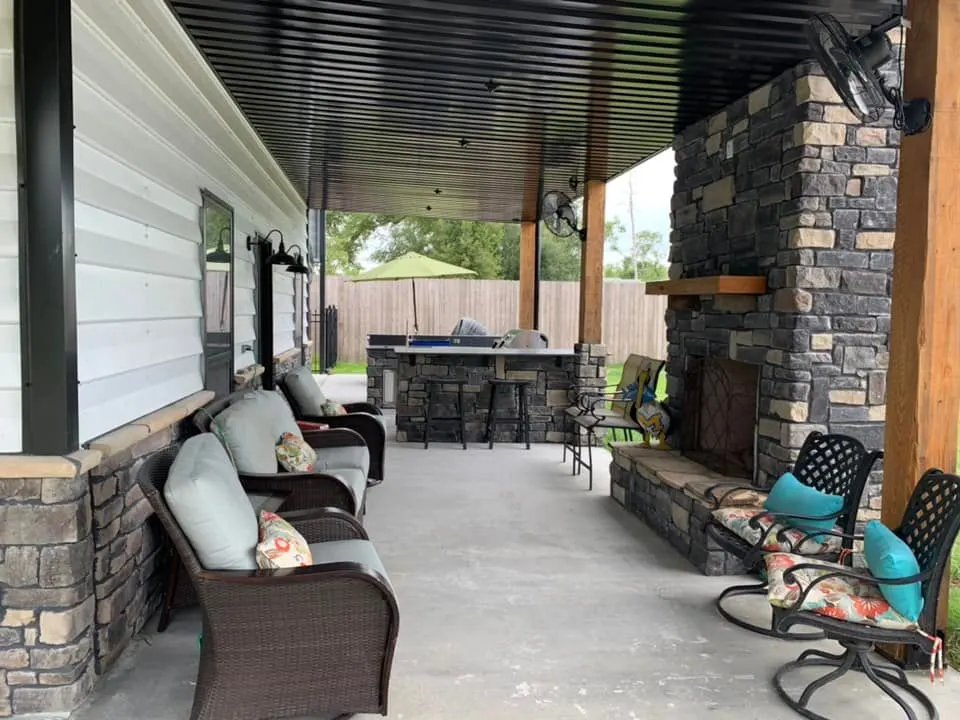 We absolutely love the addition of a brick-clad outdoor fireplace. When the weather is mostly cloudy and cold in Lake Charles, sitting by the fire while enjoying the outdoors provides the ultimate comfort.
A picturesque shot of Sharamie's home as the sun sets.
How to Build Your Own Barndominium & 200+ Floor Plans
Get started today with our program "Barndominiums Made Easy: How to Build Your Own Barndominium" and get 200+ barndominium floor plans included!
Interior
From the moment you step inside, the clean, white interiors set the stage for pops of color and plenty of cozy decor. With its inviting atmosphere and thoughtful design, this Louisiana barndominium is sure to impress.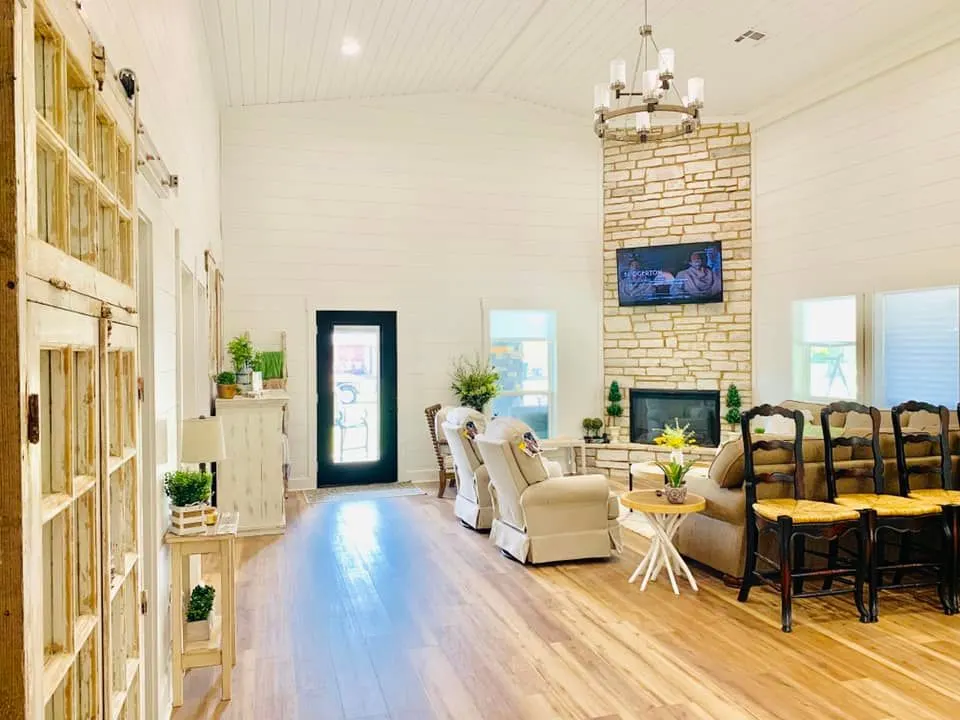 Living Space
One of the most appealing features of barndominiums is their spacious, open-concept interiors; Sharamie's home is no exception. Thanks to the high ceilings and open layout, you are greeted by the clean, airy feel of the space. The decor is understated yet elegant, focusing on simple lines and natural textures.
One feature that stands out immediately is the impressive fireplace, which is the centerpiece of the living area. The brick feature and cozy seating around the fireplace make it the perfect spot to curl up with a good book or enjoy a movie night with friends and family.
With plenty of room to spread out and relax, this living area is ideal for unwinding after a long day.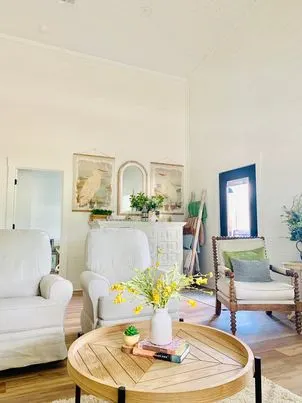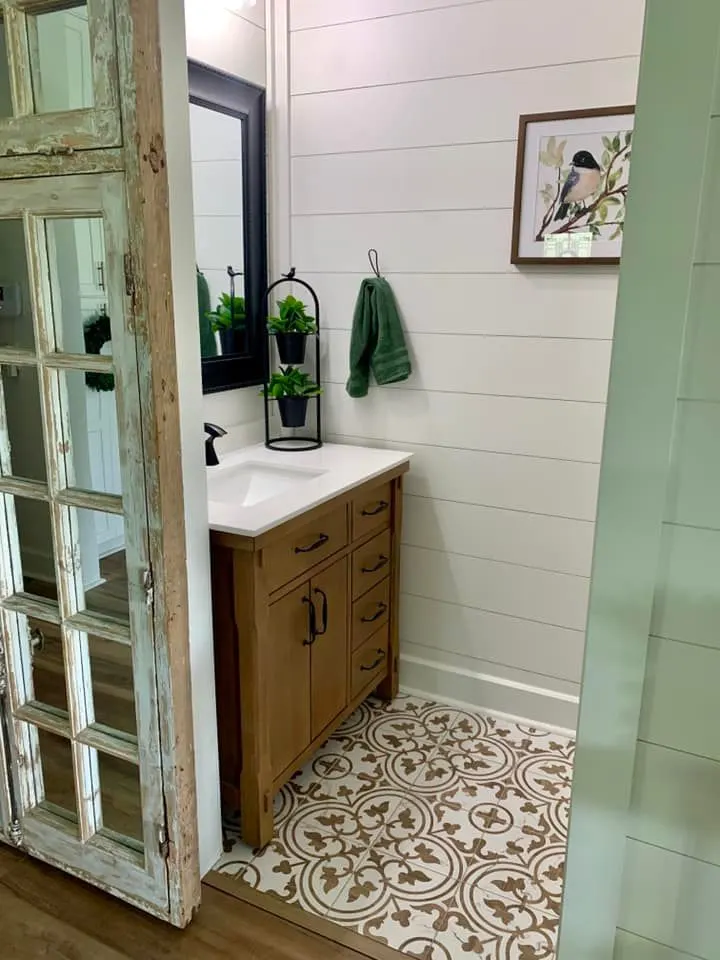 Powder Room
The powder room is a charming showstopper, with its rustic wooden barn door and clever use of mirrors to accentuate the living space.
Inside, hints of green from the decor and accent wall add a pop of color and zest to the space. The overall effect conveys elegance and simplicity, focusing on natural textures and clean lines.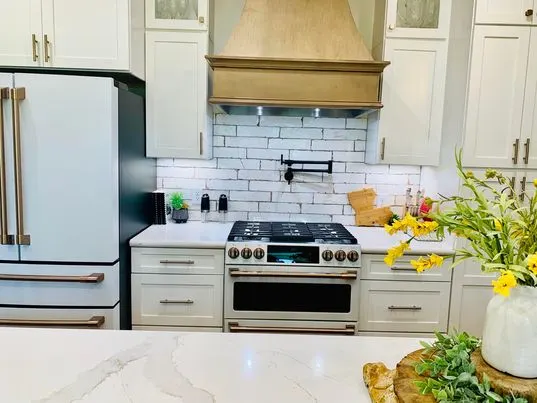 Kitchen
The kitchen is sure to impress even the most discerning home cook. The clean, white shaker style cabinets and countertops create a bright, airy, modern, and inviting atmosphere. And the gold hardware and fixtures give the room a touch of sophistication.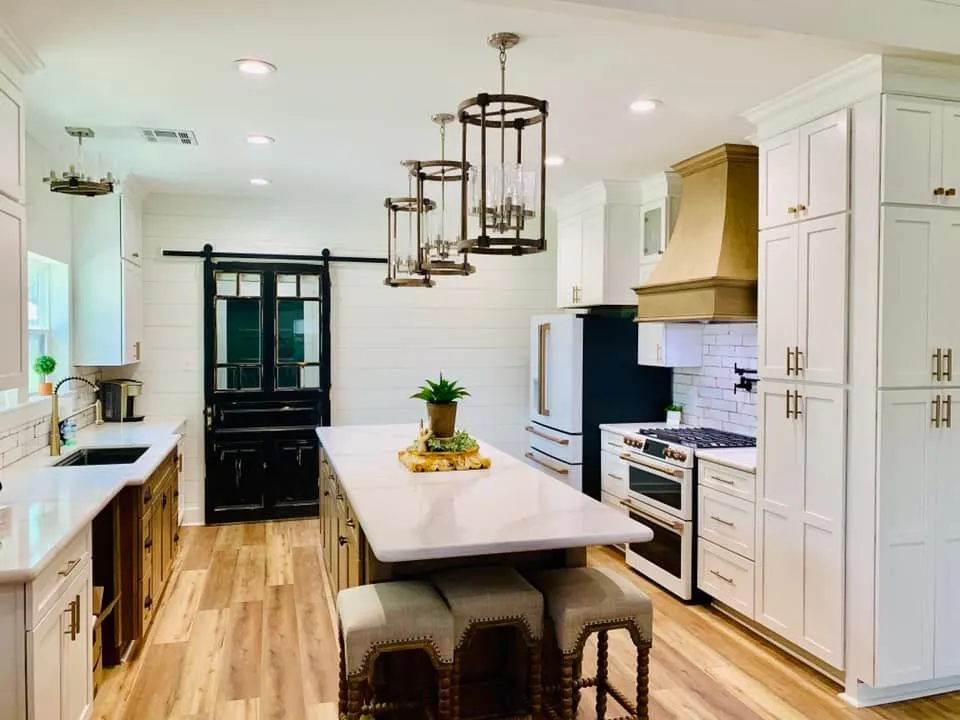 What sets this kitchen apart is the industrial touches that mix seamlessly with the modern design. From the sleek pendant lights to the distressed black sliding barn door, this kitchen has been carefully designed to create a functional and stylish look.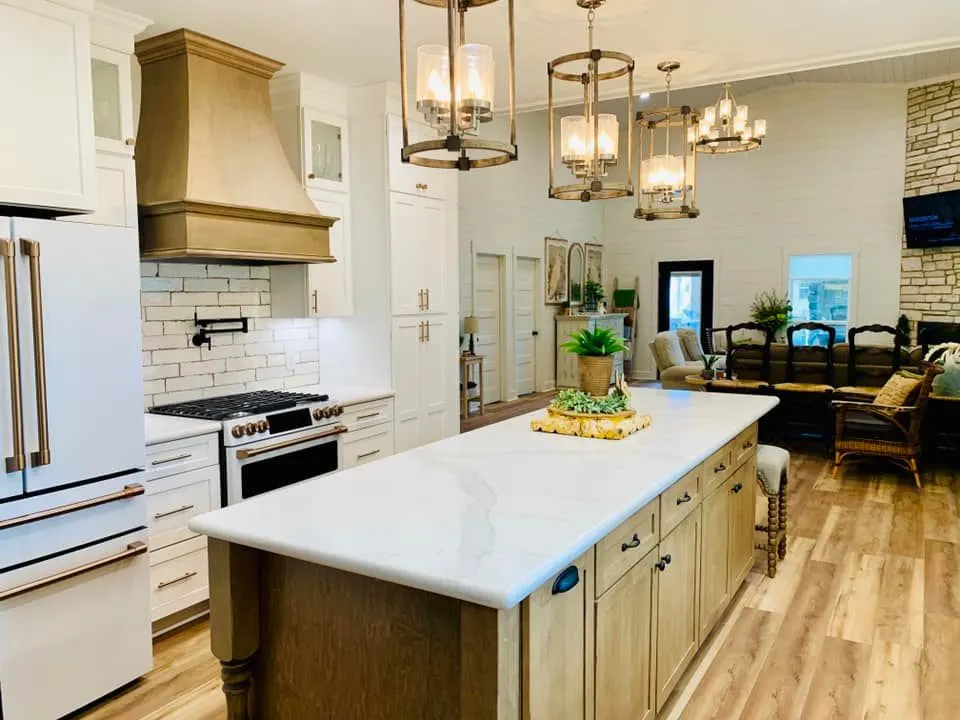 With its open-plan layout, the kitchen and living space flow seamlessly together.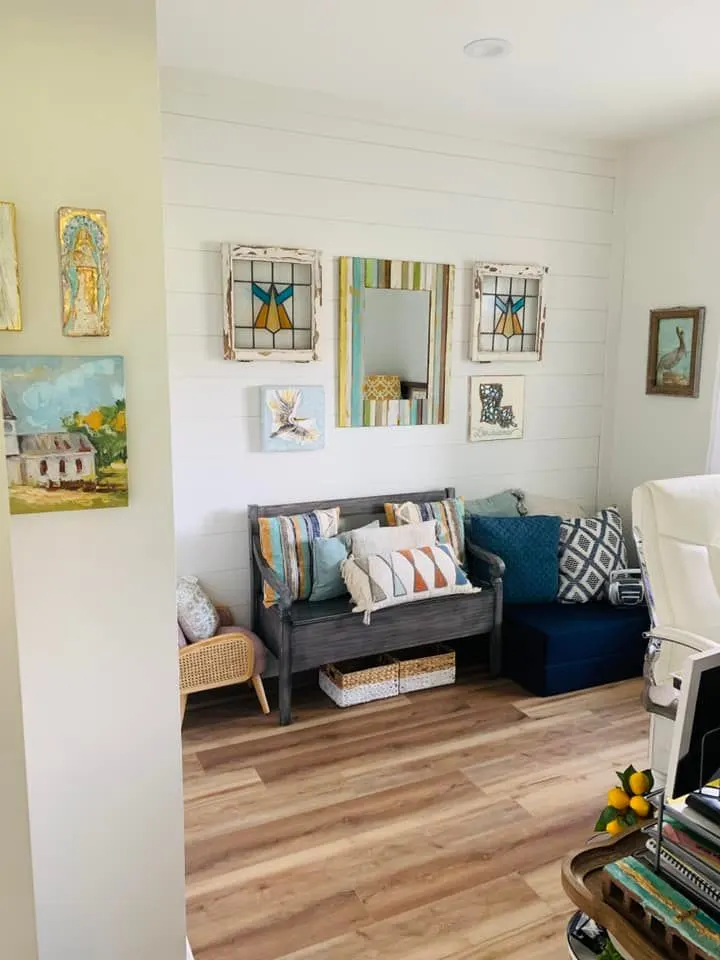 Office
The owners have made the office space their own, with personal touches that give it a warm and welcoming feel. The bright, rustic decor peppered throughout the room adds to its appeal.
Dog Space
Have some extra space but don't know what to do with it? Build your own dog quarters!
This doggy room is a clever use of functional and adorable space. One of the standout features is the dog shower area that's cleverly tucked away under the staircase, making the most of a limited footprint.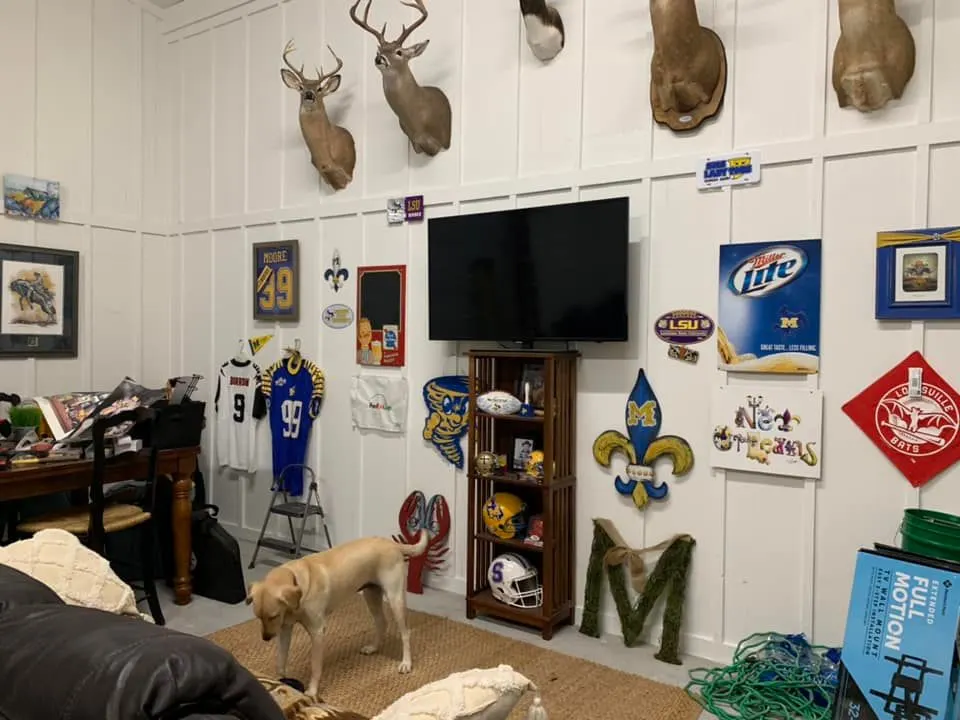 There's also plenty of seating in the dog quarters, so the family can cozy up with their furry friends and spend quality time together as they watch their favorite games.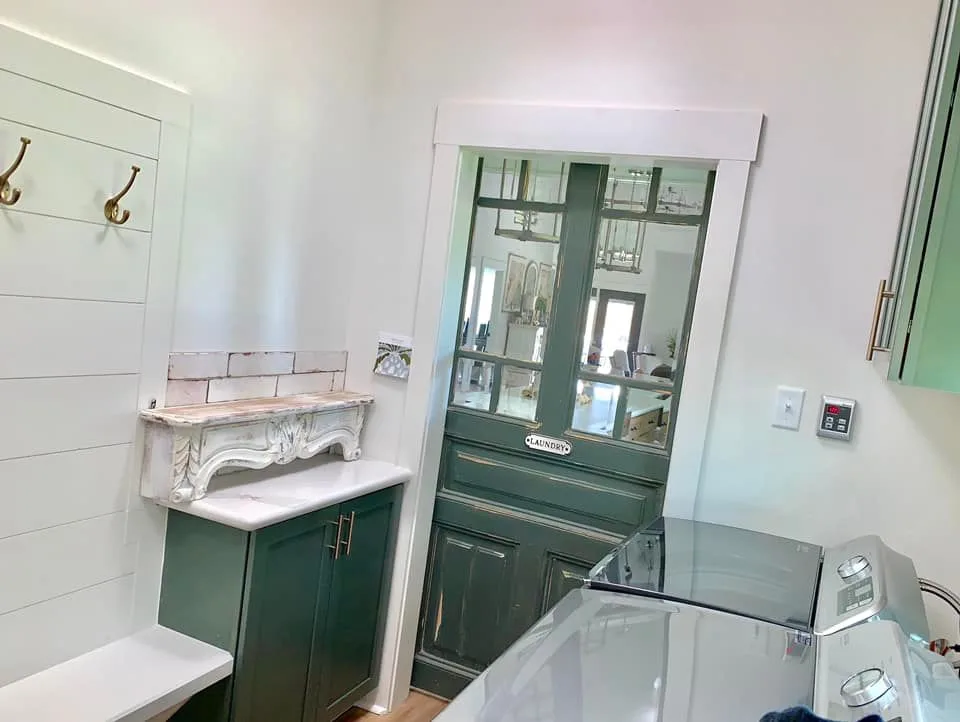 Laundry Room
The laundry room is reminiscent of a classic look from the past. The mostly white and clean design remains consistent, while the antique European door adds a touch of rustic charm.
One of the standout features of the laundry room is the use of sage green accents on the door and cabinetry. This color gives the space a distinctive feel.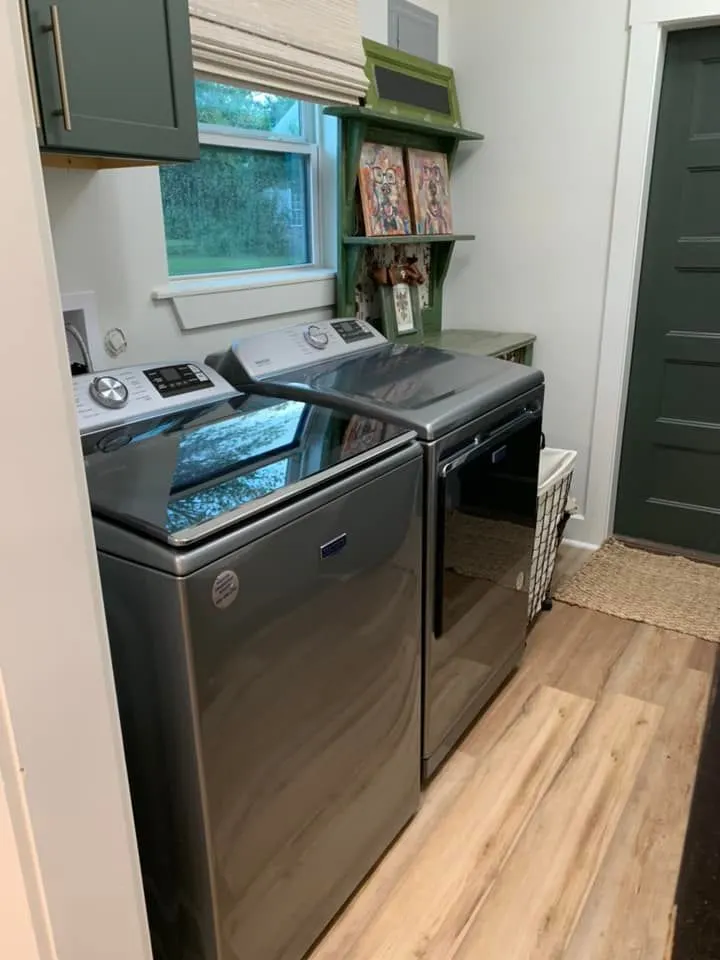 Bedroom
The bedroom design of this Louisiana barndominium is understated, with plenty of space to move around and relax. The dark wood from the cabinets, bed, and dresser adds warmth and texture to the room, elevating its style. For a touch of color, green accents complete the look.
Bathroom
In the bathroom, the open-concept shower area is a standout feature, with its stylish shower wall accent and striking golden shower fixtures.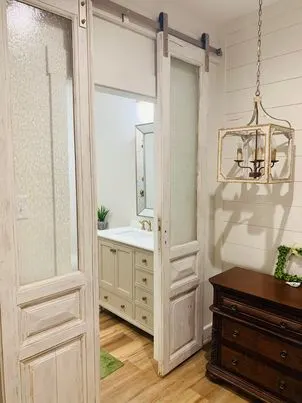 Wrapping up
This Lake Charles, Louisiana barndominium by Sharamie Trahan Moore shows how a barndo can offer a beautiful, spacious, and functional living space while showcasing unique design elements and personal touches. From the cozy decor to the pops of color paired with rustic accents, this home has a lot to be inspired by.
If you want to learn more about building a barndo and creating your dream home, follow Barndominium Life. With plenty of ideas, expert guides, and how-tos, discover how to experience the ultimate barndo lifestyle by visiting us today!
If you would like more guides like this one, check out the rest of BarndominiumLife.com. There, you will find more helpful tips and tricks from the pros. You will also find featured barndominiums, barndominium floor plans, and information on financing and insurance. Knowing as much as you can will help you get the best results for your dream home.
Like this Post? Sign up for our email list!
Be the first to see new posts about the best barndominiums, construction guides, floor plans, and more! Enter your information below to become a BarndominiumLife VIP.
Noah Edis is a passionate staff writer at Barndominium Life, a leading online resource for all things barndominium. With years of experience in the writing industry, Noah has made a name for himself as a skilled storyteller and a knowledgeable authority on the topic of barndominiums.
Noah's interest in barndominiums began when he stumbled upon the concept while researching alternative housing options. Intrigued by the rustic charm and functionality of these converted barns, he soon became obsessed with the idea of living in one himself. He spent countless hours researching the construction, design, and decorating aspects of barndominiums, and soon became an expert on the topic.
As a staff writer at Barndominium Life, Noah enjoys sharing his knowledge and passion for these unique homes with others. He has written numerous articles covering a wide range of topics, from the history of barndominiums to the best ways to decorate them. Noah's writing is informative, engaging, and always on-trend, making him a valuable asset to the Barndominium Life team.
Noah is a graduate of the University of British Columbia, where he earned a degree in English Language and Literature. When he's not writing about barndominiums, he can be found exploring the great outdoors, trying new restaurants, or spending time with his family and friends. Noah is dedicated to his craft and is always striving to improve his writing skills and knowledge of the barndominium lifestyle.
Connect with Noah on LinkedIn