Today's featured barndominium is an exciting and mold-busting example of just how far these homes have come. Featuring all the top-tier features and luxury amenities found in high-end real estate, this Wisconsin barndominium is beautifully stylish and modern.
Exterior – Wisconsin Barndominium
Not many people who drive by this exceptional Wisconsin barndominium would guess that is just what it is – a barndominium. Appearing to be an amazing estate-style home, today's featured home is a testament to the diversity of design that barndominiums offer.
This Wisconsin barndominium is breathtaking at first glance. The high contrast between the dark stone and black vertical siding with the rich exposed wood gives this home all the finishings and appeal of luxury properties.
The shop area is also massive, and this space could easily accommodate multiple vehicles, RVs, boats, and all the toys that come with them. The attached garage has plenty of space as well, with one full bay and a garage door.
Its large footprint and sleek design are simply stunning, and with a massive attached shop, large covered porch, and stamped concrete surrounding, this barndominium has all the curb appeal in the world.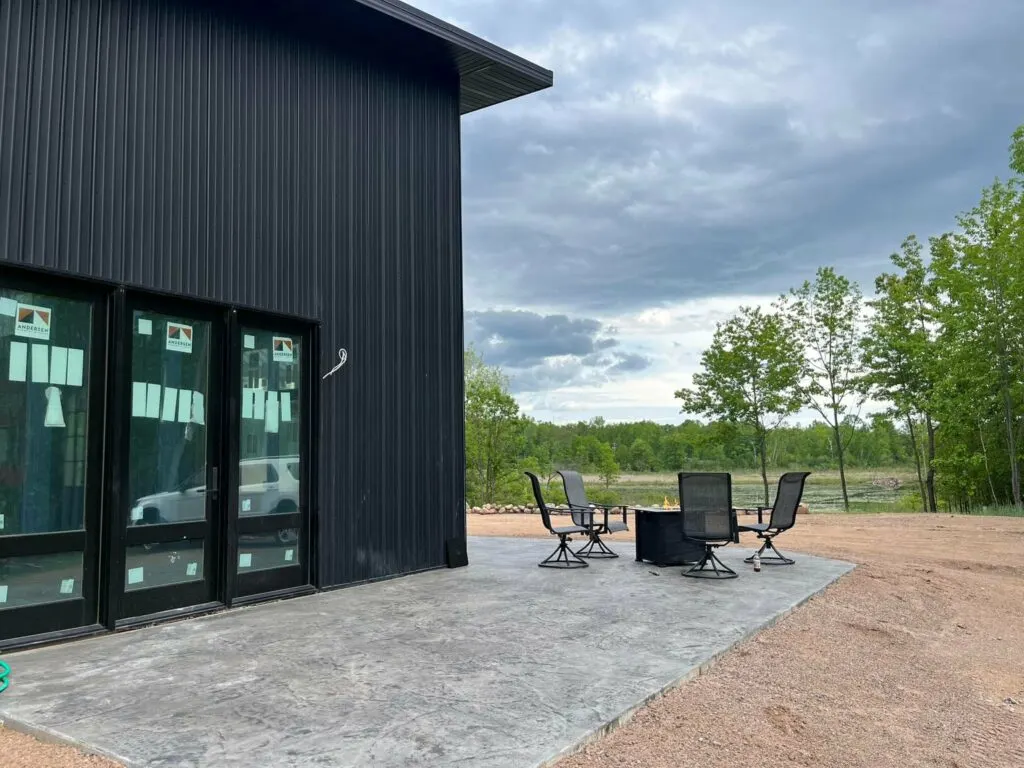 While some may say that modern urban design seems out of place in the rural setting, this Wisconsin barndominium is arguably enhanced by the natural forestry that provides its backdrop. With its ample outdoor space, one can sit back, relax and enjoy the peace and quiet surrounding this Wisconsin barndominium.
Front Entrance – Wisconsin Barndominium
The front entrance way of our featured barndominium is nothing short of impressive. The towering covered area features a gleaming wood canopy with large stone pillars. The matching double door entrance could be easily mistaken for an upscale hotel or office building. But once you step through those doors, the massive great room with soaring ceilings and exposed wood trusses quickly dispel doubts about what type of home this is.
Side Entrance – Wisconsin Barndominium
At the side of the home, we find a more subtle yet equally stylish entrance enveloped by the large covered porch area. The black and glass door tie in with the rest of the exterior design and pop against the horizontal wood siding.
Porch – Wisconsin Barndominium
While there is no doubt that there is more than enough interior space for relaxing and entertaining, the front porch offers a simpler setting to take in the surrounding natural beauty as well as providing a perfect spot for morning coffee or an evening glass of wine.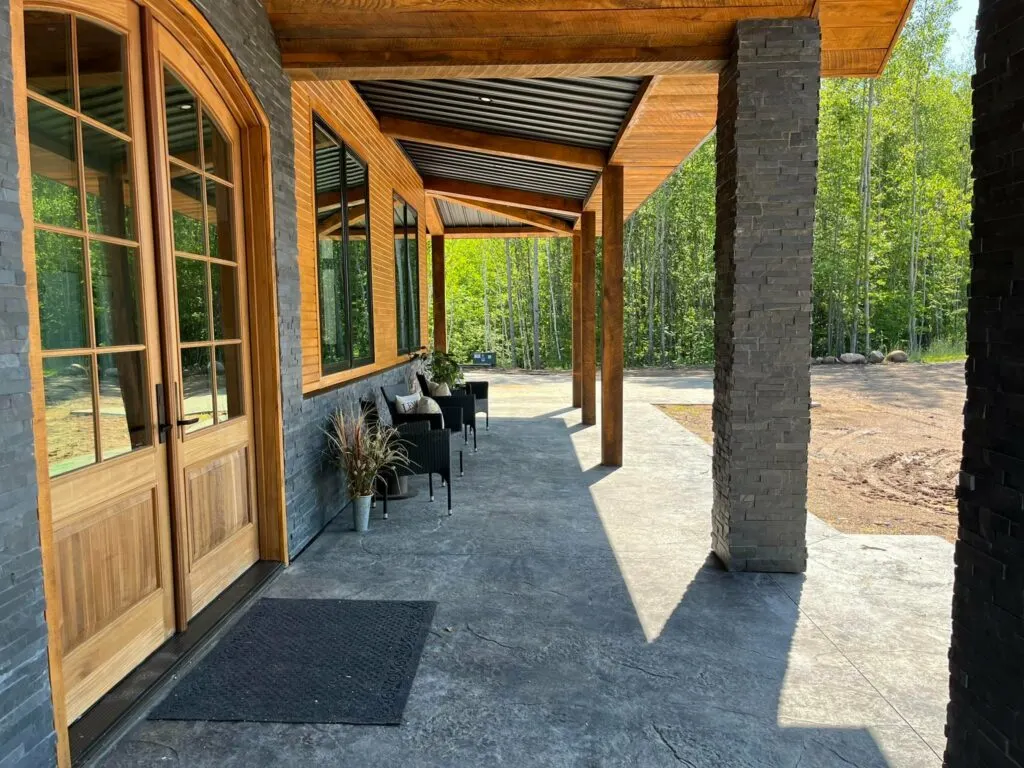 A closer look at the porch flooring reminds us that this home isn't just about looks; it is about function as well. The stamped concrete offers a beautiful and modern flooring solution that is durable and easy to maintain.
Interior – Wisconsin Barndominium
The great room is the show-stopper in this Wisconsin barndominium. The extra large windows throughout the room allow natural light to stream in from every angle and the soaring black ceilings are breathtaking.
A tell-tale feature of many barndominiums is their signature concrete flooring, which may seem a bit industrial for some. But in this home, the polished and gleaming concrete floor has a luxurious look and can quickly be cozy-upped with a soft area rug.
Kitchen – Wisconsin Barndominium
The kitchen is another area where this home's modern design shines through. The clean lines, sleek cabinetry, and top-of-the-line appliances are more what you would expect to find in a high-end home in the city than in a rural barndominium.
The kitchen also features a large floating island with plenty of space for prep work or casual dining. The light countertops contrast beautifully to the dark cabinetry and create a modern look.
Finer details can be spotted throughout that only boost the barndominiums appeal. A built-in refrigerator and custom-made sliding barn door are just a few easily noticed upgrades implemented in this home.
Bedroom – Wisconsin Barndominium
While we may only get to peek into one of the bedrooms found in today's featured barndominium, we can quickly tell that the home's modern decor and luxurious feel carry throughout. From the exposed wood ceiling to the black framed window, this space exudes sophistication.
Laundry Room – Wisconsin Barndominium
Finally, as we pop our heads into the home's laundry area, we can confidently conclude that, though still being completed, today's featured barndominium will be nothing short of spectacular. If the home's exterior is any indicator of what is to come in terms of design for the interior, it is safe to say that this will truly be a one-of-a-kind barndominium.
If you would like more guides like this one, check out the rest of BarndominiumLife.com. There, you will find more helpful tips and tricks from the pros. You will also find featured barndominiums, barndominium floor plans, and information on financing and insurance. Knowing as much as you can will help you get the best results for your dream home.