A custom home-building project is one of the most rewarding and challenging undertakings there is. With so many variables and so many things to consider, many people give up before they ever start. Plus, the expense and stress of building your own home can be too much for most people to handle. That's why building a barndominium in Tyler, TX is such a great alternative.
Building a barndominium in Tyler, TX is a great way to get a custom home without all the hassle and expense. However, you still need to know what the process is like and what you have to consider. In this article, we have put together a complete guide to building a barndominium in Tyler, TX. By knowing what to expect, you can give yourself the best chance at success. If you are looking to build in other parts of Texas, be sure to check out our building a barndominium in Texas.
Why Build a Barndominium in Tyler, TX?
A barndominium is a home built using the steel shell of a pole barn building. These buildings are usually used for things like stables, barns, warehouses, and other agricultural purposes. However, with a little bit of modification and creativity, they can be turned into custom homes. This is one of the things that makes a barndominium in Tyler, TX great for imaginative people.
There are a lot of benefits of building a barndominium in Tyler, TX, but one of the most important is their durability. Since a pole barn building uses metal poles driven into the ground, it will be incredibly strong. Plus, the all-steel construction means you don't have to worry about things like mold, rot, and mildew. This is ideal for a humid climate like the one found in many regions of Texas and the south in general.
How to Build Your Own Barndominium & 200+ Floor Plans
Get started today with our program "Barndominiums Made Easy: How to Build Your Own Barndominium" and get 200+ barndominium floor plans included!
Cost of Building a Barndominium in Tyler, TX
One of the other major benefits of building a barndominium in Tyler, TX is the lower cost. Barndominiums take about half the time to build as a traditional home and have a much lower cost. For example, building a traditional home in Tyler will cost around $134 per square foot. However, it is important to remember that this will only get you the basic structure and no custom touches.
A barndominium in Tyler, TX is much cheaper to get done. Most barndominiums can be built for around $95 per square foot. While this may not seem like a huge difference, when it is added up throughout the entire home, you can save a lot of money. This frees up space in your budget for custom furnishings and other touches. These are the things that make building a custom home well worth the time, effort, and money that it takes.
How to Build Your Own Barndominium & 200+ Floor Plans
Get started today with our program "Barndominiums Made Easy: How to Build Your Own Barndominium" and get 200+ barndominium floor plans included!
Barndominium Builders in Tyler, TX
You will want to find a good barndominium builder in Texas that specializes in building barndos. To help you find the right builder we have put together the best barndominium builders in Texas to help you get started on your search.
Clark & Baith Construction
When building a barndominium in Tyler, TX, you must find the right builder. Clark & Baith Construction is an experienced team of designers and construction experts in the area. They have experience with all kinds of projects, including amazing barndominiums. If you want to build a barndo that is a little more complex, they are an excellent choice for your project.
Rafter P Construction
Rafter P Construction has been in business for over 20 years and in that time they have built some incredible homes. They are extremely involved in the local community and understand what it takes to get a home built there. They will work with you throughout the entire process so you can be sure that your build is perfect. They are a great choice for people who are new to the idea of home building and need some extra help.
Barndominium Kit Providers in Tyler, TX
One of the options open to you for building a barndominium in Oregon is to use a barndominium kit provider. Building a metal pole structure completely from scratch is not the route that everyone is going to want to take. For example, if you live in an area where it is difficult to find materials, a kit could be the way to go.
One of the major advantages of using a barndominium kit is that everything comes in one convenient package. Many of them can be pre fabricated to your exact specifications as well. However, if you like, you can also choose from kits that are already designed and ready to get put up on your piece of property.
Leland's Metal Buildings
Should you choose to build your barndominium in Tyler, TX using a kit, you need one that is high-quality. Leland's Metal Buildings provides high-end barndominium kits to clients all over the country. They have all kinds of options available and many different designs that you can choose from. They also allow for customization if you want something very specific with your barndominium in Tyler, TX.
Absolute Steel
Absolute Steel has been in the barndominium kit business for over 20 years. During this time, they have developed a simple, user-friendly design and build process that is perfect for first-time builders. They have thousands of options for you to choose from with variations in color, materials, and more. They can also put together a custom design if that is something you want to get out of your barndominium.
Barndominium Financing in Tyler, TX
Barndominium Financing Request
For most people, financing is going to be the best option for getting the money to build a barndominium in Tyler, TX. However, many banks still don't quite know how to classify barndominiums on the spectrum of home types. This means it can be somewhat difficult to get the loan you need. Fortunately, there are some things you can do to give yourself a better chance of success.
Before you meet with any lenders, have a detailed construction plan ready to go. This should include things like builders, timelines, and budgets for your entire project. You should also have your plot of land purchased already and have it prepared for construction. This will show the lender that you are not a risk and that you plan on finishing the project.
Barndominium Insurance
You will also need insurance for your barndominium in Tyler, TX just like any other home. However, as with finding a loan, it can be hard to get a policy that is well suited for your barndominium project. Many insurance companies won't know how to cover it and you could run into a few roadblocks. Doing some extra steps during the building process will help you get your insurance coverage.
While you are building your barndominium in Tyler, TX, keep track of all expenses. Then, once the home is built, have it appraised by a professional home appraiser. Using these numbers, the insurance company should be able to find you a policy that will cover what your barndo is worth.
Barndominium Floor Plans in Tyler, Texas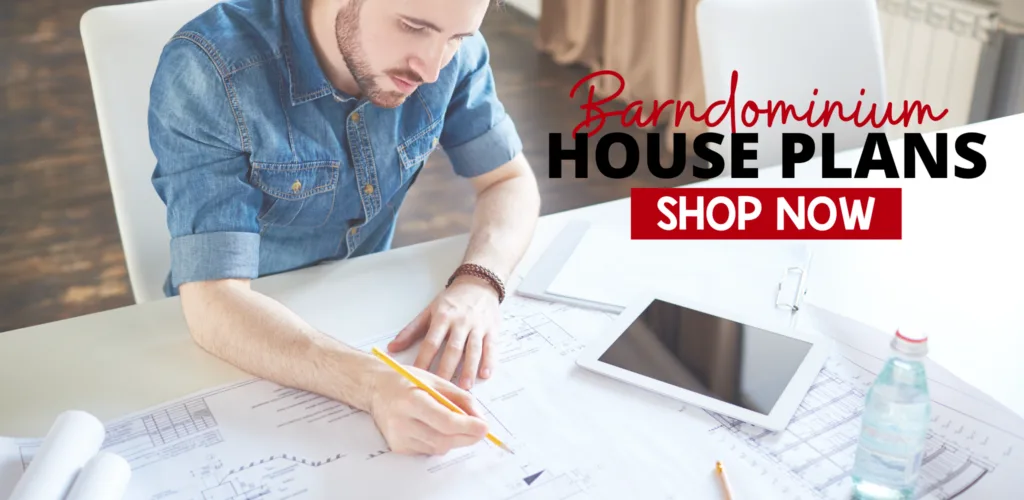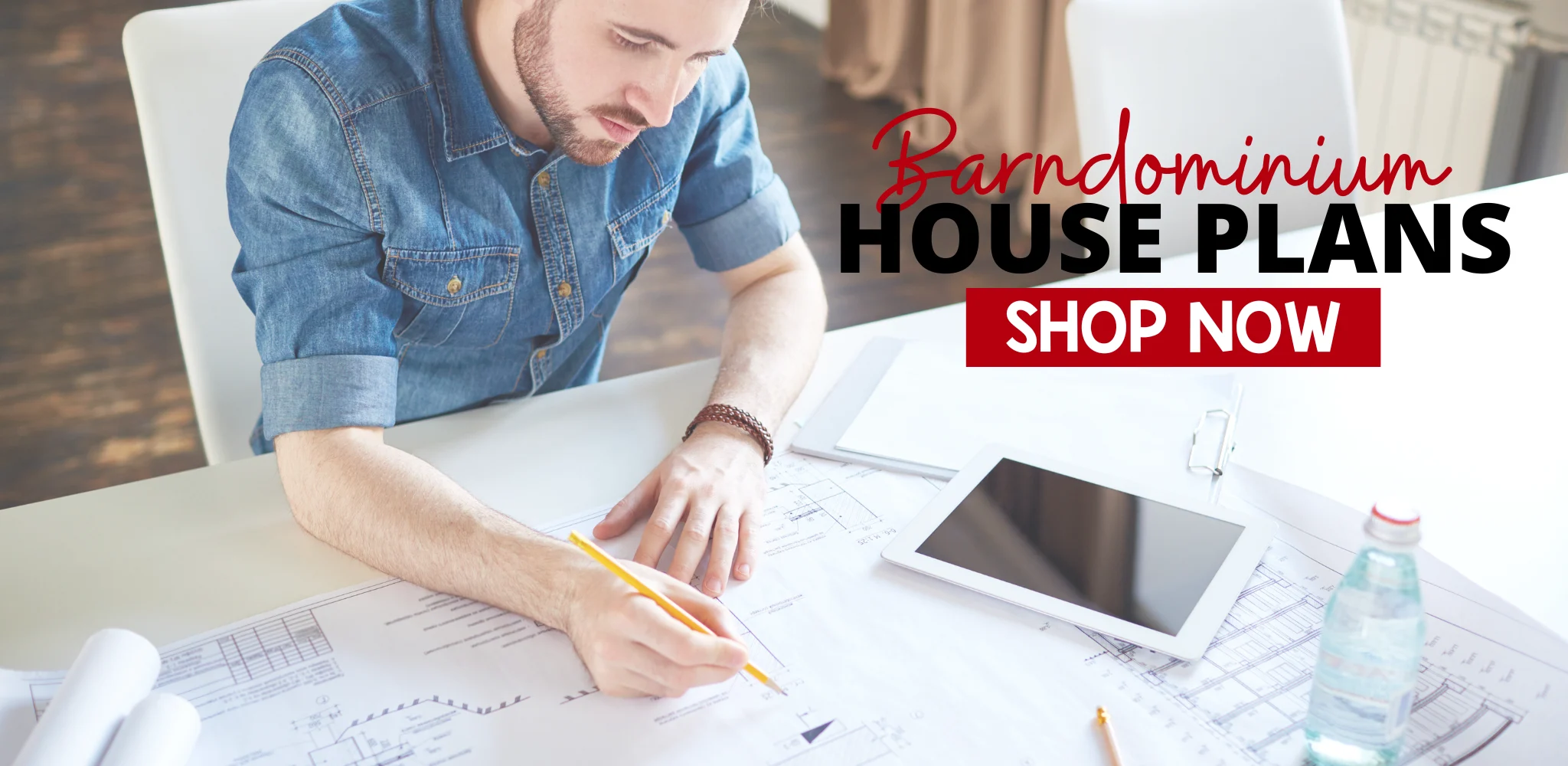 Don't want all the hassle of building a barndominium from the ground up? Then you may want to buy an existing barndominium in Texas! With our Barndominiums for Sale Marketplace, you can browse to your state and find a barndominium for sale near you.
The beauty of buying an existing barndominium is that it can be really easy to customize the floor plan to your liking. The previous owners' setup is just a starting point! Also, by buying a barndominium in Oregon, you bypass the potential troubles of the building process – delays, dealing with contractors and subcontractors, and city or county bureaucrats trying to make your build process a nightmare.
Don't delay – find a barndominium for sale in Texas now!
Conclusion
Building a barndominium in Tyler, TX is a great project with a lot of fantastic benefits. Knowing what to expect throughout the process can help give you a head start on the build. With a little bit of preparation and knowledge, you can be living in your own custom home in no time.
If you would like more guides like this one, check out the rest of BarndominiumLife.com. There, you will find more helpful tips and tricks from the pros. You will also find featured barndominiums, barndominium floor plans, and information on financing and insurance. Knowing as much as you can will help you get the best results for your dream home.
Like this Post? Sign up for our email list!
Be the first to see new posts about the best barndominiums, construction guides, floor plans, and more! Enter your information below to become a BarndominiumLife VIP.
Michael O'Connor is a seasoned barndominium writer passionate about creating unique and innovative barndominiums. With over 15 years of experience in the construction industry, Michael has established himself as a leading expert in barndominium design and construction.
His work has been featured in several respected publications, including Barndominium Life, where he frequently contributes articles on best practices and emerging trends in the field. Michael's ability to blend traditional techniques with cutting-edge technology and design concepts has earned him a reputation as one of the most knowledgeable writers in the industry.