Got your heart set on a custom home in the Pacific Northwest but worried your budget won't stretch far enough? Then building a pole barn home in Oregon could be a great alternative. Much more affordable than a classic brick-and-mortar property, these rustic homes can be fully customized without breaking the bank.
Better still, they are quick to construct and can be completed in less than half the time. If that sounds like what you're after, keep reading to learn everything you need to know about building a pole barn home in Oregon.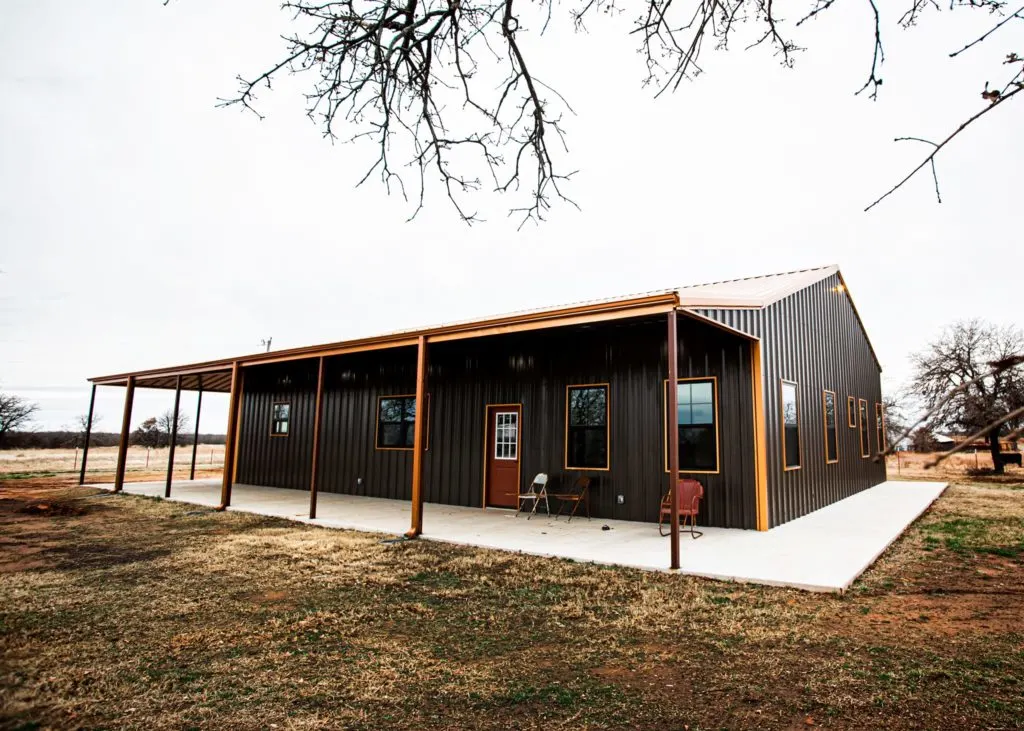 How to Build Your Own Barndominium & 200+ Floor Plans
Get started today with our program "Barndominiums Made Easy: How to Build Your Own Barndominium" and get 200+ barndominium floor plans included!
What is a pole barn home and what are the advantages?
Pole barn homes are built around an interlocking post frame that is anchored into the ground to keep the structure in place. Unlike barndominiums, this frame is made from timber rather than steel. This makes pole barns more eco-friendly and both easier and cheaper to insulate without compromising on stability.
In fact, pole barns are very sturdy and can be built on relatively uneven ground, without installing a leveled foundation first.
With that said, pole barn homes tend to share a similar structure to barndos, with open-plan living areas and high ceilings. And you can always add a concrete foundation to limit the risk of shifting in years to come if you wish. Designs can also be tailored to fit your needs, from incorporating a retail space or workshop to adding a mezzanine floor. It's entirely up to you!
Why build a pole barn home in Oregon?
Oregon is the 9th largest state in the US and boasts one of the most diverse landscapes in the country. In the west, you'll find vast forests, mountain ranges, and lakes, plus a wide array of wildlife, from black bears to lynxes. Further out, you can also enjoy over 400 miles of coastline with striking rock formations. Whereas Oregon's eastern region is largely desert.
As a result, Oregon is a paradise for outdoor adventurer seekers. Whether you'd prefer to go skiing on Mount Hood, windsurfing on the Columbia River, or surfing beside bottlenose dolphins off Canon Beach, you'll never be short of things to do!
There are also several hundred wineries to sample, plus multiple microbreweries and a large hazelnut growing region too.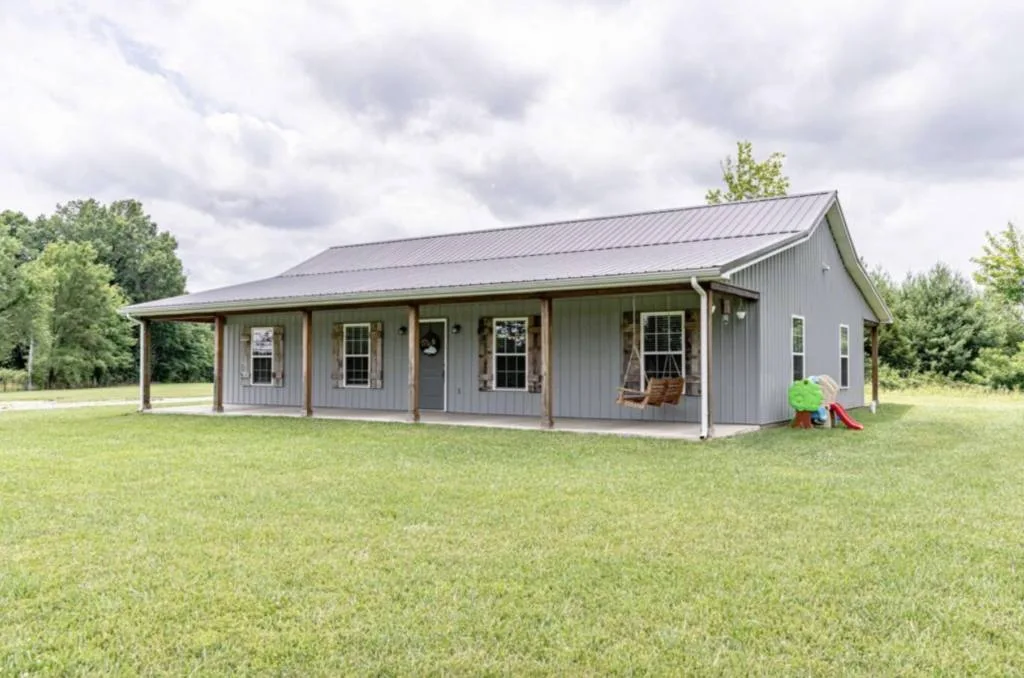 If you like the city buzz, Portland is Oregon's biggest, while Salem is the state capital. There are also numerous forested regions and semi-arid wilderness areas where you can create a quiet haven away from it all. Either way, if you own a pole barn home in Oregon, you'll enjoy its thriving economy built on logging, agriculture, and hydroelectricity, plus zero sales tax!
How much does a pole barn home in Oregon cost?
Wondering how much does it costs to build a pole barn home?
With house prices rising quickly across the state, building a pole barn home in Oregon could offer a cost-effective solution. Materials can be sourced for as little as $25-50 per sq. foot, so you'll have plenty left to buy a plot of land – $6,503 on average – and finish out the interior.
A custom steel barndominium, on the other hand, costs around $200 per sq. ft to construct. And a semi-luxury traditional home will set you back $240 per sq. ft on an average. However, you'll only be able to make minor adjustments to the stock floorplan, and fixtures are on top. In comparison, fully bespoke brick-and-mortar properties start at well over $300 per sq. ft.
How to Build Your Own Barndominium & 200+ Floor Plans
Get started today with our program "Barndominiums Made Easy: How to Build Your Own Barndominium" and get 200+ barndominium floor plans included!
Pole barn home builders in Oregon
One of the most important decisions you will have to make when building a pole barn home in Oregon is who to hire to do the initial construction of the metal structure. There are a lot of builders out there, and it can be difficult to know which ones are suited for this kind of project. Luckily, there are some tips for finding a pole barn builder that you want to consider.
One of the things to look for in a builder for your pole barn home in Oregon is their reputation. By looking through any reviews you can find online, you can get a good idea of whether their previous clients have been satisfied with their work.
If so, odds are they will be able to provide you with a quality product and good customer service. This can be worth its weight in gold, especially if you are new to the home building process.
One of the other things to look for is whether or not they are experienced in building metal structures. This is a completely different skill set than a 2×4 framed building, and it is important that they have some experience with this type of work.
We have put together a short list of some of the best pole barn builders in Oregon. Choosing any of the builders from this list is a good start towards getting your pole barn home built.
Miner Pole Buildings
With over three decades of experience constructing pole barn homes in Oregon, Miner Pole Buildings are well placed to help with your build. Located in Hubbard, you can choose from pre-made models, or they can design a property from scratch. Either way, you can tailor everything from the electrics to the doors and external siding. And, unlike some contractors, their team prides itself on always installing proper truss bracing for maximum stability.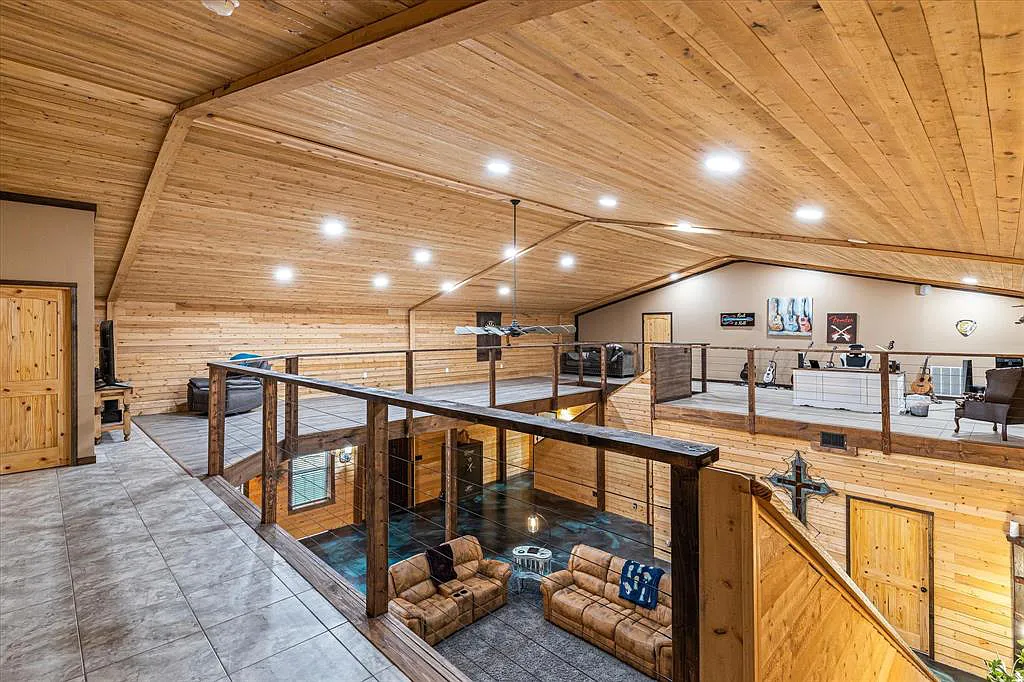 Talan Warden Construction
Serving McMinnville, Newberg, and Forest Grove to the west of Portland, Talan Warden Construction is an expert in custom homes and remodeling. As full-service contractors, they manage projects from the planning stage through to logistics and the final build. Plus, this family run business has links to other reputable local tradesmen to fully finish out the interior. Full consultations are available, and designs are based around your preferences and budget.
DC Builders
Based just outside Portland, DC Builders specialize in designing and constructing custom timber post-frame homes across Oregon. This includes charming barn homes, rustic barns with living quarters, and more. All designs are tailored to suit your needs using 3D design software, then built by carpenters with over 15 years of experience.
Alternatively, their sister company DC Structures, also supplies fabricated pole barn kits if you'd prefer to take the DIY route. In this case, we highly recommend you download a copy of our handy custom build guide – especially if this is your first build. Written by experienced alternative home builders, it will give you helpful pointers along the way, plus tips for avoiding pitfalls.
Pole Barn Kit Providers in Oregon
One of the options available to you when building a pole barn home in Oregon is to use a pole barn home kit. Building a metal pole structure completely from scratch may not be the best choice for everyone. For instance, if you live in an area where it is difficult to find materials, using a kit could be a great solution.
One of the significant advantages of using a pole barn home kit is that everything comes in one convenient package. Many kit providers offer pre-fabricated kits that can be customized to your specific needs. However, you can also choose from kits that are already designed and ready to be constructed on your property.
Pole Barn Floor Plans in Oregon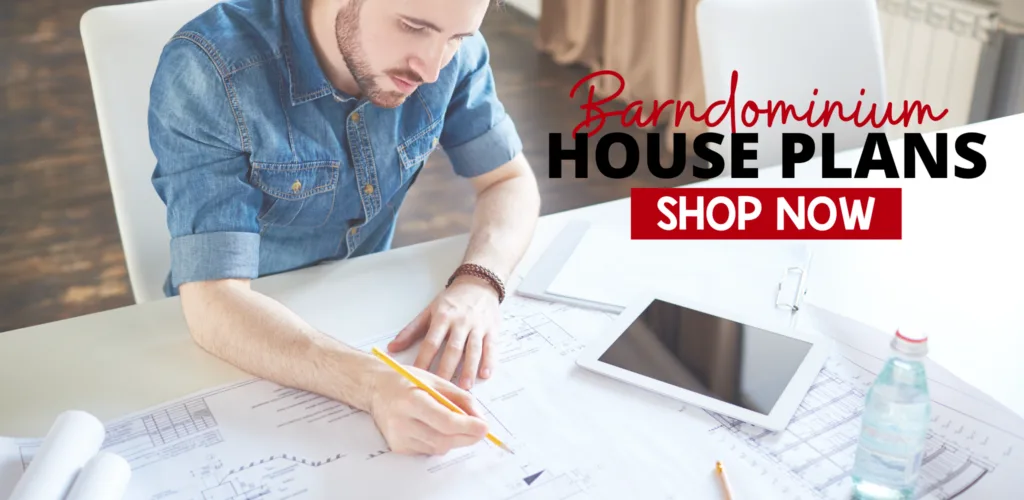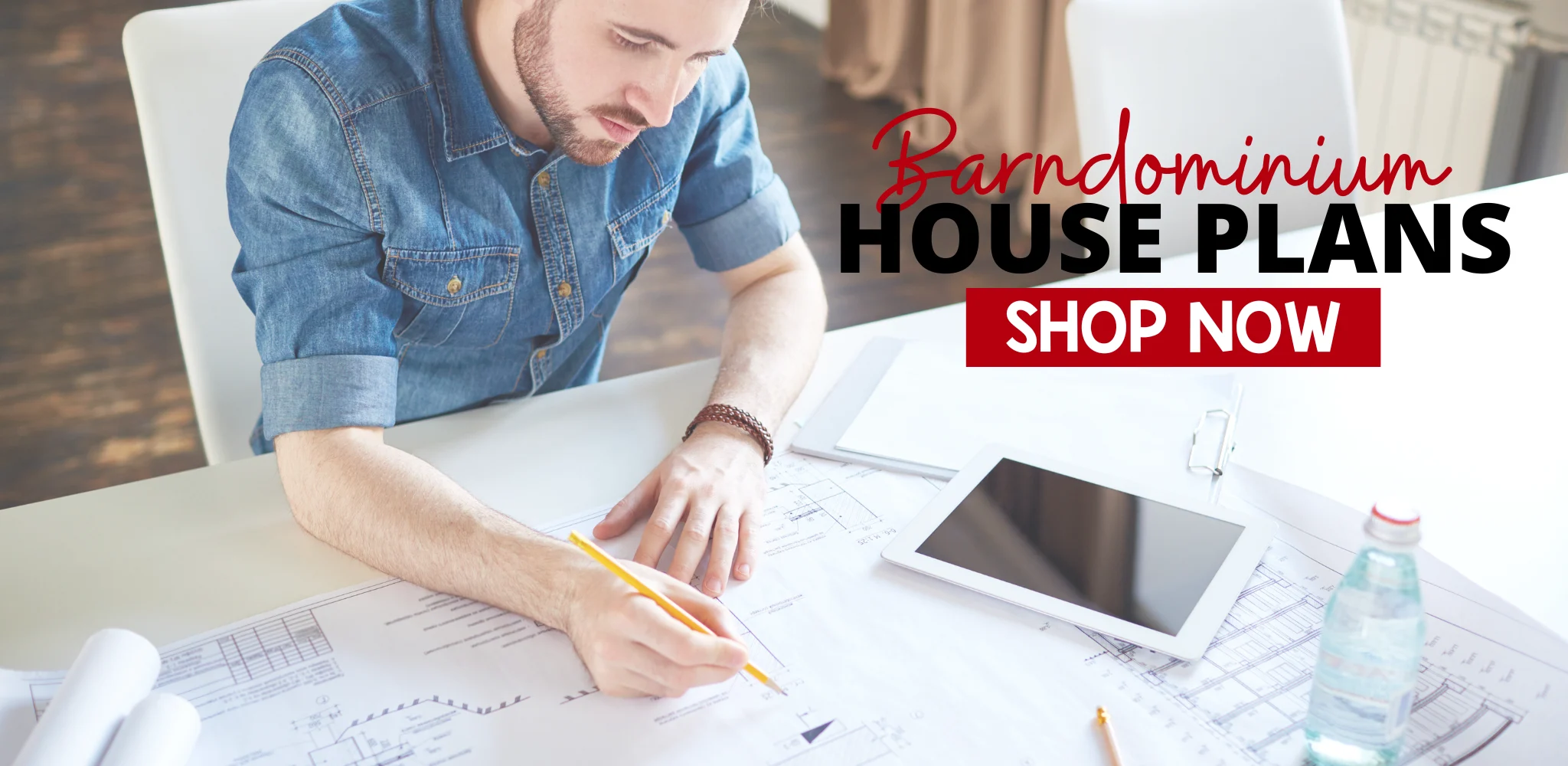 Tips for financing your pole barn home build
While pole barn homes in Oregon are more affordable than traditional properties, you may still want to finance your pole barn home.
One of the best resources for getting barndominium financing is by using BarndominiumLoans.com. They are a quote service that takes down your information and works behind-the-scenes with vetted lenders who are best for your location and financial situation.
Whether you have a perfect credit score or a subpar one, and whether you're located in South Carolina or South Dakota, you can submit your information to get a quote within 24-48 hours.
Barndominium Financing Request
As such, an agricultural lender like AgWest Farm Credit may be your best bet. They offer various real estate and construction loans for rural homebuyers. Likewise, Farm Plus Financial offers credit options for large acreage and timber homes. However, these are subject to minimum loan amounts and the ability to generate agricultural income.
With that in mind, if you aren't eligible for a farm loan, Barndominium Loans is a fantastic alternative. Specialists in sourcing mortgages and loans for custom homes, they take the stress out of finding suitable funding options. Then all you have to do is select the best fit for your project. Visit their website to learn more and get a free estimate today.
How to insure a pole barn home in Oregon
While insurance may not be top of mind when building a pole barn home in Oregon, it should be! Despite having far fewer tornadoes than central states, Oregon sits atop a fault line that poses an earthquake risk. In fact, minor quakes occur regularly, but they're not often strong enough to cause damage. However, that's not to say a more significant one isn't on the horizon. And as certain regions see heavy annual rainfall, flooding isn't unheard of either.
However, securing adequate home insurance for a custom property can be tricky. The best approach is to hire a professional appraiser to value your home. They'll take into account several factors, including the size, location and how much you spent on the build, so make sure you keep track! From this, your insurer should be able to provide an appropriate policy.
Don't want all the hassle of building a pole barn home from the ground up? Then you may want to buy an existing pole barn home in Oregon! With our pole barn home for Sale Marketplace, you can browse to your state and find a pole barn home for sale near you.
The beauty of buying an existing pole barn home is that it can be really easy to customize the floor plan to your liking. The previous owners' setup is just a starting point! Also, by buying a pole barn home in Oregon, you bypass the potential troubles of the building process – delays, dealing with contractors and subcontractors, and city or county bureaucrats trying to make your build process a nightmare.
Don't delay – find a Pole Barn Home for sale in Oregon now!
Conclusion
If you would like more guides like this one, check out the rest of BarndominiumLife.com. There, you will find more helpful tips and tricks from the pros. You will also find featured barndominiums, barndominium floor plans, and information on financing and insurance. Knowing as much as you can will help you get the best results for your dream home.
Like this Post? Sign up for our email list!
Be the first to see new posts about the best barndominiums, construction guides, floor plans, and more! Enter your information below to become a BarndominiumLife VIP.
Rachel Dawson is an accomplished writer with a passion for all things barndominiums. With over a decade of experience in the industry, Rachel has established herself as one of the leading authorities on the subject of barndominium design and lifestyle.
Her work has been featured in numerous publications, including Barndominium Life, where she regularly contributes articles on a wide range of topics, from design trends and tips to the unique challenges and rewards of living in a barndominium. Rachel's ability to write with both authority and accessibility has earned her a loyal following among readers and enthusiasts alike.
Her commitment to excellence and her unwavering dedication to the barndominium lifestyle make her a true asset to the Barndominium Life community.