Why Choose 40×60 Barndominium Kits?
A 40×60-foot barndominium could be the perfect option for your next home. It provides several advantages over traditional homes, including increased durability and versatility.
You may also build it yourself with 40×60 barndominium kits. However, you should first learn a little more about barndominiums, including how much they cost. Here is what you should know about 40×60 barndominium kits.
What Is a Barndominium?
The name "barndominium" combines two words—barn and condominium. The first barndominiums were built in the northeast and gradually grew in popularity in rural areas over the past few decades.
Barndominiums were originally horse barns converted to include living spaces. Modern barndominiums are built from the ground up to include living areas while incorporating some of the features of a barn, including post-frame construction.
Post frame construction involves using larger posts and roof trusses compared to a traditional stud frame building. The posts are spaced far apart, which gives you a wide, open building that can accommodate a variety of designs.
Why Build a Barndominium?
A barndominium may not be the first option that comes to mind when planning the construction of a new building. However, it offers several distinct benefits over other types of construction.
Greater Versatility
Compared to a traditional home built with a wood stud frame, a barndominium provides greater versatility. The frame of the building makes it easier to use an open floorplan. You can also install wider doors and windows due to the spacing of the posts.
The large frame supports many more design options and layouts compared to standard houses. The recent popularity of barndominiums also means that you have access to more blueprints. You can browse endless designs to find a layout that works best for you.
More Affordable
Building a barndominium is often more affordable compared to building a standard home of the same size. Barndominiums tend to cost about $50 to $100 per square foot. New home construction typically costs between $100 and $200 per square foot.
The savings may allow you to build the home of your dreams. You can build a larger home or incorporate more special features without exceeding your budget.
Faster Construction
Constructing a barndominium may not take as long as building a standard house with a stud frame. On average, it takes about eight months to build a new house from start to finish.
A barndominium may take about six months to complete when hiring contractors to complete the project. However, if you choose to purchase a DIY 40×60 barndominium kit, you may get it done in less time.
With a DIY build, the timeframe depends on your experience, availability, and support. Consider enlisting a group of friends to assist with the frame and the interior framing, as these steps require the most labor.
Durable Structures
Barndominiums may outlast a traditional home, especially when built with a metal frame. However, even a wood post frame offers increased protection against severe weather compared to a standard home. If you live in a region with frequent tornadoes, hurricanes, or other major threats, you may feel safer inside a barndominium.
Barndominiums also require less maintenance compared to other options. You may spend less on upkeep, which increases the overall value of choosing a barndominium over a standard house.
Easier Additions
Adding on to a barndominium is easier compared to adding on to a traditional home. Instead of studs spaced about 2 feet apart, you have posts spaced 8 to 12 feet apart. There are also no load-bearing walls on the interior.
The frame allows you to easily add on without dealing with changes to the structural integrity of the property. You can add windows, doors, or additional living space or garage space with less work.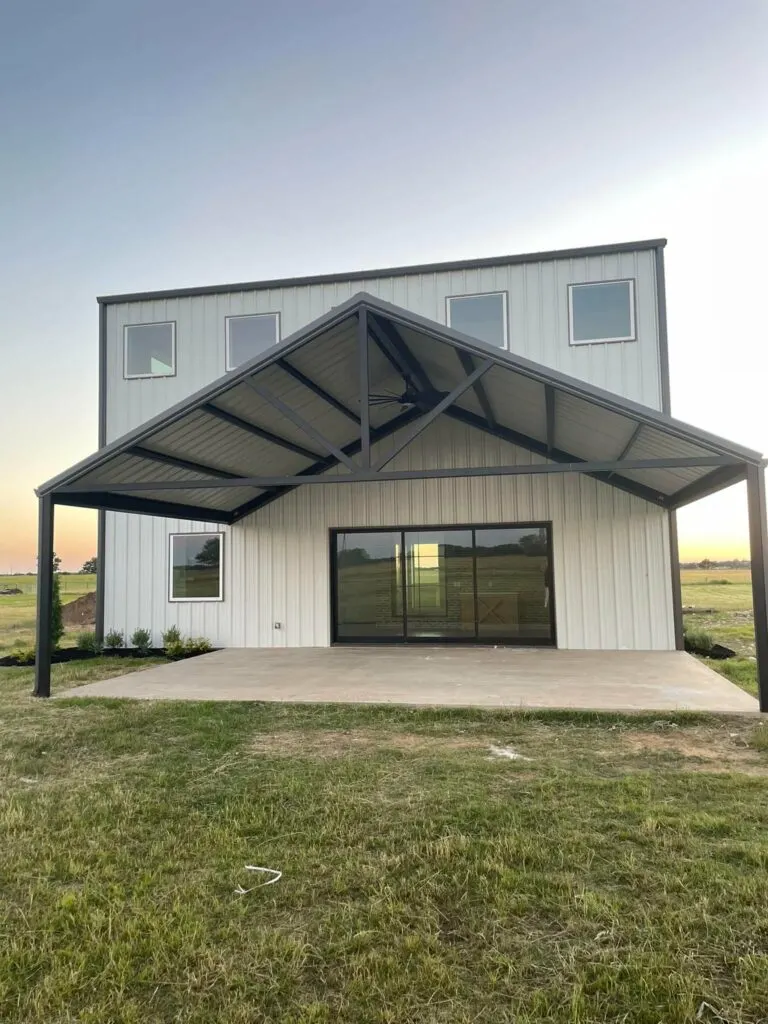 Why Choose a 40×60 Barndominium Kit?
You can build a barndominium of any size, but 40×60 is one of the most popular dimensions. A 40×60-foot barndominium offers 2,400 square feet of floor space, which is about the size of the average traditional house.
With a 40×60-foot barndominium, the 2,400 square feet of floor space is just the beginning. Depending on the height of the frame, you may add a mezzanine or an entire second floor, allowing you to add even more square footage to your property.
A 40×60-foot barndominium gives you more than enough space to choose a floor plan that suits your specific needs. Whether you plan on using the entire space for your living quarters or want to include a large workshop, a 40×60-foot frame offers plenty of room.
Other Uses for a 40×60 Barndominium Kit
Barndominium owners typically build their barndos as homes. Most barndominiums include spacious living areas connected to a partially finished area that may serve as a garage. However, the residential and garage areas may be used for a wide range of purposes, such as:
Workshop
Farm storage
Recreational Storage
Business activities
Workshop
Barndominiums support large doors, making it easy to incorporate a workshop or large garage. Some barndominium owners use the extra space to set up shop. It offers the perfect space for all types of hands-on work, including autobody repairs and woodworking.
Using the extra space for a workshop is convenient, as your tools and gear are always a short trip from your living area. You can start and stop work whenever you choose, instead of dealing with commutes.
Farm Storage
Barndominiums were originally built to combine living quarters and horse stables under one roof. Many barndominium owners continue to use their structures for agricultural purposes. You can leave a large area of the barndominium unfinished to use as farm storage.
A 40×60-foot barndominium may offer ample space for small livestock, such as chickens. You may also use the space for farm equipment and supplies, grain storage, and other agricultural applications.
Recreational Storage
Use your 40×60 barndo for recreational storage. You have enough space to store an RV, camping gear, or equipment for an expensive hobby, such as fishing.
You can use the space to stay organized and protect your gear from damage due to cramped storage.
Business Activities
A barndominium may provide the optimal layout and space for a small business in a rural setting. For example, you may need a storefront and storage area for a small shop or a family farm.
The post-frame construction features widely spaced studs and trusses, which support taller ceilings and versatile floor plans. You can easily design a barndominium that includes the features that you need at a lower price compared to a wood stud building.
Average 40×60 Barndominium Kits Prices
The average cost of a 40×60 barndominium is about $120,000 to $240,000. Just buying the kit is substantially cheaper. However, a variety of factors influence the price:
DIY vs hiring a contractor
Location
Quality of materials
Special features
The price of $120,000 to $240,000 is based on the average price of $50 to $100 per square foot for a barndominium kit. If you choose to hire contractors, you may pay between $100 to $130 per square foot, which can increase the maximum cost to $312,000.
The cost of labor and materials can vary based on location. Prices are often cheaper in the Southeast and Midwest compared to the Northeast, the Southwest, and the West coast.
Choosing higher quality materials or special features can also increase the cost of building a 40×60 barndominium. For example, adding a pool or a basement can add thousands of dollars to the total cost.
In the end, barndominiums feature post-frame construction, which is easier to construct compared to traditional stick buildings. You may also opt for a metal frame. With a metal building, you gain increased protection against severe weather.
Both options tend to offer lower prices, faster construction, and increased durability compared to a standard home. If you are thinking of building a home from scratch, consider getting a 40×60 barndominium kit.
Get a Barndominium Kit Quote Now!
After submitting this form you'll be sent pricing by up to 5 companies. This pricing service is 100% free to you. Some companies will compensate us for helping them find people in need of metal buildings.