When people hear the word "barn", they most often assume you're talking about an agricultural storage facility. It's a home for tractors and animals, not people. And yet – since the 1980s, humans have been using these design ideas to build a pole barn home in Florida and all over the United States as chic, open-concept residential spaces at immensely affordable prices.
Florida has many unique claims to fame these days – from large alligators walking around golf courses after a rainstorm to its constant barrage of tourists who visit Orlando's theme park scene. If you've ever been interested in owning a home with large square footage and the nearby ease of Florida beaches, a custom pole barn home in Florida could be perfect!
Read on to learn more about the pole barn home trend and how you can start building a pole barn home in Florida today.
How to Build Your Own Barndominium & 200+ Floor Plans
Get started today with our program "Barndominiums Made Easy: How to Build Your Own Barndominium" and get 200+ barndominium floor plans included!
Pole Barn Homes in Florida
Many people have fallen in love with Florida over the years because of the ability to grow citrus trees in your backyard and enjoy year-round sunny weather. There's a reason Florida is called the Sunshine State, and it's not just because of Mickey Mouse's dazzling smile at Walt Disney World.
A pole barn home in Florida would allow you to benefit from the lack of state income tax, the cultural diversity in every neighborhood, and easy access to pristine coastal beaches. Plus, because pole barn homes are affordable and easy to build, you won't have to worry about living on a tight budget whenever you relocate to Florida for good!
What is a Pole Barn Home?
A pole barn home is an earlier version of the barndominium home trend. Both a pole barn home and barndominium use post-frame construction to avoid load-bearing walls throughout a home and guarantee high ceilings. But while barndominiums have evolved to use mostly metal building supplies, pole barn homes use traditional home construction materials differently.
The need for fewer supplies to build your pole barn home in Florida means you will experience a faster construction timeline with fewer potential delays. You don't need to pour a foundation for a pole barn home, and with the help of a pole barn home kit, you can get your building supplies and home blueprint all in one place.
Your pole barn home can also be customized to fit any aesthetic. If you want to honor the history of pole barn homes, you might choose to keep a classic, cozy theme in your new home. Or maybe you're more interested in creating a sleek and modern pole barn home structure. However you envision your new home construction looking, a pole barn home can be adapted to fit!
Why Should I Build a Pole Barn Home in Florida?
A pole barn home in Florida would offer you the perfect open-concept beach getaway that can fit the whole family! A pole barn home could be the solution if you've ever wanted to host the holidays in your home but couldn't figure out where to fit everyone. With the addition of a loft over the main common area of your home, you can fit a large dining table, an entertainment space, and still house several bedrooms in your home without feeling cramped!
On top of this, a pole barn home kit allows you to complete a lot of the work on your new home by yourself. The step-by-step instructions included when you purchase a pole barn home kit give you the clear direction you need to frame and construct the skeleton of your home in a few weeks.
When you build a pole barn home in Florida, you don't have to worry about where you're going to store your boats or recreational water gear. You can easily design a large garage space with lofted residential quarters or add an attached garage to the main structure of your home.
Enjoy everything Florida has to offer with a new pole barn home today!
How much does a pole barn home in Florida cost?
One of the most common questions when building a pole barn is how much does a pole barn cost?
Pole barn homes have gained popularity for their affordable construction, but it's still important to understand where your money is going when you build a pole barn home in Florida. The cost of new construction will ultimately include the land you purchase to build on, the home itself, and all the custom design details you add as you prepare to move in. Countertops and cabinets can be surprisingly expensive if you're not careful.
A Florida pole barn home will usually cost between $30,000 and $60,000. In contrast, the average cost of a traditional newly constructed home in Florida is around $295,000. This number can change drastically based on the cost of home construction materials and the general housing market.
When comparing the numbers, choosing a pole barn home in Florida should be easy. You are guaranteed a higher return on investment because of the popularity of this housing trend, and you will greatly benefit from the affordability of this new home design!
How to Build Your Own Barndominium & 200+ Floor Plans
Get started today with our program "Barndominiums Made Easy: How to Build Your Own Barndominium" and get 200+ barndominium floor plans included!
Pole Barn Home Builders in Florida
It's important to make sure you are purchasing your pole barn home supplies from a team you can trust. While you may be able to complete a lot of the construction on your new home by yourself, your pole barn home project will still benefit from experts who have experience in the pole barn home and post-frame construction field.
Luckily, there are a few things you can look for to ensure that you have the right pole barn builder.
Hansen Pole Buildings
Hansen Pole Buildings has created a cutting-edge all-online pole barn kit business. The greatest benefit of working with them is that you can order your new pole barn home anytime from the comfort of your couch!
DC Builders
DC Builders is a nationwide company with over 15 years of experience in post-frame building construction. You can find many great options on their websites for floor plan designs, or you can talk to one of their team members about your custom design ideas.
Nelson's Buildings
Nelson's Buildings is a family-owned post-frame building kit provider and contractor based out of Florida. This is a great company to consider if you want to keep business local.
Designing a Floor Plan for a Pole Barn Home
A pole barn home is guaranteed to be large – up to 90 feet in length – but it will never be as large as a barndominium design (these can reach up to 300 feet in length). Even with this slight limitation, you are guaranteed an open-concept floor plan that can be customized to any of your family's lifestyle needs.
Perhaps you are looking for a dedicated home gym space with attached residential rooms. Or maybe you would prefer a shopdominium structure with lofted residential quarters. No matter what, the Barndominium Life blog is full of great floor plan inspiration and design ideas for your new pole barn home in Florida. If you're not sure where to start or how you want to customize your future pole barn home in Florida, this is a great resource to peruse!
Pole Barn Floor Plans in Florida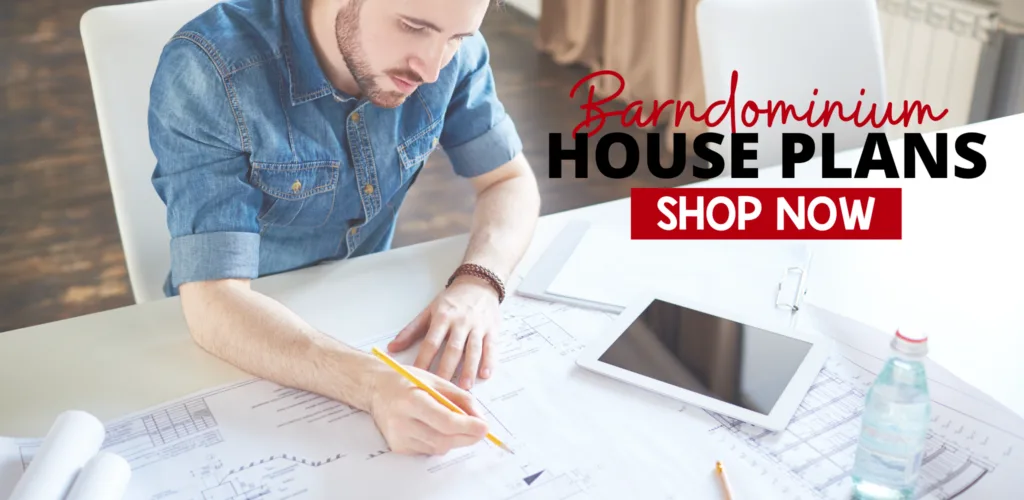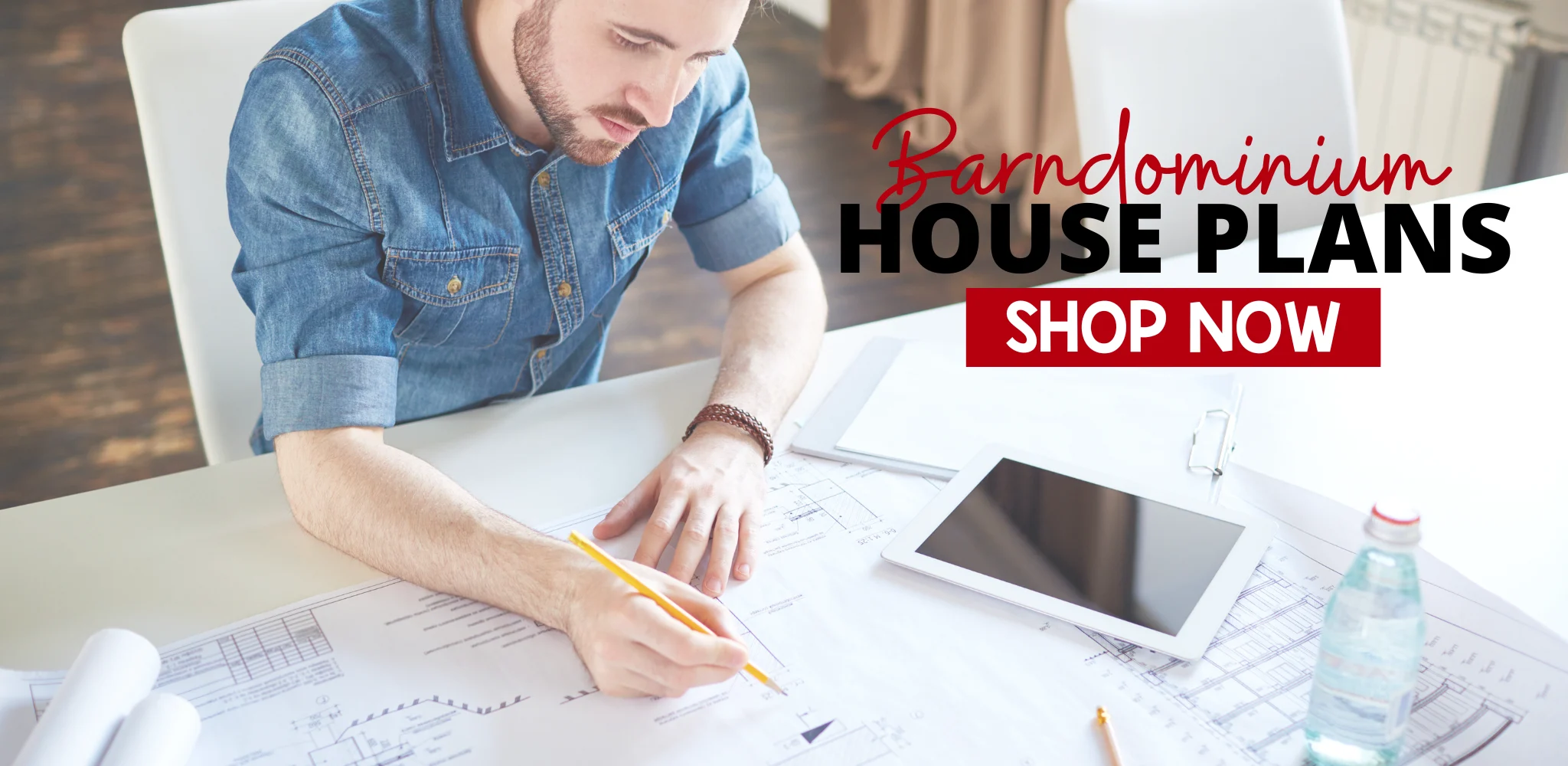 Pole barn Kits and Providers
If building a barndominium in Florida from scratch doesn't fit with what you are looking to do, you could also go with a pole barn kit provider.
They will be able to deliver a prefabricated kit with everything you need all at once. The biggest advantage of this is that you will be sure to get all your materials in one delivery. If you are looking to get started on your barndominium project right away, a kit could be a great choice.
How to Finance and Get Insurance for your Pole Barn Home in Florida
As is true for any new custom home design, you need to accept before you get started that financing a pole barn home isn't going to be as easy as a traditional home design. This is mostly because insurance companies and mortgage lenders haven't updated to be able to measure the value of their investment in your unique home.
Barndominium Financing Request
That doesn't mean financing your pole barn home in Florida is impossible, just that you need to be intentional when you work with financial companies. You can do this by making sure you have concise plans for your pole barn home's design. Reach out to local contractors in the area where you plan to build, as they'll be a great source of information about residential building codes and local business support you can depend on. It also helps to take the time to make sure your financial records are in order and that you have a good credit score. If you take these steps, you guarantee it will be easier for a financial company to understand why your new home project is worth their investment.
There are also a lot of great online communities for current pole barn homeowners and potential pole barn home designers. Connect with recent pole barn home builders to learn from their experience throughout the pole barn home design process!
Don't want all the hassle of building a pole barn home from the ground up? Then you may want to buy an existing pole barn home in Florida! With our Pole Barn Home for Sale Marketplace, you can browse to your state and find a pole barn home for sale near you.
The beauty of buying an existing pole barn home is that it can be really easy to customize the floor plan to your liking. The previous owners' setup is just a starting point! Also, by buying a pole barn home in Florida, you bypass the potential troubles of the building process – delays, dealing with contractors and subcontractors, and city or county bureaucrats trying to make your build process a nightmare.
Don't delay – find a pole barn home for sale in Florida now!
Conclusion
Ready to learn more about building your dream pole barn? Be sure to check out how to insulate your pole barn, unique pole barn storage ideas to help maximize the space you have, as well as great pole barn front porch ideas that boost curb appeal to a whole new level. Get started designing your own pole barn with the best pole barn software to start turning your dreams into a reality!
If you would like more guides like this one, check out the rest of BarndominiumLife.com. There, you will find more helpful tips and tricks from the pros. You will also find featured barndominiums, barndominium floor plans, and information on financing and insurance. Knowing as much as you can will help you get the best results for your dream home.
Like this Post? Sign up for our email list!
Be the first to see new posts about the best barndominiums, construction guides, floor plans, and more! Enter your information below to become a BarndominiumLife VIP.
Alicia Drier is a wordsmith with over two decades of writing experience as an English teacher, marketing assistant, podcast cohost, and blogger. As a copywriter, she gets to daily invest in the research and writing she loves – while keeping the time and energy to be the parent she wants to be.